Bass singer Tim Duncan was born and raised in Mississippi by church-going, gospel music-loving parents. His first group was Master's Voice, which led to Poet Voices, followed by Ernie Haase & Signature Sound, where Tim was a founding member. Today he's part of the San Antonio-based Canton Junction quartet, with Aaron Crabb, Matthew Hagee and Shane McConnell.
Like most guys, Tim's book reading career peaked in high school. Asked what assigned books he remembers from that era,
Tom Sawyer
comes to mind.
The Hound of the Baskervilles
too: "I read just enough to pass the tests." And there was one more, but he can't recall the name of the author, "a very well-known writer …" Tim's stumped and turns to wife Melissa for help: "He wrote about that guy standing beneath the balcony, you know, talking up to the balcony?" And so we learn that William Shakespeare (
Romeo and Juliet
) is partly to blame for Tim Duncan becoming the huge fan he is of the National Basketball Association.
"When we had Larry Bird and Magic Johnson — that great Celtics/Lakers rivalry — that's when I used to record basketball on my VHS tapes. And I still love playin' basketball … good to get your heart rate up once in a while."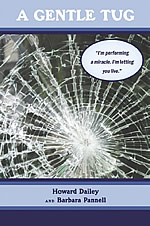 But it wasn't sports that led the singer to the book he loves — it was ill health. "I had problems sleeping … I was just not feeling well. But tests showed everything was normal. Finally someone suggested Howard." That would be Howard Dailey, whose autobiography (written with Barbara Pannell)
A Gentle Tug
, has changed Tim's life. "When I first got the book, I was thinkin' to myself: I don't read. So I got the brilliant idea of having my wife read it aloud." So Melissa did. "I laughed. I cried. It's a really great story of his terrible motorcycle accident, where he was given up for dead." And Tim has also met the author. "Howard is a reflexologist. When I first went to him, he didn't ask me what was wrong and I didn't tell him. He figured it out by looking at my feet." A program of vitamins and herbs and minerals and good, natural foods has restored Tim's sleep and vitality. It also turns out Melissa rather enjoys reading "together" with her husband. Homecoming isn't sure how much Shakespeare is on the Duncan family reading list.
TimDuncanOnline
.