***This contest is over. Thank you to all who entered, and congratulations to winners Patty J., Dixie P. and Rhonda C.! Their entries and others can be found here!***
Since it's nearly Mother's Day, we put together some great prizes that mothers and grandmothers are sure to enjoy! Included in the prize package are: the DVD Love's Everlasting Courage, a Homecoming Magazine coffee/tea mug, a copy of the devotional book Treasured Moments with Mother Graham (based on the wisdom of Billy Graham's mother) and the Hoppers' wonderful CD, Hymns.
To enter, email us about a memory you've shared with your mother (or grandmother). It can be a funny memory, a touching one or anything that stands out to you. Some entries may be featured in a Mother's Day article on our website. Three winners for this contest will be chosen based on the stories that moved us the most (made us laugh, or touched our heart, etc.).
ENTER TO WIN BY:
Wednesday, May 9th, 2012 at 1 p.m. (EST)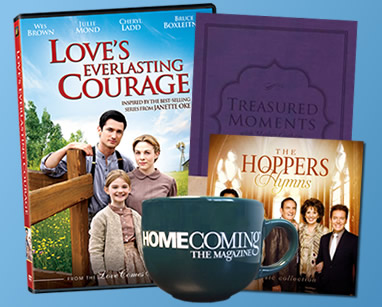 Include your name and mailing address along with your memory, and email it all to
dpatterson@salempublishing.com
. (Only one entry per person, please.)
The first place winner will receive the prize package described above (pictured left). Two additional winners will receive the same prizes except for the devotional book.