Homecoming audiences have long known that
Buddy Greene
is a virtuoso on the harmonica—remember his standing-ovation-inducing performance of Mozart's "Piano Sonata in C Major" and Rossini's "William Tell Overture" at Carnegie Hall a few years back? We thought the instrument would catch fire! Now, his talent has been recognized again by fellow harmonica enthusiasts nationwide.
The main professional organization in the U.S. for harmonica players is called
SPAH
(Society for the Preservation and Advancement of the Harmonica), which was founded in 1962.
This past weekend at their annual convention in St Louis, Missouri, Buddy was completely surprised to receive the society's most prestigious award, the
Harmonica Player of the Year.
"It was great to be honored by my peers in the harmonica world," says Buddy. "It was very unexpected. I was in a room full of great harmonica players, just looking forward to the show and not even thinking about awards!"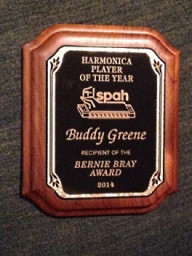 Buddy has been a member of SPAH for 15 years and has also performed at the annual convention for a number of years. He has enjoyed hearing (and playing) music of all styles there, including classical, jazz, blues, Cajun, country, gospel and more. Buddy was especially touched by a musical moment at this year's convention from harmonica legend Stan Harper: "The last night I was there, the highlight of the performances was Stan Harper. He is in his
90s
, and he performed Mozart and Debussy on the harmonica. It was unbelievable … made you weep."
Click
here
to see Stan Harper performing a Vivaldi selection the year he turned 90 (2011), and click
here
to enjoy Buddy's Carnegie Hall performance with the Gaither Homecoming tour!
Visit
buddygreene.com
.