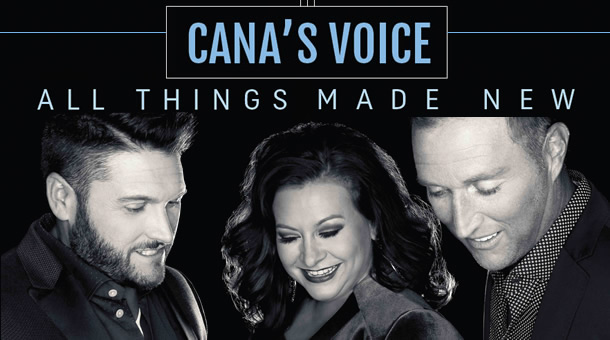 The Bible says in Ecclesiastes that "A cord of three strands is not quickly broken," and the trio of powerhouse singers that forms Cana's Voice has indeed found strength through joining together. Having each been through the "refiner's fire," TaRanda Greene, Doug Anderson and Jody McBrayer have come out stronger on the other side.
Southern Gospel fans have followed TaRanda for years as the talented soprano who sang with the Greenes, married Tony Greene, and had two precious little girls. They cheered as she gained national attention as an award-winning soloist. They prayed when Tony needed a kidney transplant and TaRanda gave him a kidney. And they prayed still more when Tony died in 2010 from pneumonia and other complications.
After struggling with depression and confusion for quite a while following her husband's passing, TaRanda is now in a better place. She has been a featured soloist on projects by the Brooklyn Tabernacle Choir and has performed before the United Nations. And, she married IMC Concerts president Landon Beene in March of this year. She and her two girls — Bella, 12 and Josie, 8 — have formed a new household with Landon and his two children — Mallory, 12 and Ethan, 7.
Working in the same industry, Doug Anderson and TaRanda crossed paths many times over the years and have performed at some of the same Gaither Homecoming events. "Then she got involved with Landon," says Doug, "and Landon is my best friend in the entire world."
Doug resides in Lapel, Indiana, with Michele, his bride of 19 years, and their two girls, Isabel (15) and Emma (12). He toured with Ernie Haase & Signature Sound for nearly 13 years before stepping out on his own. Facing an uncertain future, he was delighted to win two GMA Dove Awards for his 2014 solo CD,
Drive
. And in May of this year, he released his third solo recording for StowTown Records,
The Only One
, a diverse collection with a bit of a country influence. "I am definitely the country boy of Cana's Voice — definitely the redneck among the three," he laughs.
While Doug brings the country flavor, Jody McBrayer's roots are in contemporary Christian music, most notably from the award-winning groups Truth and Avalon. During his 12 years with Avalon, the group produced 21 No. 1 hits and garnered six Dove Awards, three Grammy nominations and an American Music Award. Much like TaRanda, Jody seemed to be living the dream until tragedy intervened. His father and several close associates passed away, then Jody had to leave Avalon in 2007 because of a degenerative heart condition.

He fell into a depression as he dealt with his health and struggled to find to find his identity outside of music. His Christian physician advised him to get up each morning, keep breathing, and thank God for every breath in his lungs. As his health improved, Jody began to slowly step back into the vocation he loved, and he released an album this year with StowTown Records aptly titled
Keep Breathing
. Jody enjoys life in Tennessee with his wife of 18 years, Stephanie, and their 11-year-old daughter, Sarah-Clayton.
All successful soloists, TaRanda, Doug and Jody say that singing together as Cana's Voice is the icing on the cake, although it wasn't necessarily something they anticipated.
"To be honest, I didn't really want to be part of a group," TaRanda admits. But her fiancé had a dream to put together a trio of people "who were able and confident singers, but more than that, people have heart to encourage other people and lead them to Jesus," she says. When Landon arranged a dinner at Wayne Haun's house for TaRanda to meet with Doug and Jody, she couldn't have imagined the outcome. "We just hit it off on all levels. It really shocked us how already
together
we were."
Doug adds, "We walked into the piano room and just started singing. I'm telling you, within the first three minutes, every one of us was crying — it was just that good. Before it was all over, we were all lying under the piano, thinking of songs to sing and just sharing our life stories."
They bonded not only through music, but also through the brokenness they had each experienced. In fact, that was the origin of the group's name, says TaRanda.
"One night we were on a tour bus, arranging songs for a record and we didn't even have a group name," she laughs. "I was reading my Bible, and I turned to the story in John about the wedding at Cana. This time I zoned in on the pots that Jesus used. He found these pots that held water to wash the outside of people's bodies, that washed their feet before they came into the wedding. They probably had some cracks in them and had seen their better days, but Jesus repurposed those pots. Their job was to wash bodies, but He filled them with something that He created.
"That just struck me, because we three shared this common thread; we had been to the point where we felt like we were done. Jody was literally told by someone, 'Your career is over. You need to move on; your time has come and gone.' Doug's terrified because he's starting a solo thing, and what if it doesn't work? And when my husband died, I went through a depression and thought
what am I going to do? I'm never going to sing again
.
"So, I explained the story to the guys, and we ended up with Cana's Voice. We want to be a voice for the broken."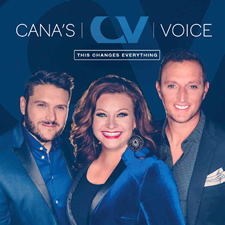 The group's debut album,
This Changes Everything
, quickly climbed to No. 1 on the iTunes Christian/Gospel chart, and audiences are loving the music.
"The song 'Jesus Never Fails' is a showstopper every night," says Doug. "I think that song really works for us since we've all been through stuff—and not only the three of us, but everybody."
And "Hello, Fear" means the world to Jody and his wife. "Everybody has different fears that they struggle with and fear can be crippling, if we let it. I love that song just because it's like we're singing a letter that we've written to fear, saying, 'Look, you've had this special place in my life for too long and it's done. We're done. No more.'"
Doug is quick to credit the album's producer and arranger, Wayne Haun, for his contribution. "Let it be known that Wayne Haun is a genius. He's one of those guys that doesn't want any limelight, he doesn't want any glory. He just does what he does, and he's amazing at it."
Moving forward, the three vocalists will continue to perform as soloists and then come together as Cana's Voice for various events. They'll do a West Coast tour in August, then a European tour in October. They have already appeared with Mark Lowry several times and will officially join his tour in November.
As they enjoy the new things God has done in their lives, Doug, Jody and TaRanda are doing their best to appreciate everything more this time around. TaRanda reflects, "It's just amazing how God brings us together into something more powerful than we thought we could be part of … we're all coming from grateful hearts."