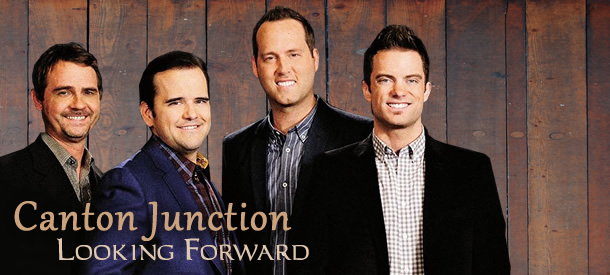 Since arriving on the scene in 2012, Canton Junction has quickly made a name for itself. The debut album,
Canton Junction
, garnered a GMA Dove Award for Southern Gospel Album of the Year and produced two No. 1 singles — "Hold On" and "Sweeter as the Days Go By." The group went on to be voted Favorite Southern Gospel New Traditional Quartet at the
Singing News
Fan Awards in 2014. With two fresh faces and a just-released album, the guys are excited about the road ahead.
Haven't We Met Before?
CJ's two newbies are certainly not new to the stage. Singing baritone is Indiana native Ryan Seaton, well known to Southern Gospel audiences. From the time he attended a Cathedrals concert at age 19, he knew he wanted to sing in a quartet. He joined the Melody Boys at 23, then spent seven years on the road with Ernie Haase & Signature Sound. When he's not singing, Ryan and his wife Krista stay busy raising two active girls, Olivia and Ella. Ryan also runs his own small business, Highside Hobbies and Raceway, in their hometown of Evansville, Indiana.
Lead singer Casey Rivers, who cites David Phelps as one of his vocal heroes, cut his teeth on country music. After winning Loretta Lynn's national talent search, he then took the first runner-up spot on the televised talent contest "Nashville Star." This led to a successful solo career, the Grand Ole Opry and appearances with the Gatlin Brothers, Kenny Rogers, Jason Aldean and many others.
As much as he loves country music, Casey felt a pull to gospel and made the switch in 2008, touring with the quartet Beyond the Ashes for about four years. These days, he enjoys leading worship at churches in the Texas area when he's not performing with Canton Junction. He and his wife, Doni, live in the small town of Flint, Texas, where they are raising four lively kids — Audra, Stellan, Clara and baby Jude, who was born in May this year.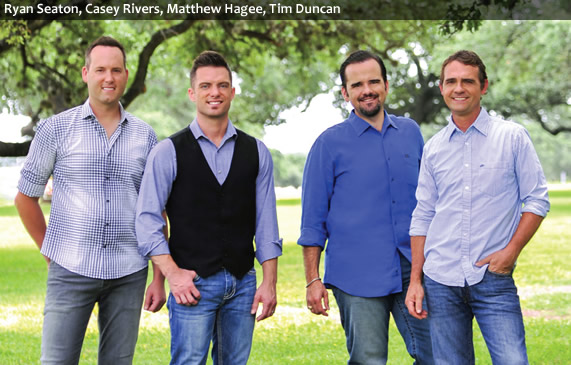 Now Playing
Ryan and Casey joined founding members Matthew Hagee and Tim Duncan to record
Every Hallelujah
, produced by award-winning musician Garry Jones. Spotlighting this lineup's remarkable versatility, the project features all four vocalists taking turns on lead, most notably highlighting the interplay between Seaton's traditional quartet stylings and Rivers' modern country sound. The 13 songs are penned by some of gospel music's finest, including Kenna West, Sue C. Smith, Lee Black, Ben Storie and Ronny Hinson, among others.
The contemporary feel and lyrical theme of the dramatic debut single "Weep No More" earned the song a spot on the soundtrack of the documentary
Four Blood Moons
. Rivers' powerful voice declares the Lord's return, accompanied by haunting chord progressions and propelled forward by a driving rock-ballad rhythm —"It's Bon Jovi meets Bill Gaither," jokes Hagee. But the group pays respect to the more traditional listener with the familiar gospel favorite, "When He Was on the Cross, I Was on His Mind."
Seaton says, "When people hear this album, they're going to be taken on an emotional roller coaster. They'll be having fun one moment, then in tears the next. I really think people are going to relate to this album." He delivers a strong performance on the big-band-tinged "The King and I," and his soulful side comes out for "A Place Called Grace," a reminder that even when things are going great, we still need God.
Bass singer Tim Duncan puts his stamp on Erica Campbell's gospel joyride, "I Need a Little More Jesus," and tenor Matt Hagee delivers a heartfelt performance on a song that offers eternal perspective, "Living for Heaven."
Behind the Music
"One thing we try to do when we pick out material is to get deep stuff that will help people in everyday life," says Duncan. "When I'm going through a down time and listening to those songs and keying in to the lyrics, I get something out of it. If they help me during times of trouble or just a bad day, I know they help other people."
Hagee adds, "We're going to do everything we can to give you the opportunity to escape whatever it is that is bothering you at that moment in your life and recognize that God's still on His throne and everything's going to be alright. Our main purpose and goal is to express His love through the music we like to sing."