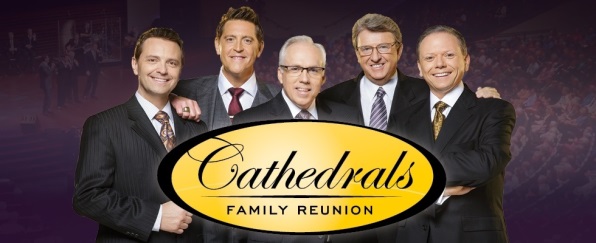 As you may recall, last fall in Fort Worth, Texas, was the first-ever "
Cathedrals Family Reunion
" event, celebrating the legacy of the
Cathedral Quartet
. More than 3,000 people came from all over the world to share and celebrate their love for the music of the Cathedrals and, of course, for George Younce and Glen Payne.
Ernie Haase recalls, "Honestly, at the last minute, we hurried to find cameras so that we could get something on film just for us. Thanks to some very special friends in the Dallas area we were able to videotape the whole weekend. We are blessed and very excited to say that the video turned out better than we dreamed. Gaither Music Company has even picked it up and is going to be broadcasting it over the next few months."

The official release date is September 2, but The Cathedrals Family Reunion DVD and live CD are NOW available for preorder here! You can be one of the first to experience the music and the memories of that special night in Texas. And, as you may have heard, the Cathedrals Family Reunion is now on tour! Check here to find an event near you!

DVD Song Listing:
Blood Washed Band
Oh, Come Along
Wedding Music
He Made a Change
Yesterday
We Shall Be Caught Up
Somebody Touched Me
Can He, Could He, Would He
We'll Work
Heavenly Parade
I've Read the Back of the Book
Step into the Water
Oh, What a Savior
Gaither Medley: There's Something About That Name/I Will Serve Thee
Champion of Love
Search Me O God
We'll Work (REPRISE)

CD Song Listing:
Blood Washed Band
Wedding Music
He Made a Change
Yesterday
Somebody Touched Me
Can He, Could He, Would He
We'll Work
Heavenly Parade
Step into the Water
Oh, What a Savior
Gaither Medley: There's Something About That Name/I Will Serve Thee
Champion of Love
We Shall See Jesus