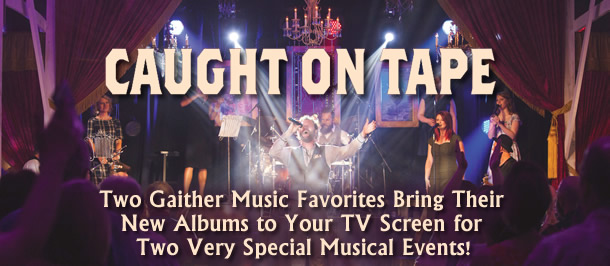 Phreedom Taping At the Phelps Pharm
We all know David Phelps has vocal skills and a brilliant mind for music. But it's not every day you see a human with those abilities, and the accompanying worldwide audience of adoring fans, who can also craft a concert venue out of an old barn with his bare hands, and who happens to be a devoted husband and committed father of four bright, talented kids.
All these facets of David's life came together in a beautiful video event he hosted in May on his central Tennessee property. With the helping hands of family and friends, he designed a beautiful fresh set and gathered a remarkable cast of talent for the DVD taping of
Freedom
, featuring songs on his newest recording of the same title.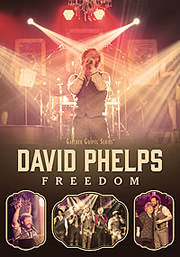 The night of the taping was unseasonably hot, even for Tennessee. Adding to the heat inside the barn were approximately 500 people sitting elbow to elbow, surrounded by all the lights and equipment it takes to accomplish a taping of this magnitude. So the heat was real. But no one seemed to mind at all.
The sell-out audience was loaded with some of David's dearest friends, family members and fellow-artists, including Russ Taff, as well as hundreds of fortunate Phelps Phans who acted quickly enough to get a seat.
In addition to the powerful songs from David's
Freedom
CD, the evening's line-up also included numerous moments and performances that will only be found on the
Freedom DVD
, including conversations with David, footage of the Phelps family life, and all four of the Phelps kids singing an
a cappella
arrangement of "The Doxology." Bill and Gloria Gaither also share some personal stories on the extra footage
David performed a moving duet with his daughter, Maggie Beth, called "Water" (written by Gloria Gaither and David) that has not been recorded anywhere else other than this live DVD. Before the performance, David and Gloria talk about the writing and meaning of this powerful song conveying a conversation betwen Jesus and the woman at the well. If you heard Maggie sing with David on his last DVD,
Classic
, you are witness to the fact that she did not sing this duet simply because she is David Phelps' daughter. She is a fine soprano from whom I'm sure the world will hear much more beautiful music in the years to come.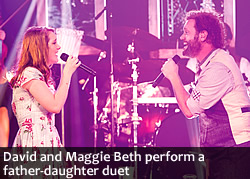 The Gaither Vocal Band backed David up on "Your Time Is Come," and were featured on "When We All Get Together with the Lord." Special guest Charlotte Ritchie sang "Revelation Song" and both of David's daughters, Callie and Maggie Beth, joined Charlotte on "If You See My Savior" (sometimes referred to as "Bedside of a Neighbor").
I'll leave you with this.
Freedom
is a far cry from the programs network television cranks out. Every single minute of this musical journey is a labor of love straight from the heart and mind of David Phelps. From the painting of the barn doors weeks earlier, to the writing and arrangement of each piece of music, to every word said or note sung, Freedom is a musical gift infused with his DNA. It is unique, beautiful, inspiring and personal.
Freedom
releases on DVD September 11, 2015, and will be available in stores and online at Gaither.com and Amazon.com. Hour-long edits of the DVD will air on television networks across North America including TBN, RFD, AT&T U-verse (Channel 82) and DirecTV (Channel 227) and on demand via Internet television channel Gaither.TV (See www.gaither.tv for details).

Alabama: Holding On to Their Roots
Alabama has enjoyed iconic musical success as one of country music's beloved bands. These three cousins, Randy Owen, Jeff Cook and Teddy Gentry, spent years in the limelight and earned every accolade a musical group could desire — 21 hit singles, two Grammys, dozens of other awards and induction into the Country Music Hall of Fame. Now, 40 years after first leaving their hometown to pursue musical dreams that would far exceed their expectations, this trio maintains that the truths they learned growing up in church are as important as they've ever been.
In 2014, Gaither Music Group released
Angels Among Us
, which featured Alabama singing 12 hymns and gospel favorites. The recording debuted at Number 6 on
Billboard
's Country chart (not bad for a gospel album!) and the exclusive Cracker Barrel version of the CD became a 2014 best-seller for Cracker Barrel Old Country Store®.
After this overwhelming response to the CD, a DVD of these songs performed live seemed like the next natural step. So this past April, Bill Gaither traveled down to the cousins' hometown of Fort Payne, Alabama, and hosted a wonderful musical journey that included Alabama singing their gospel favorites live, plus conversations with Randy, Jeff and Teddy about their life, family, faith and music.
The taping took place at Jeff Cook's former home, now known as Cook Castle, which is situated on a 20-acre piece of Alabama hill country on the top of Lookout Mountain. It's a beautiful venue that facilitates all kinds of events, and on this special day it would create the perfect setting for this taping.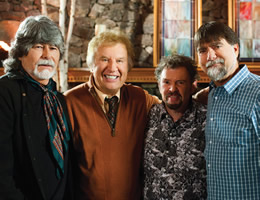 Bill, Randy, Jeff and Teddy naturally gravitated to the piano as they arrived, and before long they were all singing their favorites and the reminiscing had already begun. Soon they grabbed a cup of coffee, got comfortable, and the cameras started rolling as the group shared stories and a few laughs with Bill. They spoke of their growing up years, their musical journey, their families, and what these songs of faith have come to mean to them over the years.
This warm, personal conversation is unlike anything the public has seen from Alabama. It is a rare opportunity to peel back the public image of a group of this magnitude and get a glimpse into the life of three American music icons who, at their core, are country boys who still love their mamas, still grow their own tomatoes, go fishing, and still believe in the songs that honor their Savior.
The second phase of the taping began when the band set up and started playing and singing songs from their
Angels Among Us
CD. The audience for this intimate concert was comprised almost exclusively of their family members, who weren't shy about calling out their special requests. Bill stepped in briefly to help them know how they might sound if only they had a bass singer in the group. For a few sweet moments, piano player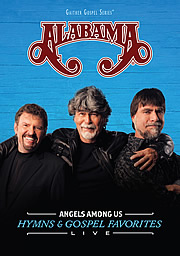 Gordon Mote was asked to step aside so Randy's mom, Martha, could play a couple old standards, including "Amazing Grace" when she was joined by Randy's baby sister, Reba. It is this kind of respect for their roots that comes through loud and clear on this unprecedented DVD.
"It really is remarkable," Bill reflects, "that three country boys from the small town of Ft. Payne, Alabama, have gone on to achieve such national and international success … yet still remain so close to this place they love so much. Everything they do is mixed with a little Alabama red clay, and I think that's why we all love them so much."
The 90-minute
Angels Among Us Live: Hymns & Gospel Favorites
DVD released in August and is available in Cracker Barrel Old Country Store®, as well as a wide range of music retailers, and online at Amazon.com and Gaither. com. Hour-long television versions of the program air on television networks all over North America this fall, as well as on Gaither. com and the Gaither.tv internet television channel (details at www.gaither.tv).