On August 19, 2012, we lost Calvin — one of Christianity's true craftsmen — to complications from heart surgery, and now our world will be a touch less poignant than it was before, like a well-crafted sentence that is missing its adjective.
On a personal level, though I only knew Calvin for the final 17 months of his life, he made a distinct impression on me. I, like so many of us, had known of his publishing accomplishments — which included his wildly successful
The Singer Trilogy
,
The Book of Jesus
, and more than 35 other titles, dozens of poems (see some of his work in Bill and Gloria's
A Homecoming Christmas
) and numerous magazine articles. For years I'd been shaped by his literary prowess and spiritual insight — which were extensive; but what I didn't know until I had the chance to work with him was how fully engaged he was in LIFE! From painting to video projects, new book ideas to radio interviews, Celtic studies to lively conversations, his experiences even in his latter years were not punctuated with an uncertain question mark or a run-of-the-mill period. Rather, he concluded his final earthbound chapter as I suspect he lived his every day: with an exclamation point.
Curious, excited and very much alive, Calvin enthusiastically approached his writing, his relationships, his faith with a gusto that I often wish I had — and with a humility that I hope to emulate. He was caring, kindhearted, sweetly funny, genuinely interested in others, a committed husband and devoted father, a gracious host, an enduring friend … and a man of God who was minus all the pretension of someone who sold more books in his career than almost any Christian author living today.
I can't say how God rewards His faithful scribes in heaven. Perhaps with a pen that never runs dry, a thesaurus with perfectly appointed words and a heart that is ever full of inspiration. But this I do know: Calvin Miller shepherded the words that heaven supplied as no other ever will, searching for those scurrilous creatures on the high plains until they were found, rescuing them from the desert of superficiality, freeing them from the valley of apathy, and then herding them onto the lush pastures of nished pages. Pages that all pointed to the Name that is above all names. And in the process, he led everyone who read him to the refreshing waters of belief, reassurance and a Grace not of this earth.
Having previously been hospitalized for heart trouble, he lived with the awareness that eternity is only a step away. And in his final book, aptly called
Letters to Heaven
(which we worked on together), he sought to take care of things the only way he knew how: through the written word — through letters that might complete the unfinished business of this life. Through personal missives that encouraged readers to write their own thank-yous and wonder-ifs.
Meanwhile, he held out for us all the hope that awaits.
For Calvin, on that Sunday in August — only days before his 76th birthday — his hope was realized. A sweet reality no longer the stuff of mere dreams. A lifelong confidence undeniably fulfilled.
No Christian writer or speaker will ever replicate his ability to "make verbs dance and nouns sing," as Max Lucado described his gift. But the one thing we can do as fellow disciples of the cross is, I believe, the one thing he would ask us to do. I think Calvin would say: "Be sure you end your story with an exclamation point."
He sure did. Personally and professionally.
On the last page of
Letters to Heaven
, Calvin told of having heard the pale horse of death stomping his steel hooves, restless in his stable. "I am a shy equestrian," he wrote, "yet I am not afraid. I have waited all my life for this ride… This is my coronation day!"
Here's to you, Calvin. We miss you already, dear friend. But we celebrate your life too, realizing that, as C. S. Lewis said in
The Last Battle
, "Now at last [you are] beginning Chapter One of the Great Story which no one on earth has read."
Remembering Calvin Miller
(1936 - 2012)

When I was a young quester, I found in a university bookstore a trilogy of books that deeply impacted my life — so deeply, in fact, that more than 30 years later I find myself quoting lines and discussing concepts from them. Like Milton's Paradise Lost or James Weldon Johnson's God's Trombones, Calvin Miller's The Singer, The Song, and The Finale (The Singer Trilogy) will continue to speak to generations to come. They, too, are now classics of great literature of faith.

Over the decade since we first came to respect the powerful pen of Calvin Miller, Bill and I have been challenged, inspired and encouraged by a steady stream of rich writings from him. We got to know Calvin personally and have welcomed him many times to events like Praise Gathering for Believers and to our own Gaither Family Resources, where his impact on listeners was as strong as his books have been on readers. When we were asked to create the Homecoming Christmas book, grappling through the senses with the cosmic truth of the Incarnation, it was Calvin Miller's name that came immediately to mind as the one who could create the thread that would weave the concept together.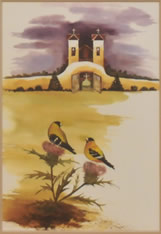 For years Bill and I were also privileged to be on his Christmas list of friends who received each year matted prints of his original paintings, most of them inspired by nature and many with desert settings. Calvin was one of the most creative and insightful artists of our time. We say "artist" because whether in poetry, painting, prose or speech, he always seemed to see what most of us miss. Yet he was able, by whatever means he chose, to take us with him, to open our eyes, to help us hear. (Pictured left: One of Calvin's many paintings gifted to Bill and Gloria)

We will miss him. We will miss his creativity and insights. But the rich body of work he has left for us is timeless and will go on speaking into our lives truth, love, mercy, courage and all things eternal. We hope his death will remind us all to reread his work and pass this legacy on to our children.

May we continually be reawakened by the Song and the melody that beckons and begs us to sing it. May we keep straining to hear the rhapsody that still plays among the stars because the Singer who first heard it consented to sing it to us. Because He did, as Calvin has reminded us, we need never again be without the Song.

— Gloria Gaither