Once a painfully shy wallflower, Charlotte Ritchie continues to blossom as a solo artist with a new Christmas album, December.
Get this — and you might not believe it, but: Charlotte Ritchie used to hide in her room, or behind her mom, or anywhere else she could escape when someone new tried to say hello. As a young girl, she was as quiet as a misty morning in her Maryland hometown, and utterly petrified of people.
Yes, we're talking about the same Charlotte Ritchie who has since performed at Carnegie Hall … and appeared in multiple Gaither Homecoming videos … and sung on countless stages with the Nelons and with Jeff and Sheri Easter … and guest-starred in a primetime TV drama, "Touched By an Angel" right alongside her former long-distance teen crush, John Schneider ("he was Bo Duke!") … and — oh, by the way — ventured out as a solo artist four years ago, taking the stage to deliver messages of hope and joy.
During her childhood, Charlotte could not have envisioned such a public role as ministering to thousands of people at concert venues throughout America and the world.
"I was unbelievably shy. I used to pray that God would make me invisible," she recalls. "I hated any attention, and I didn't sing, except in my bedroom along with Sandi Patty. I knew her records inside and out. But sing in front of people? That was not gonna happen. All I can say is that God has a sense of humor, because I am the least likely person to be where I am today."
Those who have followed Charlotte's musical trajectory know that her journey began with what she thought was an actual joke. At age 14, while tagging along with a friend's family to a church where they would perform, Charlotte was in the back seat of the car, singing along, when her friend's father said, "Charlotte, you should come up and sing with us this weekend."
"I just laughed, because I thought he was kidding," she recalls.
He wasn't. During the concert, he called her up — and yes, she sat frozen for a moment before reluctantly making her way to the stage.
So began three years of singing with that family, followed by an opportunity to join the Nelons at age 17, and eventually to become the soprano voice for the Easters.
While singing with the Nelons and recording a Gaither video in Indiana, Charlotte met Greg Ritchie — who is now the Homecoming Tour drummer but then was playing drums for the Easters. His brother, Rabbit, introduced him to Charlotte. A first date that spring evening at Steak 'n' Shake marked the beginning of a musical love connection that led to the altar on December 12, 1995.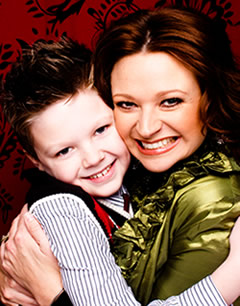 Life has become more complicated over the years, as the Ritchies try to balance two on-the-road-again careers with being parents to son Landon, 9, and daughter Jayna, 4.
(Pictured left: Charlotte and her son, Landon)
Is it possible for such a busy artist, wife and mom as Charlotte to live simply? Not always, but she tries to stay organized — "I'm a big checklist person" — while also learning to say "no" (graciously) to requests that might overload the calendar.
After going through a period of stress and fatigue several years ago, Charlotte took steps to simplify. Now, "I try to live on purpose and in the moment, and live the best I can and not overextend myself," she says. "Some days I do better than others, but I'm really trying, and trying to teach that to my children as well. I would rather be able to sit with them and help them with their homework or play a game, instead of constantly running around and feeling like I'm behind.
"We try not to fill life with stuff," she adds, instead opting for family adventures — like a recent dad/son canoeing picnic. "That's all Landon has talked about for weeks," Charlotte says. "So often it's the simple, focused activities that create lasting memories."
When it comes to memories, many of Charlotte's fondest involve the Christmas season. She loves all things yuletide — and that makes her newest holiday recording project all the more special. She's quick to point out, however, that her affection for Christmas springs not only from joyous times but also from deep family struggles.
"My mom was just such a jewel of a person," Charlotte reflects. "My dad had a lot of issues from his childhood that were never really dealt with, and it caused problems for him and took a toll on their marriage.
"Christmas was a time when there seemed to be a lot of peace in our house, and joy. My mom was very big on tradition, on making sure it was a big deal. We didn't have much, but she always tried to make sure we had fun. We would look at Christmas lights, or bake cookies. Those memories are so warm."
The family's challenges gave Charlotte a perspective on the birth of Jesus that she says helped to shape her faith in Him. "I saw what my parents went through to give us what little they could at Christmas," she says. "That sacrifice, and getting something I knew I didn't deserve, really resonated with me. It was an example of what God did for us, sacrificing His Son, to give us a second chance for grace and mercy in our lives."
(Charlotte's mother passed on of a heart attack in 2006. Her father has been able to experience "a lot of healing" in his later years, she says.)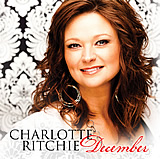 It's not a shock, then, that Charlotte looked so forward to making a Christmas album. The record — titled
December
— began to take wing during a tour bus conversation with her friend Gordon Mote in late 2011. Charlotte mentioned her interest, and Gordon cajoled her into letting him help her record a few songs the following week as a starting point. An initial, five-song EP — which found its way to several concerts last winter—has now expanded into a full-fledged album.
"I wanted to keep it simple and give it a Tony Bennett/Nat King Cole kind of vibe," Charlotte says of the record's style. "It needed to be a good mix—to be fun, but have moments of heartfelt thought and reflection on the true meaning of Christmas. We kept it in the style of a four-piece band with a vocalist in the middle. That jazzy, big-band feel is what Christmas music is supposed to sound like to me."
The album includes Charlotte's takes on "Jingle Bells," "O Little Town of Bethlehem" and many other classics.
"I don't have a favorite Christmas song, but one of my favorites is 'O Little Town…' I love the line, 'The hopes and fears of all the years are met in Thee tonight.' When you really think about that, it's such a profound statement: all that ever was, and all that ever will be, was in the moment when Christ was born. Jesus came to take care of all of those situations — hopes, fears, dreams, worries. I love that."
The trials that Charlotte has walked through—her mother's sudden passing, the death of a teenage friend to cancer, health problems for Landon after his birth — make the sacred gift of the Christ Child even more poignant for Charlotte.
"I know how it feels to walk through that very dark place," she says. "Because of those experiences in my life, I have a heart for people who are facing hard times, and I want to share stories that encourage them along life's up-and-down journey. That's where my heart is, as far as the music I choose and write and sing."
The Christmas album includes several younger voices, as both Landon and Jayna sing on "Who Would Imagine the King?" (from The Preacher's Wife).
Charlotte hopes that listeners will come away with "all of those pieces of Christmas that I always did — the feeling of peace and joy and hope, and smiles and laughter and fun, but also thankfulness and gratitude. The biggest, I think, is hope. To me, that's what Christmas is all about."
Without question, the former wallflower has blossomed into a confident woman who loves to share God's message of hope.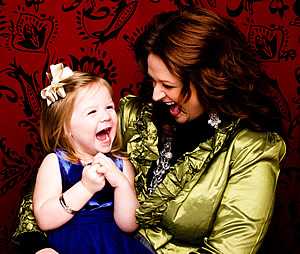 (Pictured left: Charlotte and her daughter, Jayna)
Speaking of shyness, Jayna, the Ritchies' 4-year-old, seemed to have inherited some of her mom's demure manner — until just recently, that is.
"She went with me to a concert and came up to sing with me, which was shocking," Charlotte says of her typically reluctant daughter. The song was "My Father's Angels" — the same one that son Landon has sung on occasion with his mom from the stage.
"Usually, Jayna will sing the theme song to 'Barney.' But she told me the other day, 'That song is a little short. I need a longer song.' We got a big kick out of that."
Well, then, it sounds as if hiding from attention is one attribute that won't be passed down in this musical family.