Chonda Pierce
's world was shaken this past July when David, her husband of 31 years, was suddenly taken from her following complications from a heart attack and stroke. She has shared about her grieving process through social media, and now from the stage.
Even in the thick of grief, Chonda finds the humor. To a receptive Nashville crowd, she jokes about how her husband had been a very loud snorer. "I've been having trouble sleeping lately," she begins. "I've tried different sleep noise machines, but I can't find one with the sound 'Rooting Pig' as an option." As the laughter dies down, Chonda grows more wistful. "But I'd give anything just to hear that snore one more time."
Chonda is currently on the
Learning to Laugh Again
tour with guest star
Jason Crabb
, whose powerful songs and upbeat attitude add a wonderful dimension to the experience. During the Nashville concert in October, the two shared a little chat onstage at one point. Chonda's quick wit caught Jason off guard several times, and the audience cracked up with him. She posted a few days later on Facebook, "Having a great adventure with Jason Crabb and his incredible band. So, what should I ask him tonight in front of this packed house? Hmmmmm?" Crabb responded, "Oh my goodness, what am I in for tonight?"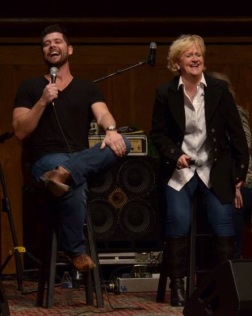 In a later post, Chonda expresses her gratitude for the support. "It was a long week of shows, but good. Jason Crabb and his band are incredible to hang out with. I can't imagine a better place to be as my heart heals and I learn to laugh again. I miss my husband so very very much ... I want to honor his life and yet live in truth so that we might all learn from one another. He was my dearest friend and my heart aches tonight. A rest to do laundry today was good - back on the road in the morning."
She is quick to credit her faith in God as being her main source of strength, though she admits that faith is a struggle on the dark days. One of the Nashville event's more touching moments was when, at Jason's request, Chonda performed the song "I'm Gonna Make It," penned by Geron Davis, who was in the audience. Chonda (and most of the audience) grew teary as she sang
I'm gonna make it/He's already said that I would/I'll keep on trusting/That He's working everything for my good/He walks beside me, and Heaven is in my view/Oh, I'm gonna make it through
.
Hang in there, Chonda. We are all rooting for you!
Visit
Chonda.org
for concert information.