For carbon to become a diamond, it must undergo extreme pressure and heat; to become a shining jewel, it has to further experience cutting and numerous stages of polishing in an expert hand. Comedienne
Chonda Pierce
may not think of herself as a diamond, but this lovely and talented lady only continues to sparkle more and more brightly through the years in the face of such trials as depression and the loss of her dear mother, Virginia Farless. Through a recent phone interview, we got to see a little of the serious side of this spunky blonde a little better and also hear about her hilarious new DVD,
Girl Talk
, releasing December 17, 2013.

HOMECOMING MAGAZINE:
Can you tell us a little about your new DVD,
Girl Talk
?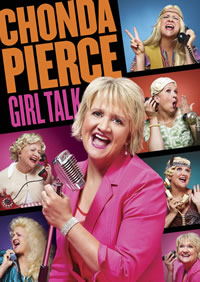 CHONDA PIERCE:
Girl Talk
is a great tribute to my mother … to the way she lived her life. I lost her last year, and in what has been a really devastating time, God has just loved on me and remind me how blessed I am to have been raised by such a godly mom. I get to pay tribute to her a little bit at the end of this video and I love that.
I recorded it at the Ryman Auditorium in Nashville, which is my hometown, and it's always kind of scary to play in front of high school friends or college friends--anybody that really knows you — because I think there's no way I'm going to make them laugh! But you know, it turned out to be a really great weekend. I had six girlfriends from high school come and crash at my place and we had fun. CAA (Creative Artists Agency) threw a big party for me because I won this big ol' award thing, so all my girlfriends came, and we rode a limousine; we rode one to the Ryman too, and it was really fun. We asked him to go around the block a few times.
HOMECOMING:
Tell us about the award that you won…
CHONDA:
Well, I got a big, gold/platinum looking thing from the RIAA (Recording Industry Association of America) for being the most platinum and gold awarded long-form recipient for female comedy of all time ... that's for mainstream and Christian comedy! I think the people who should get the award are the people who bought them. People who stood in line and spent their hard-earned cash to purchase a little bit of Chonda Pierce — that just blows my mind!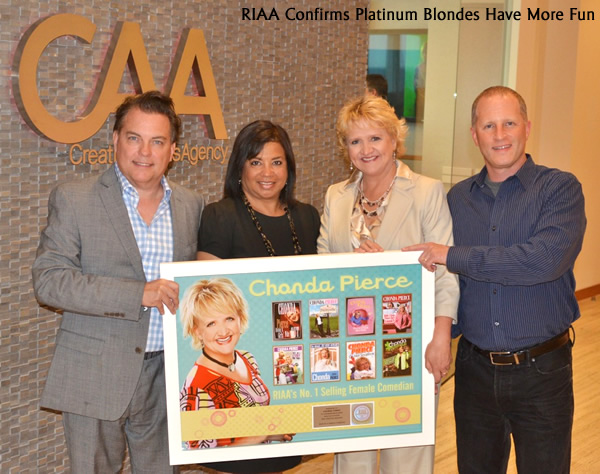 HOMECOMING:
You stay busy in so many different areas — writing books, appearing in movies and on television and performing stand-up comedy ... which is your favorite?
CHONDA:
I do like the comedy a lot, hearing people laugh, and I'd like to have my own talk show someday; that's my goal. That way, you could just sit in one place … I'd like to do sit-down comedy at this stage in my career—I'm tired!
HOMECOMING:
We understand that you have done a traveling talk show format during your "Girl Talk" tour. How has that format been different than your normal comedy shows?
CHONDA:
I love the talk show format, because you get to interview people, you get to add more elements, and you do get to sit down, so that's kinda nice! We did some fun lists: the top five things you can do with your leftover Spanx and the top five things you'll never hear a man say to his buddies, like "Let's all go to the potty." So it's nice to add another element to it. After doing this for so long, sometimes you just get bored with yourself, so you're always trying to find something keep you and the fans interested. I love to laugh and goof off with my audience, but I also hope to leave them with some truth before the night is done. My career has always been about more than just laughs … it's about what's happening in your heart and the joy that the Lord can bring to you. I grew up with hellfire and brimstone preaching, and I suppose it has its place, but I like sharing the gospel this way a lot better.
HOMECOMING:
When you do the talk shows, who are your guests? Do you have assigned guests, or just people that you pull up from the audience?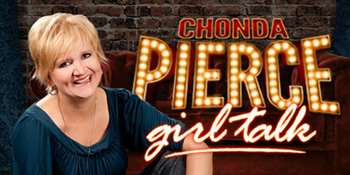 CHONDA:
As we've been touring the talk show, I take different artists with me and interview them in depth. For the first half of the traveling talk show tour, I took the Martins, and it was so much fun! Not only are they incredible singers, but we actually had time where we could just sit on the couch and talk about some stuff from their personal lives … the good, bad and the ugly! We would laugh, and we would talk about where the Lord is in all of that, and I think it's that personal information, that personal testimony, that I've seen the Lord use, time and time again.
And now, for several weeks, I've had Geoff Moore come out (who was with the band Geoff Moore & the Distance) and share his love for third-world countries, his love for the adoption process. He's adopted two little girls from China. So, you get to find out a little bit more about these singers; you get to hear a little bit about the stories behind the music, behind the songs that they've written and sung. So that's been a lot of fun.
I love impromptu moments; it's one of my favorite things. No two Chonda Pierce concerts are ever the same — every single night, it's something different. I've pulled different people up from the audience and interviewed them. Sometimes the most hilarious things happen; sometimes not! You have to be really quick on your feet! But I'm having fun, if nobody else is!
HOMECOMING:
Do you still ever get nervous before a performance?
CHONDA:
You know, sometimes I do; I get nervous in the format of something I'm not used to, like when someone tells me this is live on television and I have to be precise with my time. It's the technical issues that I get nervous about … when I know it's a brand-new sound man, and I know he's not going to remember when to push "play" on the track, you know what I mean? Stuff like that. I get nervous about the things I cannot control, which, you know, it's probably a great Scripture verse right there! (
laughs)
I get nervous at the tapings, knowing that I have a lot of new material in my head that I don't want to forget, because once it's no longer being recorded, you can't do it over again. I get nervous hoping I'll get it all said, get it all out there, and hopefully it makes a sweet point by the end of the night.
For people like me, for middle children, outgoing, loudmouths … no crowd makes me that nervous. But now, sit down one on one, that will make me nervous … a room with three people … that makes me nervous.
HOMECOMING:
Oh, by the way, we saw on your Facebook page that you'd recently hung out with some "Duck Dynasty" stars ... what was that like?
CHONDA:
I did! I hung out with Miss Kay and Sadie, and I absolutely loved it. You know, I had lost my mother just few months before, and Miss Kay put her arm around me and said, "I'll be your new mama." I know I'm going to have to learn how to eat crawfish if she's gonna be my mama. (
laughs)
But I'll tell you what, she was just a sweetheart; she gave me a big ol' hug. She laughed and seemed to enjoy the show, and so did Sadie, and it was just a real privilege; I had no idea that they were Chonda fans! I was so shocked to see them at my show; I thought, "I think I know who you are," and she just waved. So during intermission, they came backstage, and I'm like, "I can't believe y'all are here!" And they had bought tickets!
HOMECOMING:
Are you a fan of the show?
CHONDA:
Oh, I watch them all the time. I did a whole big routine on my new video about them … how they've made all this money making duck calls, and they can't afford a haircut. (
laughs
)
HOMECOMING:
For the taping at the Ryman, was it all unscripted, or was it a mix?
CHONDA:
It's a mix … you know, you have a little outline of places you want to go, and it usually works. If I'm relaxed and I've had my time with God, and life is good and I'm focused, I could just open my mouth and talk all night and we can have a rip-roaring fun time. A lot of it is just relaxing and figuring out
whose
you are.
When I turned 50, I started getting really comfortable in my own skin. I know where my heart is; I know my heart is right with God. Comedy is so subjective, and no one leaves their house looking to offend someone or embarrass someone, but I've learned that I cannot please everyone. So as long as my heart is right with the Lord and I'm in tune with my personal relationship with Him, then I can relax and know that I'm in His care, I'm in His will. When He needs me to turn a different way or convicts me on some things or moves me, I'm the first one that listens. That's a sweet place to be, finally, you know? I'm a little overweight, I'm tired, I've got bags under my eyes, but I'm still having a blast. I don't even wear Spanx anymore; I'm Spanxless! I am Spanx-free and proud of it!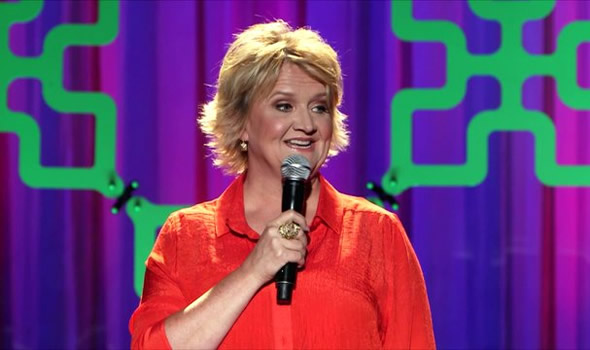 HOMECOMING
: (
laughs)
That is great. Hey, by the way, you've been married now for … 30 years?
CHONDA:
I have — 30 years!
HOMECOMING:
Is your husband David a pretty good sport about being part of your comedy?
CHONDA:
Oh, he says all the time that his job is to keep doing stupid stuff so I'll have something to talk about, so for 30 years, he's been quite busy! (
laughs
)
HOMECOMING:
You mentioned earlier about relying on the Lord… You cheer up so many people with the gift of laughter; what is something that cheers you up? Where do you go when you need to be cheered up?
CHONDA:
Well, my son is the funniest thing. He can entertain me all day long. He's 23, and he's very, very clever … he's very interested in acting and comedy, but not stand-up comedy. He's just a delight to me. Another thing is that I could sit at a park and watch people all day long; I get that from my grandmother and my mother. We'd go to the mall, my mother and I, and just sit. We'd get an ice cream cone and we'd sit and watch people and we'd make up stories and scenarios for each and every person walking by. It was just a hoot! I love watching people … if you have some confidence in the Lord and you can relax about the things in this world, you're able to sit on a bench and just enjoy life and watch folks. Sometimes we are so encumbered by our stress and strain and our worry. Sometimes it's easy to forget that I know how the story ends and I know where I'm gonna go when I leave this world, so everything in between ... just relax and enjoy the show.
HOMECOMING
: Tell us one or two of your "go-to" Bible verses that really give you strength.
CHONDA:
I love John 6:63, which talks about how the flesh counts for nothing and the Spirit gives everything. When we're talking about awards or traveling or entertainment, that reminds me often that it's truly less and less about ourselves and more about the grace of God and His spirit in us, so I love that one.
When I was sitting with my mother — she was sick for seven weeks — there were good and bad days, and it was just a long, painful ordeal, learning to say goodbye to her. The thing that I loved about our relationship was that there was no rush to make amends, there were no "I love yous" that we should have said a long time ago. Our relationship was frank and tender and good, and of all my accomplishments in my life, I am so grateful that I could enjoy her and that there was not ill will or painful feelings. I have broken relationships in my life, and it can be very, very painful, and even when you try really hard to reach out and to fix them, God is that most tender comforter. While my mother was ill, I could love on her and baby her and care for her, and we weren't tied up with messy — we didn't have any messy chapters to have to write. The ending was as sweet and beautiful as our relationship.
I miss her so much every day; she was my rock, the one I could call. She was my "go-to" girl … I talk about this on the video too … when I needed encouragement, when I needed someone to pat me on the back, when I needed someone to scold me, my mother was the one. Halfway through this process of writing about this, sharing about it and talking about it on the video and all, it dawned on me this spring that what my mother would tell me today is that God needs to be my "go-to" person, that no other human being should take the place of that assurance and of that relationship with the Almighty. And I do think that sometimes I did put more stock in the words of my mother than the words of God! So even in her death, she taught me that you have to run to Jesus, you have to cling to His every word.
The sweetest thing ... I have one last voice mail from her, right before she went in the hospital, and I've played it for the crowds. In her sweet little tender voice, she says, "Honey, I've just gotta remind you before I go have the surgery … Keep living for Jesus and do what's right." And those are the last words I have from her … what a beautiful heritage it is! Through the grief, I can rejoice and go, "Wow! Thank you that I have this little gift, Lord, of her voice, speaking to me over and over…" I just love it!
HOMECOMING:
That's beautiful. It's so sad that you've had to go through this, but it's wonderful that you had such a great relationship with her.
CHONDA:
Yes.
HOMECOMING:
We are wondering — can we expect to see you in any more movies?
CHONDA:
Oh, I hope so! My little fancy-schmancy — I always call him my hotshot Hollywood manager — he's so new to this market, and I'm very proud that he sees the vitality in the Christian industry, and the talent that's here. So, yes, actually, we've been filming a documentary of sorts along the way … there's a company that's wanting to do a movie of my life. Now, that I'm a little worried about, but it is happening, though it's kind of slow going. I also have a couple of scripts I'm reading right now to see if I'm interested in them, and I love the movies that I was in. Each role has been getting a little bigger as I get more comfortable with that format. It's totally different, because you know, there's no one in the room to laugh at you! (
laughs
)
HOMECOMING
: Before we go, tell us a little bit about the counseling centers you have started with your brother.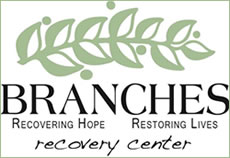 CHONDA:
Yes, that is near and dear to my heart. My brother and I are a part of founding a place called Branches Recovery Center. I mention it all the time, I'm the Pied Piper! It came out of necessity; I went through a terrible bout of clinical depression, and I found that the places that are available to go for those who are faith-based, to find good therapy … it's just hard. And it's very expensive. About six years ago, we decided to create a foundation that will turn no one away. Now there are four Branches Recovery Centers all across the country with incredible licensed, professional counselors. So that's my platform, to let people know there is hope and there's peace, even in the midst of depression and mental illness and addiction. God is a healing God, and He uses all types of ways to heal us, and I see him working every day at Branches Recovery Center. People can find out more at
BranchesRecoveryCenter.com.
HOMECOMING
: That's wonderful, and so many people will be helped. We have enjoyed speaking with you today; thank you so much!
CHONDA:
Thank you! It was my pleasure.