One day, as a young girl, Gloria Gaither was dashing down the long hallway of her family's home on her way outside to climb her favorite snow-apple tree. As she ran, out of the corner of her eye she glimpsed her father seated in his study, holding his soft-leather Bible open so that its pages draped down over his hands.
Changing course, Gloria skipped into the room, headed straight for her father's chair, and hopped into his lap. She looked up at him and noticed tears streaming down his cheeks. "I knew he wasn't sad, because he was reading his Bible," she recalls. "Some new dot had been connected for him, and it had moved him. I knew I would figure out what that dot was come Sunday."
Come Sunday, her father, the pastor, would seek once again to articulate how a nugget the Lord had shown him in the Scriptures applied to his congregants' everyday lives: how truth intersected with reality.
In light of Gloria's spiritually creative upbringing — a pastor father, an artist mother who wrote and directed the church's Christmas plays while also painting the sets — it comes as little surprise how deeply Gloria desires to see those dots connected for others.
That desire, in a nutshell, is the inspiration behind a new
Homecoming Magazine
book, from Worthy Publishers, that seeks to unfold aspects of the unfathomable mystery surrounding Christ's incarnation.
A Homecoming Christmas: Sensing the Wonders of the Season
essentially is an attempt to shed light on what Gloria calls one of the Bible's most staggering truths: that the eternal God, the Creator of galaxy upon galaxy and cosmos upon cosmos, would descend from heaven to earth, from divinity to humanity, on a rescue mission to seek and save His wonderfully made yet tragically misguided creation: us.
Gloria is quick to point out that the new book came together thanks to a collaborative effort. A number of your favorite Homecoming artists and friends contribute stories, memories and thoughts to the finished work. And author Calvin Miller offers his sensitive voice with beautiful prose setting up each chapter.
Still, in many ways this yuletide collection reflects Gloria's own heart, her deep longing to see truth revealed in fresh and meaningful ways.
"We were talking about the fact that there is no greater piece of theology to wrap our minds around than the incarnation," she says. "Christmas is just one offshoot of it, but I think we struggle with the concept all year round. We boiled it down to this: How do we begin to approach the phenomenal truth of who Jesus is and of why He came to our world? I am convinced that our churches are milquetoast and many of us are bored because we don't know this."
Grasping the meaning behind incarnation — which, Gloria acknowledges, is not fully possible this side of heaven — can help us to view Christmas in new light.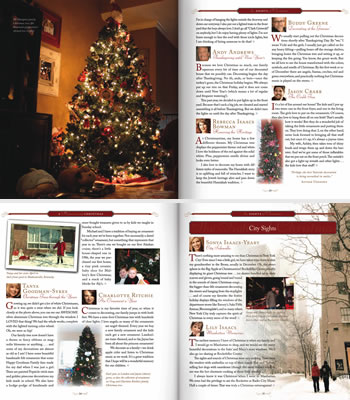 The book is also partly a response to our modern world's penchant for dismissing the mystery of what Christmas really means, of how it extends far beyond Santa and shopping. "As a culture, we have blown it off with a 'Happy Holidays' and stopped trying to pass along the meaning to our children," Gloria laments.
And it's not just at Christmas that meaning and purpose tend to be too easily dismissed nowadays. "I wrote
Let's Make a Memory
,
Let's Hide the Word
and other books because if I go to one more wedding reception and nobody says what we're doing, I think I'm going to choke," Gloria says. "We need to say out loud that God is melding two families together because we love these kids so much, they love each other and He loves them. We're here for them. This has got to be a spiritual thing or it's not going to work. The same is true for Christmas. If there's a tradition, we should explain it."
One of the most effective ways to recapture lost wonder is through the senses, which Gloria calls "the highways of our brain. Maybe, just maybe, if we use all of them, we can begin to approach something transcendent and amazingly cosmic."
To help convey this weighty yet profoundly simple reality, the new book features photographs of a child — Gloria and Bill's grandson Liam — illustrating the five senses. Images of Liam's eyes, ears, nose, mouth and hands help to set the scene for each section.
"Everyone says Christmas is for children. Christ came as a child, so children 'get it' before adults do," says Gloria.
The presence of a child as a symbol of the senses also helps to make the book appealing for parents or grandparents to read to the little ones in their lives. "There are a lot of children in the book. Having Liam as a section setter will get a child's attention," she notes.
As the Christmas season approaches, Gloria encourages families to tell stories, share memories, keep alive traditions and explain symbols. "We tell our children, or remind them, that the evergreen tree represents eternal life. The red lights on the tree symbolize the blood of Christ, breaking into winter to bring newness. And so on. Everything we do, someone needs to say, 'Why are we doing this?'
"The symbolism of Jesus' birth was not incidental," she adds. "The bread of life was lying in a manger — essentially a grain holder that makes bread. Everything about His birth holds purpose: the gush of water, the blood. I just wrote a song called 'The Water and the Blood.' God burst into our planet with a gush, and when He left, He drained every bit of it and left it here."
A Homecoming Christmas
was crafted with a broad audience in mind, but Gloria believes it could be especially helpful to those who are just getting started with a family
"My personal goal is that it will reach young husbands and wives, both of whom may have had dysfunctional backgrounds — which is typical in America today. We all marry saying, 'Our house will be different.' Here's one way to infuse a home with meaningful traditions. If you don't know how to 'do' Christmas, you need this book. And it can start with you: You can bring reality and truth and meaning and memories into your family."
The book lends itself to personalization for a loved one. "At a time when money is very tight, and giving might have to be pared back, I would strongly suggest giving something meaningful," Gloria advises. "I think this book is substantial and personal enough for every person on your list. Consider adding one of your best Christmas memories in the front — a story, a family recipe, a favorite carol — along with a note telling this person why you love and appreciate them. I think that will make for a gift that goes on long after we use up the toys or the clothes."
Ultimately, A Homecoming Christmas is about "why love is important, why we need to try to sense Christmas because we're not able to wrap our minds around it," she says. "That's why we have traditions— and that's why we try to make them meaningful."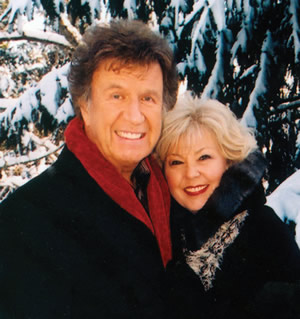 A GAITHER CHRISTMAS TRADITION: The First Tree
The new book
A Homecoming Christmas
is filled with thoughts, memories, practical ideas and traditions designed to deepen a sense of wonder surrounding the celebration of Christ's birth. One tradition that has taken root — so to speak — in the Gaither home is the placement of "edible ornaments" on a living tree outside.
"On Thanksgiving afternoon," Gloria Gaither says, "after we have shared what we're thankful for and feasted together, we decorate the first tree of the season. We cover pinecones with birdseed, tie peanuts together in their shells, strand cranberries, and then we all troop out into the yard. Whatever pine tree we can reach, we cover with what we have made."
Why this tradition? "We have just spent the whole day saying we're grateful. We are blessed. God is so good. Out of that gratitude, we then think of these small creatures—the birds of the air—and give of our bounty to them, because God put us here to do that."
The grandchildren keep a close eye on the birds and the tree, watching them enjoy the feast. "It reminds us that God cares for all creatures, great and small, and it gets our hearts focused toward Christmas," Gloria says.
A Homecoming Christmas: Sensing the Wonders of the Season
This elegantly designed treasure is filled with heart-warming stories, recipes, favorite memories, full-color photos, songs, decorating ideas and scriptural inspiration from Bill and Gloria Gaither and their Homecoming friends.
Features special inspirations from Bill and Gloria and best-selling author Calvin Miller, plus treasured memories from many of your favorite Homecoming artists, including:
David and Lori Phelps
Wes Hampton
The Hoppers
Russ and Tori Taff
Mark Lowry
Tanya Goodman-Sykes
Jeff and Sheri Easter
Joy Gardner
The Isaacs
Jason Crabb
Guy Penrod
. . . and many more!
To order this amazing book, call us at
1-800-527-5226
and tell us that you want to buy
A Homecoming Christmas
by Bill & Gloria Gaither. Or order it online at the
Homecoming Magazine Store
.