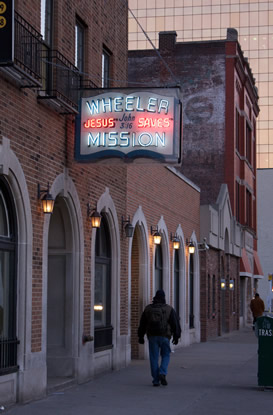 Bill Gaither has spearheaded a lot of special events over the years — thousands of them. And he has been involved in giving projects that were close to his heart. But this year, he has combined a colossal Christmas event with a huge giving thrust that is already exceeding his expectations.
Bill has joined forces with Wheeler Mission in Indianapolis to create a Christmas benefit concert on November 30 that will make a significant difference to help the homeless population in Central Indiana. His involvement goes far beyond simply donating a percentage of ticket sales to a homeless shelter.
Bill visited the shelter several months ago, then returned a few weeks later with Mark Lowry to serve meals and tour the facilities. After meeting some of the homeless men and women being reached by Wheeler Mission, and after meeting individuals who were once homeless and now work for Wheeler, Bill began to dream about a fundraising concept which would transcend a mere benefit concert and would hopefully be the beginning of a movement across Indiana and beyond.
He started by getting his checkbook out. He committed a generous portion of his own funds to Wheeler Mission, then he began to meet personally with friends, colleagues and associates whom he knew could do the same. His goal was to raise a quarter of a million dollars for Wheeler Mission. Already, he has far exceeded that goal.
He planned the most exciting concert he could possibly come up with. He reserved Bankers Life Fieldhouse (where the Indiana Pacers play) and he called together a group of world-class artists to help him create some unforgettable Christmas memories through music that night (and who resonate with the focus of this unique event). Then he called together a 1,000-plus-voice choir from churches and universities across Indiana.
Bill could not be more excited about the timing, either. "In any other year, family members who visit from out of town over Thanksgiving weekend might not agree on a concert for the whole family to attend," he says. "But this year, they can all agree on a Christmas concert that will help the homeless." Then he adds with a radiant smile, "Who doesn't love Christmas music?"
Bill continues, "I am 77 years old, so this might be the last time I ever try to fill Bankers Life Fieldhouse on a Saturday night. So I want to go big. I want to send a message to the needy in Central Indiana that a lot of people care about them, not just with mouths, but also with our wallets."
He concludes: "I would love to see cities across North America find ways to come together like this and really make a significant difference in our communities. I want people who have fallen on hard times to know that there is hope, regardless of how desperate your situation may seem."
Facts about Homelessness
and Wheeler Mission

• Job loss is currently the number one driving force causing the loss of permanent housing.

• In Indianapolis, approximately 1,600 people are homeless on any given night.

• By the end of 2013, Wheeler Mission will have served 325,000 meals to the homeless in downtown Indianapolis.

• Overnight shelter provided during 2013 includes approximately 150,000 nights spent at Wheeler Mission. Indianapolis.

• Among the valuable services Wheeler Mission provides are:
a men's shelter, meals, shelter for women and children, multi-phase addiction recovery programs, career counseling, childcare and spiritual discipleship.

Learn more about Wheeler Mission's ministry at wheelermission.org.