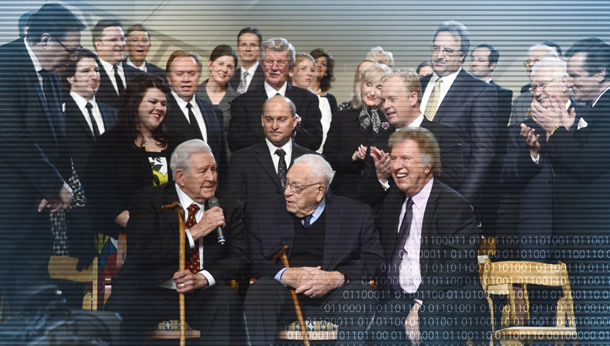 "The Christian faith is a singing faith, and a good way to express it and share it with others is in community singing."
Not only did Cliff Barrows voice those words, but he also continues to live them. Even at 91 years young, he can't stop himself from singing.
The legendary Barrows — longtime music and program director for the Billy Graham Team, Gospel Music Hall of Fame inductee, and one-third of the storied Bill, Bev and Cliff crusade triumvirate — is still prone to break into song without a moment's notice.
That winsome penchant and many other inimitable Barrows traits were on display during a recent, wide-ranging conversation with Bill Gaither, which was filmed for a new DVD and CD project set for release through Gaither Music Group.
Barrows relished the chance to reflect not only on the classic songs featured on the project but also on an array of memories from his storied life and career, most notably his music ministry alongside Graham and George Beverly "Bev" Shea that began in 1949.
Looking dapper in a pink button-down shirt, brown slacks and a tan sweater vest, Barrows held gently to his hardwood cane as Bill and he sat and talked for just under three hours. The topics they covered ranged from Barrows' direction of choirs at Graham events, to the many friends who played a part in the team's adventurous journeys, to the remarkable ways in which God moved to draw so many people to new life in Christ.
Only when Barrows' wife, Ann, stepped in to softly let him know that lunch was ready did he realize how much time had passed.
"Oh, do you mean the biscuits are waitin'?" Barrows asked her with a gleam in his eye. "We could visit like this all day."
Photographic Memories
Watching the dialogue unfold, the most striking impressions of Barrows included his bright eyes and engaging presence, his profound gentleness, his palpable sense of deep joy and peaceful gratitude, and — perhaps most amazing — his encyclopedic memory of melodies, lyrics, poems, scriptures and stories.
At points during the conversation, Barrows broke easily into song, or launched into an extended passage of the Bible, or recounted the details of 60-years-past events as if they had taken place this morning.
As the crew made final preparations to record the interview, Barrows asked, "Bill, do you remember the first time I met you?"
"1959," Gaither replied, smiling.
"It was the state fairgrounds auditorium [in Indiana]," Barrows said, nodding. "You had Doug Oldham with ya, and you had one of the early manuscripts of 'He Touched Me.' And you wanted Bev to sing it. You showed it to me, and Doug sang it that night, and it became one of our favorite songs."
Barrows then began to quote part of the lyric:
"… shackled by a heavy burden … then the hand of Jesus touched me, and now I am no longer the same."
"And then," Barrows continued, "you took me to Blackwood Studios and to your home, and your dear, sweet Gloria had just baked some pumpkin pies, and she served me the pie, and I stretched out on that couch in front of the window and rested there a little bit, and boy, those are wonderful memories."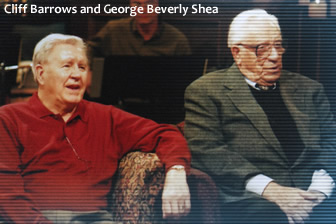 The trove of memories continued to pour forth. In one of many touching moments during the interview, Barrows responded with visceral tenderness when he heard, off-camera, a clip of his old friend Bev singing "How Great Thou Art" in his unmistakable baritone.
"We've never left him. He's still here," Barrows said with a wistful break in his voice.
And the memory propelled him into a fond recollection of his half-century of globetrotting evangelistic meetings with Graham and Shea, from the U.S. to Europe to South America and hundreds of points in between.
"Boy, I tell you, the stamina of dear Bill and dear Bev," Barrows said, shaking his head and smiling.
Songs for the Ages
"How Great Thou Art" is one of the many songs that take Barrows right back to his most cherished moments from all of those meetings—and of course it's featured on the new DVD and CD recording, as sung by Shea in Scotland.
The other sure-to-please classics on the collection include "Bless the Lord" (featuring a full choir), "I'd Rather Have Jesus" (featuring Shea), "His Eye Is On the Sparrow" (featuring Ethel Waters), "Born Again" (featuring Andraé Crouch), "Give Them All To Jesus" (featuring Evie), "He Touched Me" and "The King is Coming" (featuring the Gaither Vocal Band), "Because He Lives," "Amen" (featuring Larnelle Harris), "Just As I Am," "Battle Hymn of the Republic" (featuring the Red Army Choir), "Wonderful Grace of Jesus" and a song featuring frequent crusade guest Johnny Cash.
As a bonus, the set includes a playful rendition of "This Little Light of Mine" performed by Barrows, Shea and the selfadmittedly not-so-musical Graham.
Considering Others Better
In his typically humble fashion, Barrows tends to turn praise directed his way to God and back toward others.
During the taping, Bill Gaither took a moment to thank Barrows for the warm welcome that Gloria and Bill received when they first sang at a Billy Graham meeting—in front of some 70,000 people in Toronto, on a night when they performed "Because He Lives."
"You made us feel like we were royalty," Bill said.
"You
were
," Barrows interjected.
"We felt so welcome, and I wanted to thank you for that."
"Thank
you
, Bill," Barrows said.
"Whenever we announced the Gaithers and the Homecoming choir, we had a jammed house."
Reflecting on his lengthy music ministry, Barrows said he has enjoyed the work because he considers music a high calling.
"Martin Luther said, 'Next to the word of God, music deserves the highest praise. Because the gift of music combined with language was given to man that he might better proclaim the good news of the Gospel,'" said Barrows, who continues to do just that in the best ways that he knows how.
And yes, for him that almost always means breaking out in song.