On July 5, popular powerhouse group the
Collingsworth Family
proudly took part in the highly anticipated and publicized ribbon-cutting ceremony for the brand-new
Ark Encounter
.
Located in Williamstown, Kentucky, Ark Encounter features a full-size Noah's Ark, built according to the dimensions given in the Bible.
ArkEncounter.com
gives more detail about this incredible attraction: "This marvel of engineering is seven stories tall and is a football field and a half long. It is the largest timber-frame structure in the world, full of world-class exhibits designed to answer your questions about the biblical account of Noah's Ark."
The massive exhibit and future theme park are the realized vision of Dr. Ken Ham, founder, president and CEO of the Answers in Genesis organization, which operates the Creation Museum just 40 miles north in Petersburg. The Christian organization is an "apologetics ministry, dedicated to helping Christians defend their faith and proclaim the gospel of Jesus Christ effectively ... focus on providing answers to questions about the Bible — particularly the book of Genesis — regarding key issues such as creation, evolution, science and the age of the earth."
More than 8,000 donors and special guests, along with many media members, attended the special one-time event, clogging up I-75 for miles and setting the stage for this major attraction for years to come.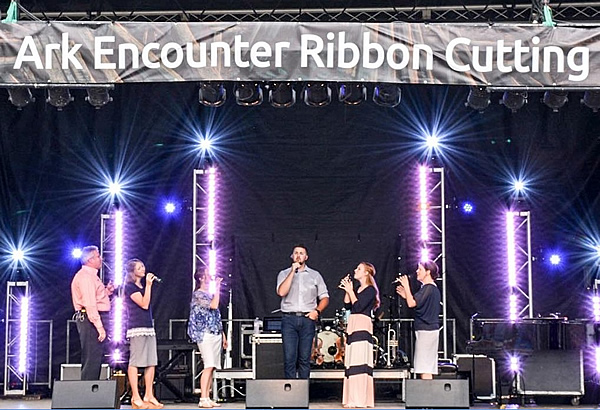 "It was a stalwart honor for the Collingsworth Family to be asked to perform for the ribbon cutting ceremony for The Ark Encounter," said Phil Collingsworth. "God has blessed the ministry of Dr. Ken Ham and Answers in Genesis tremendously, and it was awesome to be a part of the very beginning of this new endeavor which will bless thousands of people who come through the exhibit and theme park."
Ark Experience theme park includes the Ararat Ridge Zoo, daily animal shows, zip lines, a 500-seat outdoor amphitheater, live entertainment, a 1,500-seat themed restaurant and performing arts center, and fair-trade shopping.