"You shall love the Lord your God with all your heart, with all your soul, and with all your strength. And these words which I command you today shall be in your heart. You shall teach them diligently to your children, and shall talk of them when you sit in your house … write them on the doorposts of your house and on your gates."
Nothing says, "Come on in!" like a home filled with His Presence. When we fill our living spaces with reminders of Him, we set an atmosphere that is focused on eternal things. And when the focus of the home is on eternal things, perfectionism gives way to grace … and the normal daily things take on sacred value.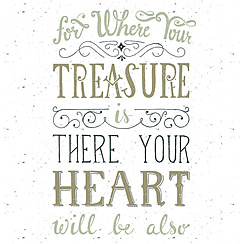 The passage summarized above is one of those nitty-gritty passages where we can see so clearly how to practically integrate worship into our homes and daily landscapes. He leaves no stone unturned. To keep His Word at the forefront of our thoughts at all times, "…teach them diligently to your children … write them on the doorposts … talk of them when you sit in your house…" He goes on to basically suggest stapling them to our eyelids! Whatever it takes, keeping His words in sight helps us hold them in our hearts and live them out more fully.
Before the days of Pinterest, I used to tape handwritten verses to the bathroom mirror, my desk, or the refrigerator. How old school, right?! Hey, it worked but with my handwriting, it wasn't pretty. Then I learned to type them up on a computer and print them out for a slightly neater look. Now, I'm finding that the Internet offers an almost endless selection of free printable images with verses or creative typography to frame, laminate or use as a screensaver (which, for many of us, is the next best thing to stapling them to our eyelids, am I right?).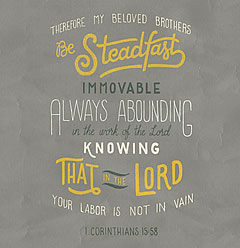 One interesting website, The Verses Project (
theversesproject.com
) has an archive of scripture verses combined with visual art, musical art, and even a study of the passage. The artistically presented verses can be printed out in poster form or saved in other formats to use as backgrounds for a cell phone, laptop or tablet device.
Ann Voskamp has a blog called A Holy Experience (
aholyexperience.com
), which I love for all kinds of reasons. There she provides great material for Lent, including instructions on a beautiful "Grace Garden for Easter" you can create in a basket with the help of your favorite kids. There is also tab on her site called "Freebies" which contains free tools and printables that are as aesthetically pleasing as they are truth-filled.
Let's look at our homes not only as a place where life happens, but also where worship happens. Any place, big or small, elaborate or humble, permanent or temporary, can be a sanctuary where our Savior is worshiped and where His words are given a place of honor.
The word art featured on this page is from The Verses Project by Chris Wright,
www.handlettering.co