When country and gospel music meet — good things happen! Several Homecoming Friends sat down with some of their favorites to talk about the places their worlds have collided and the inspirational music it has created. Plus, a look at many of today's biggest country stars and how they're honoring their love of gospel music.
Throughout the history of Country Music, there's always been a strong gospel thread woven into the fabric of the genre by Christians eager to combine their faith and art.
Whether listening to songs by the legendary Hank Williams or downloading the latest album by the Country Music Association's reigning entertainer of the year, Brad Paisley, gospel music lovers have often found some of their favorite tunes coming from the country community.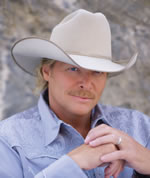 In recent years,
Alan Jackson [photo left]
, Ricky Skaggs, Randy Travis, Charlie Daniels, Diamond Rio and Alabama are among the country acts who've recorded gospel albums. Alabama's 2006
Songs of Inspiration
was such a success, the legendary band followed it the next year with
Songs of Inspiration II
. Alan Jackson's 2006 album
Precious Memories
was originally recorded as a Christmas gift for his mother. The head of Sony Music Nashville talked Jackson into letting them release the hymns collection and it became one of his most successful albums, selling nearly two million copies thus far.
"Country has always gone hand in hand with gospel over the years from Hank Williams to Johnny Cash," Jackson says. "Country acts, especially those raised in the South, end up coming back to the music that reminds them of their childhood. I think there's always been a close connection between country and gospel music."
Indeed, the country/gospel connection is hardly a recent phenomenon or passing trend. For decades, country artists contributed some of the best-loved songs of faith to our nation's gospel music repertoire. Though he was a troubled soul, who died at 29, Williams recorded numerous gospel songs during his career and is probably best known for writing and recording the 1948 classic "I Saw the Light." In 1951, Red Foley recorded "Peace in the Valley," a song Thomas A. Dorsey originally wrote for Mahalia Jackson. Foley's version of the song became one of the first gospel tunes to sell a million copies and the song went on to be recorded by such artists as Elvis Presley, Johnny Cash, Loretta Lynn and Ronnie Milsap. Foley sang this song at his friend Hank Williams' funeral.
Of course, when many people think of country gospel songs, the classic that immediately leaps to mind is the Carter Family's "Will the Circle Be Unbroken." Numerous artists have recorded it over the years, including Bob Dylan, the Black Crowes, the Staple Singers, Joan Baez, Bill Monroe, and John Lee Hooker. The Nitty Gritty Dirt Band used it as the title track for their landmark 1972 album that brought together legends such as Mother Maybelle Carter, Roy Acuff, Doc Watson and Merle Travis. The Dirt Band has since recorded
Vol. II
and
Vol. III
Circle
albums. Considered by many to be one of the greatest country songs ever recorded, the words "Will the Circle Be Unbroken" are inscribed in the rotunda at the Country Music Hall of Fame.
"Country music and gospel music go hand in hand and they always have," says Charlie Daniels, who won a Dove Award for Country Album of the Year in 1995 for The Door on Sparrow Records. In 1997, he netted the Dove for Country Recorded Song of the Year for "Somebody's Praying'" from his album Steel Witness. Songs From the Longleaf Pines, issued in 2005, combined his love of bluegrass music and gospel.
Daniels says it used to be common for country artists to include gospel songs on their albums and sing a gospel song or two in concert. "If you went to see a country artist perform, they always did a gospel song, and on the Grand Ole Opry, they did gospel music. On country radio years ago, they played gospel music," says Daniels. "It's always been a part of country music and a certain style of gospel music is country, so I don't think there's anything new at all about the country artists doing gospel music."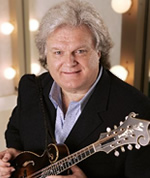 Like Daniels,
Ricky Skaggs [photo right]
has long been known for being outspoken about his faith, even performing "Can't Shake Jesus" before the thousands of country music fans gathered at the Tennessee Titans football stadium for the annual CMA Music Fest.
Throughout his career, Skaggs has never been hesitant to share his faith in his music, interviews, concerts or anywhere he has the opportunity to lift up the name of Jesus. He has won 14 Grammy Awards including the 2000 honor for Best Southern, Country or Bluegrass album for
Soldier of the Cross
and he took the Grammy in the same category in 2007 for
Salt of the Earth
, a collaboration with his wife, Sharon White, and her family the Whites. In 2010, he released the critically acclaimed
Mosaic
, a unique gospel album that put a sometimes Beatlesque spin on a powerful collection of original gospel songs.
Skaggs has dubbed his 2011 concert dates the "Treasure Chest Tour." "There's an old scripture that says, 'a good man even takes things from his treasure chest, things old and new.' I read that one day and I thought, 'treasure chest, things old and new, that would be an awesome name for a tour.' I'm doing new songs from
Mosaic
. I'm doing my old country songs and we're doing some bluegrass. On
Treasure Chest
you get country, bluegrass and gospel stuff. You get all three."
One of the most acclaimed albums of 2011 is a superb collision of country and gospel's best. Jamey Johnson, Vince Gill, Willie Nelson, Lee Ann Womack, the Oak Ridge Boys and Hank Williams Jr., join the Blind Boys of Alabama on their latest album,
Take the High Road
. "As far back as I can remember, I can place the Blind Boys of Alabama in my musical memory bank," says Oak Ridge Boy Duane Allen. "When the Oak Ridge Boys were asked by the Blind Boys to sing with them on their new album, I was so thrilled. The Blind Boys are one of the few acts that have been around longer than the Oaks. I love their music; I love their souls; and I love them as friends."
The Oaks sing with the Blind Boys on the album's title track. Nelson duets on "Family Bible" and Hank Jr. joins in on "I Saw the Light." Gill lends his distinctive voice to "Can You Give Me a Drink?"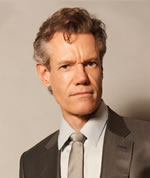 Randy Travis [photo left]
has enjoyed tremendous success melding his faith and his music. In 2000, Travis made his bow in the Christian market with
Inspirational Journey
, which was quickly embraced by both country and gospel fans. He followed with 2002's
Rise and Shine
, 2003's
Worship & Faith
and 2005's
Glory Train: Songs of Faith, Worship and Praise
. Each won a Grammy Award for Best Southern, Country or Bluegrass Gospel album in 2003, 2004 and 2006, respectively.
Rise and Shine
spawned the mega hit "Three Wooden Crosses." Penned by Doug Johnson and Kim Williams, "Three Wooden Crosses" became Travis's 16th No. 1 hit and holds the distinction of being the only single released by a Christian record company that went to No. 1 on the Billboard country chart. "Three Wooden Crosses" was also named the Country Music Association's Song of the Year in 2003 and won the Dove for Country Song of the Year in 2004.
In addition to buying entire albums by key artists, consumers often turn to compilations to hear the gospel according to their favorite country act. Over the years, there have been numerous collections. In 2008, RCA Records and Nashville's famed Grand Ole Opry partnered to release
How Great Thou Art: Gospel Favorites Live from the Grand Ole Opry
. Featuring Jackson, Daniels, Paisley, Skaggs, Carrie Underwood, Patty Loveless, Loretta Lynn, Dierks Bentley, Loretta Lynn, Vince Gill, Sara Evans and Trace Adkins, the project was recorded live on the stage of the Opry. Country artists served up their favorite praise and worship songs on
Songs 4 Worship: Country
, released in 2007 by Time Life Music. Among the highlights were Bryan White's cover of "God of Wonders," Linda Davis' take on "Shout to the Lord," the Oak Ridge Boys' "Come Now is the Time to Worship" and Diamond Rio's "Open the Eyes of My Heart."
The track on that collection from
Diamond Rio [photo below]
was a precursor to the veteran band releasing their first gospel album,
The Reason
, on Word Records in 2009. "We're all believers. We always have been," says Diamond Rio's lead vocalist Marty Roe. "A lot of our songs re ected that part of who we are over the years, but it was a little different to be able to say in a stronger voice what our hearts are about."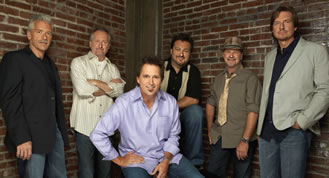 Even artists who have yet to record an entire album of gospel songs have managed to share their faith through hit singles on country radio. Country programmers have embraced such faith- lled anthems as Josh Turner's "Long Black Train," Randy Travis' "Three Wooden Crosses," Jimmy Wayne's "I Love You This Much," Brooks & Dunn's "Believe" and Paisley's "When I Get Where I'm Going," featuring Dolly Parton. Several of Carrie Underwood's hits have reflected her faith, including her 2005 breakthrough "Jesus Take the Wheel," which spent six weeks at No. 1 on the country chart. The American Idol winner's string of hits also includes "Temporary Home," a beautiful ballad about heaven, which Carrie co-wrote.
"I would love people to listen to 'Temporary Home' and know that I believe what I'm singing,"
Carrie Underwood [photo left]
says. "I'm a Christian and this earth is just passing through. This life isn't the end."
Earlier this year, she was honored by the Academy of Country Music at the "Girls' Night Out: Superstar Women of Country" TV special. During the show, she and Vince Gill sang "Jesus, Take the Wheel" and also delivered an amazing performance of "How Great Thou Art." The performance became a viral sensation, with more than three million views on YouTube.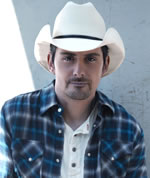 Like Underwood,
Brad Paisley [photo right]
is also a believer and has recorded a gospel song on every album he's released since his 1999 debut,
Who Needs Pictures
, which featured "In the Garden." Since then some albums have featured classics such as "Old Rugged Cross" and "What a Friend We Have in Jesus" while his 2009 release,
American Saturday Night
, included an original gospel song he co-wrote with Grand Ole Opry star Bill Anderson titled "No."
His latest album,
This is Country Music
, includes "Life's Railway to Heaven." "This is the first song I ever sang," the West Virginia native says. "I was 9 when I first sang that in church. I had Marty Stuart, Sheryl Crow and Carl Jackson singing harmonies on this [version] on the new album."
Several country artists began their careers in gospel music. Trace Adkins sang with a quartet in Louisiana before choosing to pursue a country career. "If she had her way, that's what I'd still be doing," Adkins tells Homecoming, admitting his mother hoped he'd continue his gospel career. Sony Music Nashville newcomer Brent Anderson also began his career in a gospel group, performing with his father.
Of course, when it comes to gospel artists making the move to country music, the Oak Ridge Boys blazed that trail years ago when they crossed over to mainstream country with the '70s hit "Y'all Come Back Saloon" and proceeded to become one of country music's most successful groups. In the past couple years Homecoming favorites Guy Penrod and Jason Crabb have been embraced by country fans. Jason, who is a regular guest on the famed Grand Ole Opry, gained fans at country radio with the powerful single "Somebody Like Me." A former member of the Gaither Vocal Band who has always had a love for country music, Penrod gained a brand new audience with the release of his rst country album,
Breathe Deep
. "I want to wrap the truths we live by in everyday vernacular and toss it out in the marketplace," he says. "I want to blur the line between gospel and country."
It's a line that has been crossed numerous times by talented artists over the years, and as faith continues to inspire art, it's a bond that will only grow stronger.