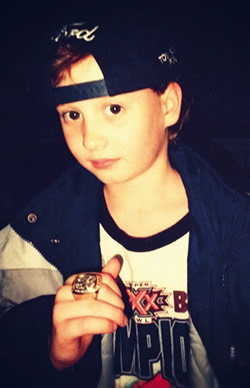 (Pictured right: Dony McGuire and Reba Rambo-McGuire's son, Israel, in his younger days. Today he is a Grammy-nominated film director and musician.)
Football has spoiled my adult life. Let me rephrase — the Dallas Cowboys of the 1990s spoiled my adult life as a sports fan. I was born a McGuire, with the soul of a Rambo. The McGuire side of me, however, was raised with blue blood. My pop, Dony McGuire, was born and raised in Oklahoma and wisely chose to defer from his brothers' admirations of the Green Bay Packers and Kansas City Chiefs. By the time I came around in the late '80s, he was a diehard Cowboy. Like the '50s Yankees, the '70s Steelers and the select few franchises before them, the Cowboys built a dynasty that transcended the sport.
One of my earliest memories is of my late uncle Jerry cheering on the boys in what would be the first of three Super Bowl wins in four years. Looking back, the best part about all of this is I can't remember not being a Cowboys fan. I never had to grow up and decide which franchise to like, which would inevitably consist of me flip-flopping my fandom every five years. (I know, it's disgusting.) Rather, in my family it was one of the unspoken rules I discovered early in my childhood: 1. We never miss church on Sundays. 2. If I lie, my mom can read my mind. 3. I am a Cowboys fan. 4. If there is a Cowboys game on, you are watching it. 5. If we are in Texas, and it is summer, we are going to Cowboys training camp. Thankfully, we never stayed too long on the West Coast during football season, seeing how rules 1 and 4 would occasionally conflict.
I'd prefer to not reflect on the recent performance of the team, although it has been only an … 18-year championship drought. When the Cowboys first started losing, it didn't seem so bad. They were champs only years prior, right? Then the realization that I was spoiled came, and with that, never-ending disappointing season after disappointing season. (New England Patriot fans, prepare for this when Tom Brady retires in five years or so.)
Until one day, enlightenment. These sorts of dynasties that impact modern culture only come around once every few decades, and very rarely does lightning strike twice and sometimes never strikes at all. The older I get, the more I'm amazed that athletes with such clear deity-given talent were able to take the field together at all. Players like Troy Aikman, Michael Irvin, Deion Sanders and Emmitt Smith each unknowingly contributed to the love my family shares together. I know it's only a game, but for some of us, it's the ability to bring families and friends together on Sundays and share love we might otherwise not have. If that isn't a gift from God, I don't know what is.
—
ISRAEL ANTHEM McGUIRE