Darlene Zschech writes the songs that make the whole church sing.
Even if her last name seems almost impossible to pronounce, Darlene Zschech (sounds like "check") has become a familiar part of Sunday, Wednesday and every-other-day services over the past two decades. First as the worship pastor at Hillsong Church and then as a key member of the Hillsong United music team in Australia, Zschech has written and recorded dozens of signature tunes that millions of believers have lifted to the heavens throughout the globe. From her most widely known song, 1997's "Shout to the Lord," to a bevy of other stirring praise anthems —"All things Are Possible," "The Potter's Hand," "Abba, Father," "Worthy Is the Lamb," "High and Lifted Up," "Praise His Holy Name" and many more — Zschech's imprint is on many a music stand's chord sheets whenever the faithful gather to sing. Despite the numerous accolades she has received as an artist, songwriter, worship leader, conference speaker, mentor and author of four books, Zschech prefers to focus on loving God by serving others within His body. She and her husband, Mark — who have three daughters and three grandchildren — are senior pastors of Hope Unlimited Church on the Central Coast of New South Wales, Australia. Zschech's heart for the hurting is reflected in her endeavors aimed at alleviating suffering, such as her involvement in Compassion International and in the Hope: Global relief movement that Mark and she established in Rwanda in 2006; it has since spread into Cambodia, Vanuatu and India. As she has said, "First and foremost I am a woman who simply and wholeheartedly loves Christ, and serves Him through loving my family, serving the church, and speaking up for those who cannot speak for themselves." In a conversation with Gloria Gaither, Darlene Zschech shared her insights on this issue's theme of worship. It's easy to imagine the creative sparks that would fly between these two kindred-spirit music artists…
GLORIA:
First of all, on a personal note, I just want to tell you how much I appreciate the songs you've written and the content of them. I know it comes out of the thick of your life, or you wouldn't be writing like you are.
DARLENE:
Oh, God is good. And I want to take this opportunity to say the same thing — your songs have been the soundtrack to my Christian life and I'm very, very honored to be talking to you today.
GLORIA:
Your songs are sung around the world and evidently God used these, or had in mind to speak in a sort of gutsy way to certain truths at this time, for whatever reason … we never know. What are the nerves your songs hit? And what do you feel are the needs and longings and cries of the culture today that connected?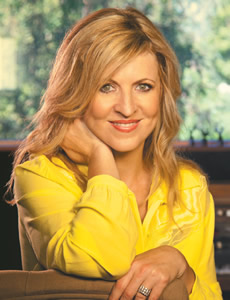 DARLENE:
I've been leading worship and writing worship songs for about 30 years now, and I think I've noticed over the years that people have really wanted to sing songs that pull God very close. Rather than "we do this" or "we exalt," they want to sing "I" — they want to pull Him closer. I've seen that lyrically — especially in the last 10 years — lyrically, young people are demanding an authenticity that is very black and white with no filler. Just "this is how I feel," even if it's words that have never really been written in songs before. They want to sing those very authentic lines. Lyrically, they're things that I could never even come up with, but the young people are coming up with these lines that are gut-wrenching and fantastic.
I feel like that's what people really want to sing. They want to have God in the midst of their joy and their pain, and not be afraid to talk about it and sing about it.
GLORIA:
I think you've hit on something there — since what the secularists refer to as the postmodern shift, young people and people in general … they want to experience God. They don't want to talk about Him, philosophize about Him, although what we believe about Him is incredibly important, but they want to be honest about their feelings, and the feelings seem to be deep pain, confusion … what else would you add to that list?
DARLENE:
I think fear — fear is a massive one, all over the world today.
GLORIA:
Do you see that both in a global sense and in a personal sense?
DARLENE:
Absolutely.
GLORIA:
What are some of the personal fears that you feel from the kids?
DARLENE:
You know, in a society that is technologically so advanced, it's the loneliest generation that there's ever been. So people fear isolation, I think, and then also with what is going on in the world, that sense of the unknown. I remember Graham Kendrick years ago coming to a conference, and I heard him speak about singing the songs of lament. Looking through some of the Psalms, he said, "David was never scared of the tough subjects." He said that parts of the church can so often just run over those very tough things in life where actually, God is still in the midst. You know, with my year last year, I've found Him in the midst in ways that I never thought possible.
GLORIA:
Do you think that we have painted a rabbit's foot kind of God, that is the cure-all, and if we rub the genie, he'll jump out of the jar and solve all our problems? We've created in our church settings sometimes, especially in the more experiential churches, a promise that if you come to God, you're going to have two cars in your garage and you're going to have plenty of food and you're not ever going to have problems and your kids aren't going to have pimples.
DARLENE:
I think there is that definitely in parts of the church, or just people in general — they'd like to think God is that kind of God. My husband calls it "BMW faith." Jesus works, whether He's on a mountaintop or in a valley — Jesus works. But yeah, I think we've definitely been in danger of treating God in that respect.
GLORIA:
In that case, then, we can't be honest. If that's the God we paint, then when we do get sick and our kids do die, and we don't win everything and we don't have the money to pay the bills, then we either have to pretend that we do or cover up our shortages. Or, as I've experienced and you have too, working with people, a lot of them just walk away from the church and from God and say it was all a lie. So, my question is, is this tied to the honesty that you're feeling that the younger generation is demanding? They want to be honest about their failures, their fears, their doubts. And, they want to be able to say that to God.
DARLENE:
I think absolutely. And I think too … again, when everything is being shaken, what remains is what is true. People's theology has and is being shaken, and to be honest, I don't see that as such a bad thing. I think God, in Your love and Your grace toward us, we're finding out who we truly are. As writers of songs — and you know more than anybody — songs reveal theological revelations across history. I think there is a responsibility of writing songs that are talking about the deep pains and that God is still God and is still sovereign. I guess the question is, do I trust Him? Do I trust Him in this pain and do I trust that the word of God is true when all hell is breaking loose? Do I trust Him when the husband walks away or when the doctor says cancer? Do I trust that God is God, that He is providential, that He loves me?
That was one of the biggest things early on when I had a cancer diagnosis. God said, "Do you trust Me?" And I said, "Completely." But then He said, "Do you know that I love you?" and I couldn't answer that straightaway. It didn't feel like He loves me, but I know that He does and we'll walk this through together. And I thank God for that, because He loves us enough to walk us through our doubts and misconceptions about just how grand His love is.
And this year, having some things kind of sieved through my experiences, even my theology, I've come back to some truths that I cling to about my God, and actually He's far more wonderful than I'd ever seen. I don't think you come to those points without walking through there. It's how we can say "It is well with my soul" through the protest because God reveals Himself in such magnificent and miraculous ways.
GLORIA:
This is just a logistical question, but for us, Sydney, Australia, is literally on the other side of the world...
DARLENE:
(laughing)
It is!
GLORIA:
...and Sydney is a very secular city, yet from a church called Hillsong came what has come to be a clarion call to worship. Why there, why you, why now?
DARLENE:
(laughing)
You know, I don't know. I think early on in Hillsong history, there was a bunch of people very similar to Willow Creek, who said, "Let's do church! Let's worship Jesus!"—and Brian, he's an amazing leader, said "Let's do something with authenticity, and whatever we're doing, we must do two things: do it with joy — with gladness always, always, always — and be authentic!" With those two things, joy gives you strength, so there's been much energy for the journey, because there's much joy
in
the journey. And the other is that authenticity in your faith allows you to be a bit grittier on the ground with things, and when criticisms happen, because we're people … I guess over the years we've developed a church that doesn't get easily shaken. We say
no
, we believe what we believe, and God is a good God, and everyone needs to hear this message, because people are perishing, so let's get about it!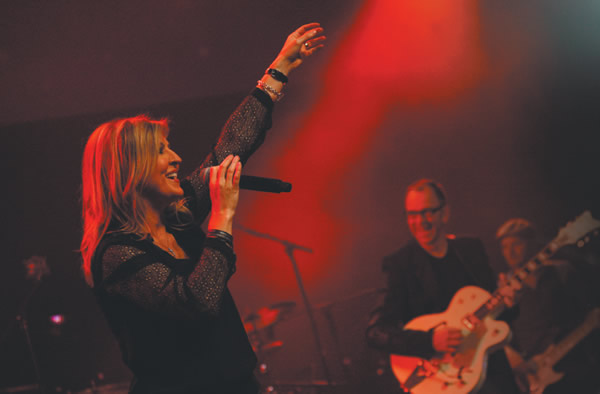 GLORIA:
Don't you think that we usually … I'll give an example. We have a little restaurant, and when we lose sight of what we're doing here and why we have this place in the first place, the staff can end up arguing. When we lose sight of that, we argue over who hung up the spatula...
DARLENE:
Right.
GLORIA:
... So often the stuff we fight about in churches is because we have lost, like you said, the joy, and we've lost the central purpose, which is to love Jesus. And when that starts to get jaded a little bit, then we argue over the piano bench or the junior Sunday school class.
DARLENE:
Yes, all the nonsense. I remember the first time I tried to play a keyboard in church rather than the piano — in another church — and the elders came in and said, "If you play that devil's instrument, we'll be asking you and your keyboard to leave." I remember thinking that day, "What is this? I'm stuck in a time machine, musically." Do you know what I mean? I felt like when I was in the world, when I was growing up singing secular songs, it seemed so much easier than when I would step into church. In church it was like stepping back in time. But once Jesus got a hold of my heart, I kept bringing it back to my mind — "It's all about You, Lord" and "this is a journey for all of us." You know, it's a journey, so that the church is progressive rather than always looking back and sounding like we're looking back. It's amazing how, when you fix your eyes on the hope that we have in Christ, everything you're working on and surrounded with has to move up to that point rather than looking back and at what you don't have, and "he said this" and "she said that" and "I'm offended"—I chose really early on to not live offended. Let it go!
GLORIA:
That's good. You know it's interesting that we call the things we make music with "instruments"—and that in itself says that this is just a
tool
to use to get to the worship—it's not the focus of our worship.
DARLENE:
Yeah, you can't worship the worship.
GLORIA:
And you know, I think when the Holy Spirit fills His holy Temple, we will grab everything that we can find to worship Him. I mean, there won't be enough things, there will not be enough ways, enough words, enough styles, enough instruments, if you will.
DARLENE:
Oh my gosh, I love that! I love that thought! And I think that's the thing, Gloria. You know, once you get your eyes off yourself — all of the good, bad and the ugly — and keep them focused on Christ and give thanks in all times, and not be about
your
kingdom or the things you want to control but
His
kingdom, it's amazing what flows from that place.
GLORIA:
You know, your songs are not the fluff that some of the praise and worship songs are accused of being. You do way more than just plagiarize the punch lines of David. What makes you write? Could you share with us some experiences or insights, maybe some of the infighting, maybe your cancer... what makes you write, what are the life situations that make you write a song?
DARLENE:
The first thing for me is — and I always come back to this — is that I got radically saved. I was born again. I was living out of home at 15, I was bulimic, I was a messed-up kid — a nice kid — but messed up, and really insecure. And then my father, who gave his life to Christ, picked me up from where I was living and took me to a youth meeting, and I got radically born again. You know, I'd been singing full-time since I was 10, and so from that point at 15, it messed me up in the best way possible, and I found it very difficult to sing anything else but worship. And I struggled with it for a while because I didn't understand worship, but all of a sudden I couldn't sing these menial songs. I used to do jingles, and I couldn't do jingles very well. I was thinking,
why am I singing about a french fry here when I could be singing giving glory to the King of kings?
So God messed me up beautifully from an early age, and I think for me, through the highs and lows … you know, I've lost my dad to cancer, my father-in-law to cancer, and one of my best friends is very sick with cancer. Last year, I was diagnosed with breast cancer and had the hardest year of my life, going through all the treatment and watching my children suffer through that as well and my husband. Then just being a part of a local church, and miscarrying, and disappointments in the industry, and all those things. In the end, actually, I got radically saved and Jesus is
everything
, and that is where the songs come from. It's why I can sing and write songs that I truly do mean, even if it's a journey of faith for me at that time. Whether I'm here or in eternity, I'm with Him. He's more to me than anything and that's truly ... I'm making myself cry...
(laughs)
... that's truly where the songs come from. My heart is His.
GLORIA:
That certainly makes you want to get radically saved again and again because when you go through that, any kind of those hard processes, I think it makes you say, "OK, do I really believe this stuff?"
DARLENE:
Yeah, it really did, and probably last year more than ever. I got my journal, and my best friend would come and pray and lay hands on me every single day. I'd write Scripture I felt the Holy Spirit was saying, and then sometimes it would be songs, and sometimes it would be nothing but sighing. But I just kept going back to His Word, and kept going back. His Word is secure and that is everything — His Word is secure. So that's where I stand, and even writing worship songs now … I guess they are becoming even grittier to me.
GLORIA:
The songs you've created have helped us to worship, but what brings you to worship? What is worship for you? What makes you melt in the presence of God?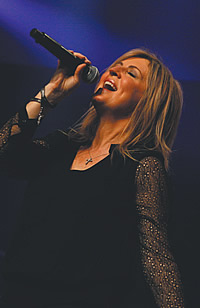 DARLENE:
Seriously, I can worship God to just about anything, if we're talking in regard to songs taking my heart heavenward…
GLORIA:
It doesn't have to be songs; is there anything besides songs, or church, or typical worship times? For you personally, what brings you to worship?
DARLENE:
I personally love being at my piano, with the Bible there, not to write a song but just to meet with God. In fact, more and more, every time I go and sit there, I feel like God is waiting for me. It's beautiful— I feel like He's like
Come away with Me, just come and be with Me
. I find it very easy to just get lost in Him at my piano—to me, that would be my most frequented place.
GLORIA:
That's beautiful. You know, Larnelle Harris wrote a song one time that I've always loved. It's God talking, saying
I miss my time with you. I'm waiting for you, and I know you've got all this stuff going on, but I really love it when you show up
. And I think if we can think of God saying that to us, which evidently is what happens at your piano, He's there.
DARLENE:
I was speaking a couple of weeks ago and just saying how last year, I was in bed for about seven months, and as hard as it was…. Being well and getting stronger and all of those things is so amazing, but I miss my time with Him, and I think He misses it with me. Because I was just in His presence, you know — some days I physically felt Him cradle me. I was talking to Him continually, and I clung to Him for literal
life
.
GLORIA:
Since you've been through some rough times, how are your own songs changed during your battle with life and death perspectives? I think of your song "The Potter's Hand," for instance. What you write for other people, has that changed since you've found God's presence so real in your weakness?
DARLENE:
Yeah, I mean I'm still working that through. I think every song I've written this year … it just seems to me that I'm not taking any time to get to the point — I'm at the point right from the beginning. I'm not wasting any time with pretty moments—I mean, maybe that will change again, but at the moment, that's where I am right now. I've met so many people on this journey who are walking through life on their own … no concept of having faith in God who loves them. I feel like I want my songs—every stanza, every word—to ring true to them, so that they can find Him in the valley.
GLORIA:
So many people live there, so you're going to minister to them in this process, I think. Praise and worship are not only vertical, but I think they get to be valid on the horizontal living out part, so our lives themselves are worship. Have you worshiped or been drawn into His presence by the Hope ministry that you do in Rwanda? Or is there some other piece of what you do, maybe just in your personal life, in your neighborhood or with needy people in your life? How does your worship live itself out horizontally?
DARLENE:
Well, I will say this, that I always have much room for improvement on this, but I love in Romans 12, which says take everything, the whole of who you are, everything about you, and in living that as sacrificial and holy. That is pleasing to the Lord, and it's a spiritual act of worship. That's where I've become very convinced that if our lives and our songs are not marching hand in hand, then you know, "Houston, there's a problem."
(laughs)
I feel that because the word of God says to do all this stuff and yet not look after the widows and the orphans — what is pure religion to God? If He's saying that there is a pure religion, then there must be something that is impure.
He's saying, "Look after the widows and the orphans.
Do
this — don't just sing your songs and dance around. Go and bring Me to the suffering — relieve the suffering." His Spirit is in us to do so. So you know, I do get very passionate about it, because I think we can't live celebrity lives and keep ourselves separated on a hill surrounded by beautiful things while our world is perishing. It just makes no sense — it doesn't look like Jesus to me. So that is always my challenge, not just from a global perspective, but a local perspective. So I feel that every day the Holy Spirit shows you, He will show me, as we're walking down the street, who we can talk to and pray for. He'll show us nations and put nations on our heart that we can pray for and maybe go and serve in some active and helpful way, not so that we can be the big heroes, but so that we can be Jesus in those situations.
So that side of worship, for me, if that's not operating, I feel very lopsided and like I'd be walking with a limp. In the Bible, we've Isaiah 58, we've got Hebrews 13, we've got Romans 12 — it's again and again. I love that God challenges us and says, "C'mon people — Be Me! Be Me!" I get very passionate about it.
GLORIA:
The kind of living that you describe here in your life, in your worship with God is basically this intimate, ongoing listening and praying your heart in music and every other way. Don't you think when that becomes a part of your life, or that becomes your life, you don't have to go looking for things? God just plops people down in front of you.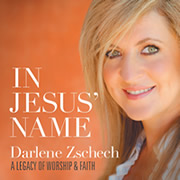 DARLENE:
Exactly right. That's what I think … you don't have to go looking. I do think you have to be awake and alert — you have to have your eyes open, because I can become so self-consumed that my neighbor might be desperate and I don't see it. Yet, when we pray, "Holy Spirit, show me today, open my eyes to how You see and what You need me to see," I think we live very differently. But that's the posture of worship. It's
Holy Spirit, use my life, here we go, let's worship
. It's offering ourselves and then we just go about our lives where God has placed us, what He's anointed us to do with our families and dropping kids at school and doing those things. But it is
amazing
how He can use you in all of those areas.
I remember Matt Redman once saying that there are many things that God will never reveal to the casual worshiper. I don't want to be a casual worshiper; I don't want to be a Sunday morning worshiper. I don't want to live that life; I don't want to shine my shoes for Sunday morning, I want to live in relationship with Jesus and, in turn, from that place, live serving mankind and doing what I can.
GLORIA:
Yeah, and probably, if you're doing that, you're going to get a little mud of the earth on the church carpet.
DARLENE:
Perfect!
(laughs)
I tell you, this has been one of the greatest joys of pastoring … we love it! We just say, if you're perfect, we're sure there's a great church for you nearby.
(laughs)
We're all on a journey … mud on the carpet—beautiful! Babies crying …
GLORIA:
… And that's family, isn't it?
DARLENE:
It's family!
GLORIA:
I think that church should be like a joyous family, with all the favorite food and everybody playing the piano and guitars at the same time and people running in and out playing basketball in the driveway. I mean, that is the body of Christ.
DARLENE:
Yeah … I'm so there! Oh, I wish I could come over and have a cup of tea!
GLORIA:
Oh, please do, please do! Thank you so much for this, and I'm praying that you will gather strength as you go, but in the midst of this, maybe you'll create the greatest songs
ever
, because you're so connected with something eternal here. It'll all be good — God is always good. But thank you — I so appreciate your time.
DARLENE:
Thank you. And listen, please know … Wherever I go and whenever I speak, I talk about you guys, and I just talk about the legacy and the pioneer spirit. I will always be grateful to you and this family. I remember I sat in the room once and you guys were playing and singing a medley of songs. It was in Nashville many years ago, and I was there — I can't remember why I was there, but you were being honored. I was so honored to be in that room, but when you started singing your songs, literally my husband and I wept, and we just thanked God for your lives. So, it's a profound privilege to be able to say "thank you" personally on the phone today.
GLORIA:
Well, I hope someday we get to come back to Australia, and as the little girl who wrote me from Australia said, "The greatest coffee in the world is in Sydney."
(laughs)
DARLENE:
Yes, it is!
GLORIA:
Blessings to you, my friend!