Sitting down to "catch up" with David Phelps these days actually means catching up with the whole family. Make that plural:
families
. The ridiculously talented tenor from Tomball, Texas, has at least three of them. There's his Phelps Family, of course, that is made up of Lori, his wife of 23 years, their four children, parents, in-laws, extended family, etc. Then there's his Homecoming Family, including Bill and Gloria, members of the Gaither Vocal Band past and present, and all his fellow artists on the tour. And finally, there's his Road Family, which consists of the solo date band members he has been traveling with for years. It can get a little confusing sometimes because there's a bit of overlap, especially with his Road Family—his sister Kari plays trumpet, Gaither mainstay Greg Ritchie plays drums, Maggie Beth and his other children often sing onstage with him, and Lori's cousin Jack is his musical director! So it only makes sense that we begin this interview with a roll call of those nearest and dearest to David.
"Well, let's see," David says. "Callie's at school in Birmingham; she just got on the dean's list again, which she's done every semester since she's been there. Maggie Beth is just singing her heart out; she's been in one musical after the next, in school and with the Act II Players at Franklin theatre. Grant is a football-playing, soccer-playing, guitar-playing machine; he's at that age where he's always doing one of those three. Coby is super into video games. It's a challenge to get him off of them sometimes, but when I sit and watch him I have to go
wow, he is really amazing at this!
And Lori spends half her time being the taxi or the laundromat." He laughs. "Right now, we're all working hard to get ready for a video shoot here in May for the new record. We're doing it in the barn."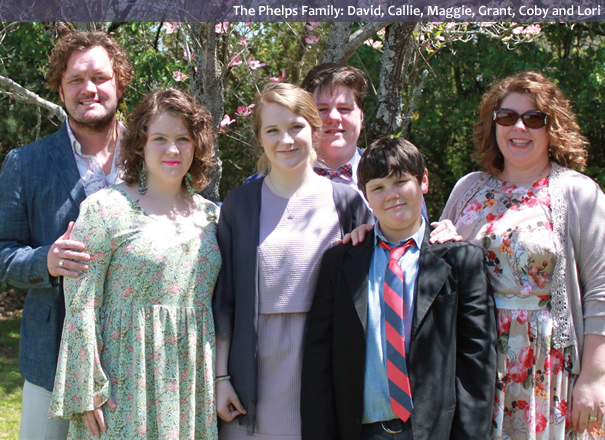 This won't be the first time David's barn has hosted a special event. The Phelps family lives on the site of an 1800s dairy farm nestled on 300 acres in tiny Culleoka, Tennessee. Several years ago when David was scouting locations for a Christmas video, Lori had an idea — why not renovate the old dairy barn and use it as a set? "The barn has been here for generations, and we sure weren't ever planning on getting up at dawn and milking cows," David says. "So we spent a lot of days hammering nails, pouring cement and painting until we got it renovated and ready for the shoot. It was such a cool thing that a couple of years later, Lori said, 'Why don't we do a real event here?' And the Barn Bash was born."
For the last five years, every Labor Day weekend the Phelps family has welcomed thundering hordes of "Phelps Phans" to their farm for "two fun-filled days of music, laughter, food and phriends." The Barn Bash has grown into a major happening, and the 500 highly prized tickets always sell out in record time. The logistics are daunting, as Culleoka is most definitely off the beaten path, but the coordinators have honed their skills over the last five years and except for the unpredictable Tennessee weather, it all runs smoothly. The Phans are delivered to the farm by bus for dinner, a concert, and a meet-and-greet with David and Lori. There are special musical guests, photo opportunities and a concession stand that sells everything from Lori's salsa to Jack Daniels' (the cousin, not the distillery) Chicken Feet Back Scratcher.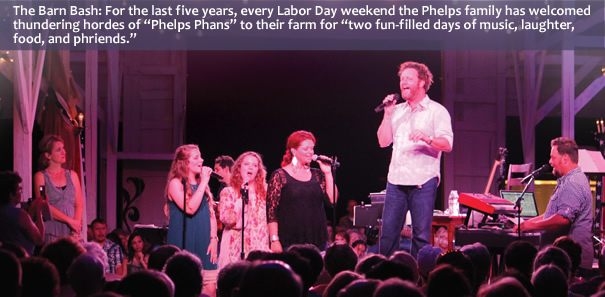 "It's kind of a crazy thing, because I'm a pretty private guy," David admits with a smile. "It took me a little time to kind of buy into the idea, but it has really taken off and become such a wonderful thing. And I'll tell you, there's something to be said for singing in your backyard and then just going to bed!" In true Phelps fashion, the annual Barn Bash is not only a family affair, but includes many of their Culleoka friends and neighbors as well."We have lots of local volunteers that pitch in every year," David says."The fire department in our little town helps out and the local school offers their parking lot to us, so it's really become something special here for us and our community as well."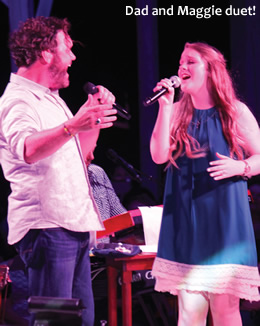 Which brings us to the question: Why would someone whose life and career revolve around music choose to live in a remote rural town an hour outside of Music City, instead of in the heart of it? "When we first moved from Texas, we moved to the Green Hills area of Nashville and rented a little house we couldn't afford not far from the mall," David explains. "We called ourselves the Green Hillsbillies! Then we moved a little further south down to Brentwood, and renovated a house there and sold it. Finally, we were like, we've just got to get back out to the country where we feel at home. So, we found Culleoka and it was just the right fit for us. I love seeing the John Deere tractors go down the road in the morning, and heading to our little store that has a restaurant in it, where everybody says "hi" and they know what you like to eat."
The slower-paced lifestyle has had a positive effect on David's creativity as well. "When I'm home, I get to step into a world where everybody isn't always talking about music and the business of music. We're friends with farmers, and people who are in the medical profession, or retired from GM. It gives us the opportunity to have a pretty well-rounded existence. We're surrounded by real people with real lives. I think that, in and of itself, has definitely helped feed my songwriting. I love to write the kind of songs that I can wake up and see out my window."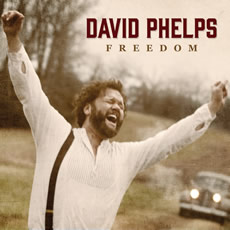 Talk of songwriting leads to talk of David's latest project,
Freedom
. As usual, David wore lots of hats during the recording — writer, singer, arranger and co-producer (with Bill Gaither). "I haven't done a full-out gospel project since 2008. Since then I've done
The Voice
and
Classic
, which were a mix of pop songs, classical songs and also some sacred things. So I went into this knowing that I wanted it to be totally full of gospel music, and that's how I approached the writing." Though David has always contributed songs to his projects, something unusual happened this time. "I haven't really written for a couple of years. I kind of set my pen down and walked away. So when the floodgates opened, they really did open, and in a very honest, heartfelt way. By the time we went into the studio, I had written or co-written nine out of the 14 songs. And that is absolutely unprecedented for me, never has happened before." David continues, "Another very important thing that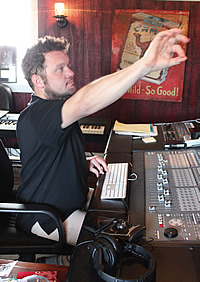 I have never done before is that my road family plays on this record. These people are so much a part of what I do, and as we went into production I really wanted to include what happens with us night after night out on the road. They brought something no one else could, which is a familiarity and understanding of my musical instincts. at was such a comfort level for me."
When asked if he could sum up the new project, David reflects a moment and then says, "I think that
Freedom
is really a snapshot of where I am on my journey right now. I'm always looking towards the future, which is the hope of heaven, but I find myself looking back at the past, too. I am so very appreciative of the faith that was passed on to me."