NASHVILLE, Tenn.— GRAMMY®-nominated, classically-trained tenor
David Phelps
has just released an all-new DVD entitled
Freedom
(Gaither Music Group) featuring the songs from his latest recording,
Freedom
, as well as a behind-the-scenes interview with his longtime friend and mentor, Bill Gaither.
Recorded in the Phelps' barn just south of Nashville, Tennessee, and produced by Phelps, the LIVE concert DVD captures the vocals one might expect from this three-octave powerhouse. Phelps was backed by a nine-piece band in addition to background vocals from his talented daughters, Callie and Maggie Beth, and acclaimed recording artist Charlotte Ritchie.
Whether sitting at the piano singing a vulnerable lyric such as "What I Need Is You," energizing the crowd with the country-flavored "Little White Church," or performing his own rendition of the gospel music classic "We Shall Behold Him," Phelps poured himself into the evening, invigorated by an enthusiastic crowd of friends and longtime fans.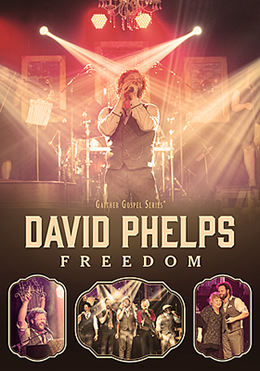 David's talent and passion were powerfully showcased on the driving, powerful title cut, "Freedom," as well as the stirring ballad he wrote for his daughter's graduation ceremony, "Your Time Will Come," which featured the Bethel University Drum Corps from McKenzie, Tennessee. Vocal Authority, also from Bethel University, was on hand to join Phelps throughout the evening, lending their poignant sound to the project's arrangements.
Other highlights included "Water," a new song penned by Gloria Gaither and Phelps and sung as a duet by David and daughter Maggie Beth, and the toe-tapper "When We All Get Together with the Lord," for which Phelps was joined by the other members of the Gaither Vocal Band — Bill Gaither, Wes Hampton, Todd Suttles and Adam Crabb.
The evening ended in celebration as the entire audience followed Phelps, his band, choir and drum corps down the aisle and out the front door, singing and clapping to his soulful, Cajun-based adaptation of the gospel music standard, "When the Saints Go Marching In."
Freedom
is now available throughout general market stores and the Christian marketplace in addition to online retailers including iTunes, Amazon and Gaither.com.
Enjoy this preview of
Freedom
:
Freedom DVD Song List:
01. I'm Coming Home
02. Who Do You Say That I Am
03. Rain
04. Ghost Town (Freedom)
05. Little White Church
06. Ain't No Grave
07. Heaven's Shore
08. Doxology (Featuring the Phelps' children)
09. The Lily
10. Holy (Sanctus)
11. Revelation Song (Featuring Charlotte Ritchie)
12. If You See My Savior (Featuring Charlotte Ritchie w/ Maggie Beth and Callie Phelps)
13. Water (Duet with Maggie Beth Phelps)
14. When We All Get Together With The Lord (Featuring the Gaither Vocal Band)
15. Your Time Will Come
16. What I Need Is You
17. We Shall Behold Him
18. When The Saints Go Marching In
ABOUT DAVID PHELPS
David Phelps is blessed with a vocal instrument unlike any other. The multi-platinum artist first entered the national spotlight when he joined the Gaither Vocal Band and has since performed at Carnegie Hall, the White House and many other halls and churches around the world. Phelps has won two GRAMMY® Awards and four GMA DOVE Awards. His latest work, Freedom, showcases his talents as a singer, songwriter, arranger and producer. Phelps lives outside of Nashville, Tennessee, with his wife, Lori, and four children: Callie, Maggie Beth, David Grant and Coby.