With a new collection of 15 songs titled
Come On Home
, it might seem ironic that we caught up with the Nelons as they motored by bus from Florida toward Ohio for one of their 150 concerts throughout the year. The road has become a "home away from home" for this historic family, as it has for so many artists. And yet for Kelly Nelon-Clark, her husband Jason Clark, and daughters Amber Nelon Thompson and Autumn Nelon Clark, home truly is where the heart is — and it runs far deeper than the physical home they share in Jacksonville, Florida.
"When you look at how the lyrics of these songs fit together," Jason says of the new album that he coproduced with Bill Gaither, "it was the Lord who planned how they would offer people God's forgiveness, let them know there is acceptance — that there's a place where they can feel warm, loved, part of a family. That place is home, and that home is a place only the Lord can provide. We're so excited to offer this message around the world."
At a time when more people than ever feel scattered and isolated — if not physically, then often spiritually, emotionally, relationally and nancially — the Nelons believe music that beckons us all toward true Home is especially essential.
"In this day and age, there is such a need for hope," Kelly says. "People are feeling alone, and that is what we want to address, to bring the hope of the Lord."
There is a strong Gaither and Homecoming connection to the album; along with Bill's coproducer role, eight of the 15 songs were written by Bill and Gloria. "They were in the studio a lot while recording," Kelly notes. "They are brilliant, it's absolutely true. They had so much input into how to communicate this message, things we wouldn't have thought of. More than that, they have a big influence on our lives."
"One thing I love about Bill and Gloria," Jason adds, "is that they were teachers, and they still are: music teachers and life coaches. They are very special people."
The Nelons certainly have been at home on the gospel music scene over the decades, garnering multiple accolades including Christian Voice Awards in 2009 (Kelly: Favorite Alto) and 2010 (Favorite Trio, Kelly: Favorite Female Vocalist); Grammy nominations in 1979, 1982 and 1990; four consecutive Dove Awards for Southern Gospel Album of the Year (1982-1985), 21 Top 5 radio singles; 14
Singing News
Fan Awards; and two Gospel Voice Awards (1987, 1989).
As many fans are aware, Kelly's father, the late Gospel Hall of Fame bass Rex Nelon, originally joined the LeFevres in 1957. In 1973, he became director of that group and eventually of the Rex Nelon Singers, now the Nelons. The rich legacy that God birthed through Rex remains fresh on the group's hearts and minds.
"It's in every fiber of my being, every time I get up to sing," Kelly reflects. "On certain songs, like 'The Sun's Coming Up,' I can almost hear him singing with us. It's important for me to carry on his legacy. He was my father and I can feel that way, but I also know he was a wonderful man. Now, not only his daughter but also his granddaughters are carrying on his legacy. I can only pray that he can hear from Heaven. He would be so proud. Years ago people would come up to me and say, 'When you sing, your daddy's face beams; he is so proud of you.' At that time I didn't understand, but I do now. I feel the same way about Amber and Autumn."
Amber, a full-time student at Trinity Baptist College in Jacksonville even as she tours with the Nelons, and Autumn, who at 15 is homeschooled while traveling (and sometimes singing) with her family — not to mention the group's two dachshunds, Sammy and Simon — make each concert trip a family outing.
"We're almost always together, and that is such a blessing," Kelly says.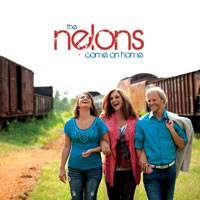 Among the songs on
Come On Home
are "When He Talked About Heaven," a heartfelt Bill and Gloria collaboration about a man of quiet strength and resilient faith, modeled on Bill's Uncle Jesse (and reminding Jason Clark of his granddad, farmer Paw-Paw Clark); "Excuse Me, Are You Jesus?" based on a reallife airport encounter between a businessman and a blind girl (a music video is in the works); "The Sun's Coming Up," a favorite of Kelly's because "it gives hope and brings light at the end of a dark tunnel"; "Jesus, I Just Want To Say," which Amber calls "a beautiful song about repentance and forgiveness" that audiences love to sing along to and "The Little Brown Church," written by Jason and partly inspired by the cover of a Macy's Christmas catalog.
The lyrics on that last song evoke Jason's childhood in rural Kentucky and the church where the community gathered for worship:
I'm going home to the church in the wildwood/the little brown church in the vale/I'm going home, if only in my prayers.
"The building is weathered, worn down and shut down," Jason says, "but it's still a place that reminds me of home, and I hold on to all of the moments there."
For the Nelons, holding on to the moments they share on the road keeps them grounded, grateful and enjoying their adventurous ride toward Home.
For more articles featuring the Nelons, click here.