This is not your grandfather's — or grandmother's — gospel recording. Despite Destiny Rambo McGuire's prominent thank you to "GranDot and GrandBuck" (Dottie and Buck, aka the Rambos), and despite her including some Rambo classics and debuting a poem-song from Gloria Gaither, this Nashville-recorded, 15-track opus — a soul-baring manifesto of complaint and hope — is anything but Southern. Still, a singer with Destiny's pedigree (her parents are Reba Rambo and Dony McGuire), releasing a CD that starts with the words, "In the beginning..." and ends with "...at last I found love" deserves consideration.
Seems like waiting three decades after taking the stage as a (very young) singing Rambo is an unusually long delay. Destiny agrees: "I've been singing in public since I was 18 months old. My parents used to put me up on the piano bench, and parade me around like a little singing monkey." But tell us how you really feel about growing up in a traveling musical family. "Well, I sang with the family, and I sang on — it seems like — everybody else's records, but never had something that was mine; something that represented me as an artist or as a writer." Laughing, she recalls the reaction of GranDot to the first song Destiny ever wrote: "She teased me and said I was a late bloomer. I mean, I was only 14!" Such is the burden of the progeny of musical legends.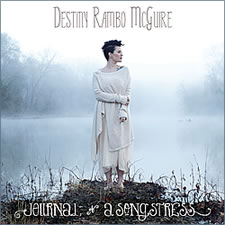 You might expect a CD called
Journal of a Songstress
to include influences picked up along the way. But the ownership Destiny takes of her grandmother's intimate "I Just Came To Talk With You Lord" will only gradually dawn on you—she's singing as if closing down a late-night jazz club. There are hints of Gladys Knight ("At Last I Found Love"), Twila Paris ("Old Lady Grace") and other echoes from vintage CCM voices like Annie Herring and Sheila Walsh. Destiny is also joined by guest vocalists Nichole Nordeman and the Isaacs sisters, Sonya and Rebecca. And all throughout the recording, the elder McGuire weaves for his daughter a cinematic tapestry with as many threads from Steely Dan as from John Barry.
What you will not have expected is the raw emotion and unabashed honesty. Destiny Rambo McGuire wrote eight of these 15 songs — contributions representing both the most tentative and the most confident on the album.
It must also be noted, since the poem was published in this magazine, that Gloria Gaither's
To All The Poets I Have Known
has been set to music. The paean to songwriters and poets is a haunting, bittersweet tribute to those who have deeply touched us with their words.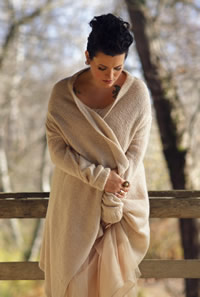 But which of the younger Rambo McGuire's original songs here will be the longest lasting? If it's not "He Starts With the End in Mind" — a richly-detailed ode to the God who "pens the last chapter before the first line," then it will be "Old Lady Grace," which Rambo McGuire always sings for Homecoming audiences. "So many people say 'it reminds me of my grandmother,' or 'that's my long-lost sister who took in my children.' It's a story-song about a woman who embodies the qualities of grace, but I'm amazed at how many different people it relates to."
And so at last, the third generation of strong Rambo women has come before us. Destiny will now make her own mark on the American musical landscape, as was boldly foretold on her birth certificate many years ago.