BASICS
Name:
Adam Crabb
Birthday:
Nov. 27, 1979
Family:
Wife, Kristi; daughter, Hannah Grace;
son, Charlee Jaxon
Hometown:
Beaver Dam, Kentucky
What I Do:
Professional singer with Gaither Vocal Band and in solo ministry
Website:
adamcrabb.com
FAVES
Bible Verse:
Jeremiah 1:5
Song:
One favorite is "The Blood Will Never Lose Its Power" by Andraé Crouch
Movie:
The old movie
The Ten Commandments
TV Show:
Right now, it's
Revenge
.
Celebrity:
Harrison Ford — I like his acting.
Leisure Activity:
Working out
FINISH THESE SENTENCES:
My idea of true happiness is…
Peace in the family. And, I'd be really happy to have all my bills paid someday! But true happiness comes from having that personal relationship with God.
If I were given a million dollars to spend frivolously I would. . .
Pay everything off! Then, I would give to churches and people in need, buy my mom something nice, put some money back for my kids' futures, and I would probably use the rest to pursue my ministry.
I was never more afraid than when. . .
About four years ago, my world was rocked. My wife and I went through two years of really, pure hell, and the enemy tried to steal our marriage. But, God ultimately has a plan and a purpose and it made us stronger. We've been able to help other people because of what we've been through.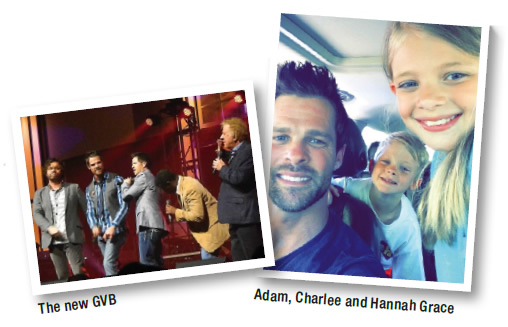 The hardest I ever laughed was when. . .
When I was performing with the Crabb Family, a lady came down for prayer. She told Jason that she'd been suicidal and that God turned her life around, and he asked her to share her testimony. When she got onstage, she described looking at her photos before she was about to take her life. She saw pictures of her husband and kids and said, "That didn't make me want to live." Then she said, "I saw a picture of Jesus, and that didn't make me want to live." Finally, she said, "But I saw my autographed picture signed by Vince Gill, and that made me want to live." I remember all of us biting our tongues not to laugh, and Jason was just so embarrassed.
If I could live anywhere else in the world, it would be. . .
Somewhere warm, like Florida or Hawaii.
The worst trouble I ever got into when I was a child was. . .
One time I hit a baseball through the window of our house, and I remember blaming it on my twin brother, Aaron, and getting him into pretty bad trouble. Then guilt set in, and I told Dad the truth, so we both ended up getting whipped!
God first became a reality in my life. . .
I was 5 years old and went forward, but I didn't really understand the fullness of God. When I was 16, I went to the altar in my daddy's church and fully surrendered everything to Him.
I would like my epitaph to say. . .
"Gone, but not forgotten!" No, I'd love for it to say, "This man showed compassion and loved God and his family."
To me a perfect day would be. . .
Just enjoying good, quality family time— getting together at a park or on the lake, is a perfect day to me.
The best advice I ever received was. . .
I had gone through a time of depression and was returning back into ministry, and Dad said, "You've just got to get up there, whether you feel like you know what you're doing or not." I wasn't the best communicator, but he said, "You may not know how to do it right now, but one day, you will know, and you'll grow in that."
My favorite sound of all is. . .
I love to hear harmony, especially when it's done right. I'm learning a lot here with the Gaither Vocal Band about true harmony, because they are phenomenal singers.
If I could pick my "last meal" it would be. . .
A big, juicy steak, mashed potatoes and gravy, and my dessert would probably just be a Krispy Kreme doughnut.
My best and worse quality is . . .
My best is I'm very patient, whether it be with family or someone at a concert who wants to come and share their heart with me. And, my worst is I am always doubting myself.
My motto for life is...…
"Trust in the Lord with all thine heart; and lean not unto thine own understanding. In all thy ways acknowledge him, and he shall direct thy paths."