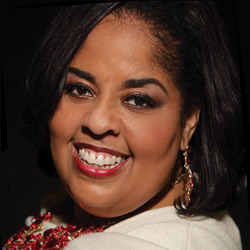 BASICS
Name:
Angela Yvonne Primm
Birthday:
October 18, 1961
Family:
John Primm, husband (21 years!);
12 siblings (four sisters, eight brothers);
stepchildren, godchildren, Kingdom-children,
and a host of nieces, nephews and cousins!
Plus two puppies — a 10-year-old German
Shepherd and 13-year-old Lhasa Apso
Hometown:
Indianapolis, Indiana
What I Do:
Singer, minister (ordained), administrator, costume designer
Website:
angelaprimm.com
FAVES
Bible Verse:
Psalm 139:1–18
Song:
"I Miss My Time With You" (However, favorites change often depending on the need!)
Movie:
The Hiding Place
TV Show:
The Carol Burnett Show
Magazine:
Midnight Velvet
(Shopping! LOL!)
Celebrity:
Maya Angelou
Leisure Activity:
Reading and crocheting
FINISH THESE SENTENCES:
My idea of true happiness is. . .
pleasing God the best you can, in that you live your life according to His instructions and watch His plan unfold for your life. As all unfolds, this is true and healthy happiness for you and your family!
If I were given a million dollars to spend frivolously I would. . .

create "fun" for Christians! I would buy cruises for family and friends (which are my family!)
I was never more afraid than when. . .
I was left behind at a truck stop while on a tour bus, only to find out I was only 15 miles from home!
The worst moment I ever had on stage was when. . .
after a grand instrumental introduction, I forgot the song! Not just the words! The entire song!
The greatest miracle I have ever witnessed or experienced was. . .
God saving me from a dangerous chemo treatment administered to my mother that targeted a cancerous growth that turned out to be me! The doctor's advice to her was to terminate the pregnancy, as I (the baby) would be a living vegetable or extremely mentally challenged (and my husband says, "Baby ... one out of two is not bad!" LOL!) I thank God for saving my life and allowing me to serve Him!
The hardest I ever laughed was when. . .
when my husband entered the stage during one of our performances, in costume as Nick Ashford of Ashford & Simpson, much to my surprise! I couldn't catch my breath! The show was over for me! I kept saying "Wait a minute! … Wait a minute!"
If I could live anywhere else in the world, it would be. . .
in America! After traveling all over the world, I have no other choice! I'm an American!
The worst trouble I ever got into when I was a child was. . .
when my mother went outside to get a switch to "tan" my legs, I locked her out of the house!
God first became a reality in my life. . .
as I watched the miracles my mother experienced by her faith in God. Her walk with God was a "living" Bible for me.
I would like my epitaph to say. . .
"God's Cheerleader."
To me a perfect day would be. . .
purposeful!
The best advice I ever received was. . .
"God decides what He desires for you to do. You decide your obedience."
My favorite sound of all is. . .
corporate worship.
If I could pick my "last meal" it would be. . .
collards, yams, mac and cheese, cornbread dressing with giblet gravy, jellied cranberry sauce, pickled onions, "angeled" eggs and fried chicken!
My best and worse quality is . . .
Best Quality: Organizer Worst Quality: "Reading between the lines" (Discernment comes through much prayer for me! Not automatic! My weakest link!)
My motto for life is...
"I am always in the right place at the right time because my steps are ordered by the Lord."