BASICS
Name:
Ben Isaacs
Birthday:
July 25, 1972
Family:
Wife Mindy; Children: Jacob (15),
Cameron (13), Kyra (12)
Hometown:
Hendersonville, Tennessee
What I Do:
Producer, member of the Isaacs,
studio musician
Website:
theisaacs.com
FAVES
Bible Verse:
Romans 10:9
Song:
" I Then Shall Live" by Bill and Gloria"
Movie:
O Brother, Where Art Thou?
TV Show:
" Andy Griffith, Gunsmoke and Bonanza"
Book:
The Noticer by Andy Andrews
Celebrity:
Andy Andrews
Leisure Activity:
Golf
FINISH THESE SENTENCES:
My idea of true happiness is...

waking up in my house with all of my children.
If I were given a million dollars to spend frivolously, I would...

make a lot of people happy.
I was never more afraid than when...

I was on a fl ight to Europe. The lights were turned down low, and all of a sudden, someone started screaming massively—panicked, blood-curdling screams. It turned out that they were dreaming! That kind of got my goat!
If I could live anywhere in the world, it would be...
Kalispell, Montana
The greatest miracle I have ever witnessed or experienced was...
the birth of children, or to be on stage and see someone come to salvation.
The things that make me laugh the most are...

probably when my son Jacob was 3 or 4 years old. His mom was aggravated at him because he wouldn't get his shoes on to go out the door, and he said "You don't even love me anymore; you just want me to do things!" She replied, "Honey, someday, when you have children, you'll understand." He said, "Not me! When my bride lays her eggs, I'm going to throw them off a cliff!"
One of my most embarrassing moment was...
singing on stage with my zipper undone.
I would like my epitaph to say...
"He sure did try hard!" No, probably, at this point in my life, I want people to know that I genuinely care … so maybe "He cared" or "He loved."
God first became a reality in my life...

Well, I was raised in church my whole life. I think, honestly, that I first realized God loves me for who I am when I went through a divorce. It took a divorce for me to really learn that God wasn't there to judge me, but He was there to love me.
My most memoriable performance was...

the first time on the Grand Ole Opry.
To me, a perfect day would be...

I'm not sure, but it would involve my wife and kids with me, laughing and enjoying the day.
The silliest thing I believed as a child was...

that there was always something after me whenever I went to take the trash out. So I always did it very quickly!
My best quality and my worse quality are...

I think it's kind of best and worst that I love to please. I love to make sure that others are taken care of and to help them. But it can be the worst thing, too, because it can take me away from my family. I have trouble saying "no" sometimes.
If I could pick my "last meal" it would be....

Oh, steak — ribeye!
My favorite sound of all is...

It's kind of hard to choose, but I think the most surprising sound to me was my daughter singing when I walked upstairs one day. She was singing harmony to Adele, without being taught. It blew my mind, and I walked into the room and videotaped her.
My motto for life is…

" If you set forth to do something, make sure it's completed before you go to something else. "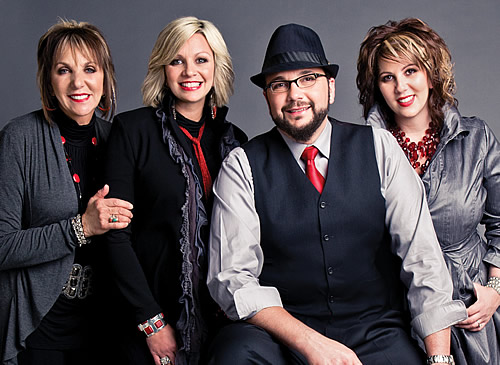 [The Isaacs: Lily, Sonya, Ben, and Rebecca]
Click for more articles featuring Homecoming tour favorites, The Isaacs!