BASICS
Name:
Jason Matthew Clark
Birthday:
September 2
Family:
Kelly Nelon Clark (wife);
Amber and Autumn (daughters)
Hometown:
Petersville, Kentucky
What I Do:
Sing, play, write, arrange music
Website:
thenelons.com
FAVES
Bible Verse:
Acts 20:24
Song:
"I've Been To Calvary"
Movie:
Rocky
TV Show:
The West Wing
Magazine:
(other than
Homecoming
)
Success
Celebrity:
Gordon Sumner aka Sting
Leisure Activity:
Bass fishing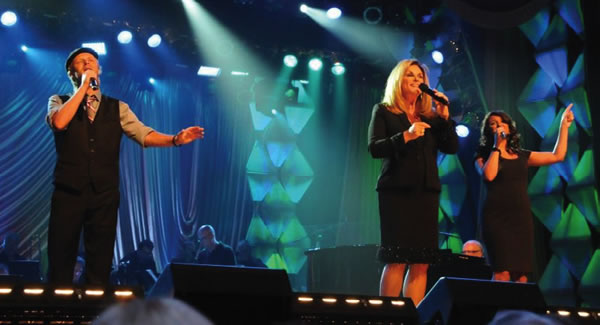 FINISH THESE SENTENCES:
The hardest I ever laughed was…

when Kelly, Karen Peck, Stan Whitmire and I were hired to sing at a funeral of someone we'd never met. They requested songs such as "Edelweiss," "The Sound of Music" and an Italian operatic number. When we began to sing these unusual songs for this setting, it just struck us funny! I heard Kelly and Karen's voices begin to quiver, then I looked over at the piano and all I could see was Stan's shoulders shaking; it was over for me. We recovered well enough that we got through the set list, but why is it that you always laugh the hardest in the moments when you just shouldn't be laughing at all?
My idea of true happiness is...

family gathered around a piano or a guitar after a good meal.
If I were given a million dollars to spend frivolously, I would...

buy Kelly stock in Red Hots candy and a beach house, then I'd give away the rest to missionaries!
The worst moment I ever had on stage was…

I had four broken ribs and trying to sing through that brought extreme pain I'd never felt before.
I was never more afraid than when…

the hotel adjacent to where I was staying in Cambodia was bombed and the U.S. Embassy was trying to get our missionary team and me out of the country. It was crazy, but we stayed and completed the work by God's grace and protection!
The greatest miracle I have ever witnessed or experienced…

would have to be Christmas season when I was 9 years old. At this time in our family we were very poor and our little Kentucky farm was struggling. My mom, being ever resourceful, handmade hundreds of Christmas stockings for my brother and me to sell. We raised enough money that year to bring Christmas not only to our family, but also to other less-privileged children, and we shared Jesus at every opened door. I learned life lessons that year that have greatly impacted my personal life and ministry to this day.
If I could live anywhere in the world, it would be...
anywhere there is a white, sandy beach.
The worst trouble I ever got into when I was a child was…
when I filled out tons of raffle tickets for the Winter Tire Giveaway at one of my dad's concerts. Every time the emcee pulled out a winner from the box it was, you guessed it, me!
God first became a reality in my life…

during March of 1993. Being raised in a Christian home and around gospel music I always knew of God, but on that night of the blizzard in March of 1993, I accepted Christ as Savior. I saw all the chaos of the storm — how helpless and frantic those people were — causing me to realize how hopeless I truly was without Christ.
I would like my epitaph to say…
"Lover of God, family and friends."
To me, a perfect day would be…

fishing, writing, singing, dinner with friends and a movie with my wife! Ahhh!
The best advice I ever received was…

just wait — but work while you do!
My favorite sound of all is…

family harmony.
If I could pick my "last meal" it would be…

snow crab legs
My best quality and my worst quality are…

I'm a tireless worker, and I'm a tireless worker.
My motto for life is…

Acts 20:24: "Neither do I count my life dear unto myself, so that I might finish my course with joy, and the ministry, which I have received of the Lord Jesus, to testify the gospel of the grace of God."