BASICS
Name:
Amos Jeffrey Easter
Family:
Married 28 years to Sheri.
Three children — Madison (and his wife Shannon),
Morgan and Maura.
Two children from a previous marriage — Josh (and his wife Monyca, three grandchildren)
and Misty (husband Jaime, three grandchildren).
Hometown:
Originally, Mt. Airy, North Carolina. We now live in Sheri's hometown of Lincolnton, Ga., and have for 28 years!
What I Do:
Musician/singer/bus repair/people person/ love to make folks smile!
Website:
jeffandsherieaster.com
FAVES
Bible Verse:
John 3:16 sums it all up for me
Song:
At the moment, Don Williams' "I Believe in Love"
Movie:
Dumb and Dumber
TV Show:
The Andy Griffith Show
Magazine:
Homecoming
:)
Celebrity:
Don Knotts
Leisure Activity:
Working on old cars, trucks and buses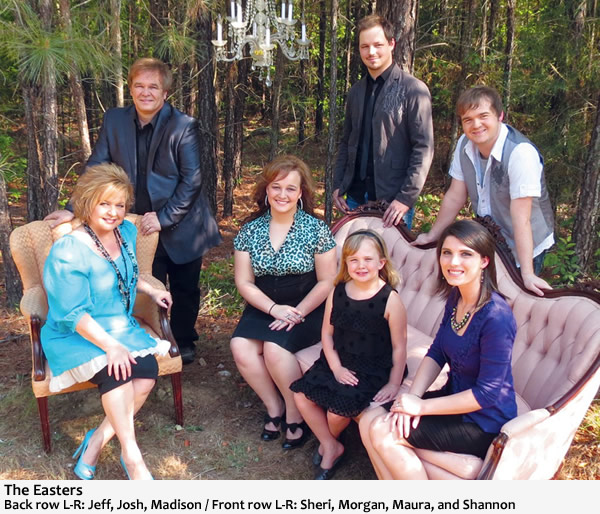 FINISH THESE SENTENCES: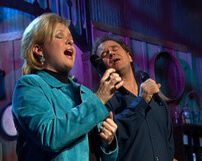 My idea of true happiness is…
singing and playing music with family and friends.
If I were given a million dollars to spend frivolously I would. . .
buy another old car or truck and donate the rest to an organization I believe in.
I was never more afraid than when. . .
I was about 18 and heard a creaking noise on the front porch. I peeked out the window to investigate, and saw a man in a hat sitting on our swing. I ran and jumped in bed with Mama and Daddy, only to find out later, it was our fiddle player who had gotten restless during the night and came off the bus to sit in the swing.
The worst moment I ever had on stage was when. . .
I was about 13 and it was my first time to sing on stage. I had practiced in the key of D and Daddy forgot and put me in the key of G. It was so high and screechy, Alfalfa-like, that I started crying and ran down the aisle to the back of the church. Some folks thought I was in the spirit. I was, but it wasn't a good spirit.
The greatest miracle I have ever witnessed or experienced was. . .
the births of our children.
The hardest I ever laughed was when. . .
Tracy Stuffle, Wesley Pritchard — great friends of mine — and I were doing a TV show together and just having those two together, I laughed so hard I could hardly breathe. Wesley does an impersonation of an old North Carolina boy like me and I lost it! It wasn't necessarily what was said, but how he said it!
If I could live anywhere else in the world, it would be. . .
by the water!
The worst trouble I ever got into when I was a child was. . .
I don't even remember what I did, but my daddy was going to spank me and I ran from him. I ran to one side of their bed, and crawled across to the other side. After several times of doing that, Daddy was so mad, he lifted the mattress and box springs off to get to me!
God first became a reality in my life. . .
June 1984 was the lowest time of my life. I told my daddy that I needed Jesus for Jeff and that I knew I couldn't ride to heaven on his coattails. He kneeled down with me and we prayed together. He assured me if I put God first, that everything else would be fine. Two months later, I met Sheri and I've been blessed ever since.
I would like my epitaph to say. . .
"He was a true friend."
To me a perfect day would be. . .
Wake up feeling refreshed. Go to the Huddle House with my beautiful wife. Three eggs, over-easy with coffee. Go home and tinker with my old cars or trucks. Spend the afternoon with family playing games. That's a perfect day!
The best advice I ever received was. . .
"put God first in all you do" and "think twice, speak once."
My favorite sound of all is. . .
the laughter of my family and friends!
If I could pick my "last meal" it would be. . .
Japanese steak and shrimp with lots of ginger sauce!
My best and worse quality is . . .
I'm a people-pleaser!
My motto for life is...…
Live like you were dying!