BASICS
Name:
Joyce (Joy) Anne Dyson Gardner
Birthday:
December 8, 19?? (Are you kidding?)
Family:
Husband — Landy;
two daughters — Joy Dionne (Dismuke),
and Lauren Dyson;
son-in-Law — Scott (Dismuke)
and grandson Dyson Scott Dismuke
Hometown:
North Little Rock, Arkansas
What I Do:
Homemaker, singer, arranger, choir director, business owner
FAVES
Bible Verse:
Philippians 4: 6,7
Song:
That's a hard one ... I have many.
One is "The Love of God."
Movie:
Sabrina
TV Show:
Downton Abbey
Magazine:
Town & Country
Celebrity:
Princess Diana
Leisure Activity:
Play games,
read, talk with friends, have a girl's
day at lunch or at a spa, spend time
with Dyson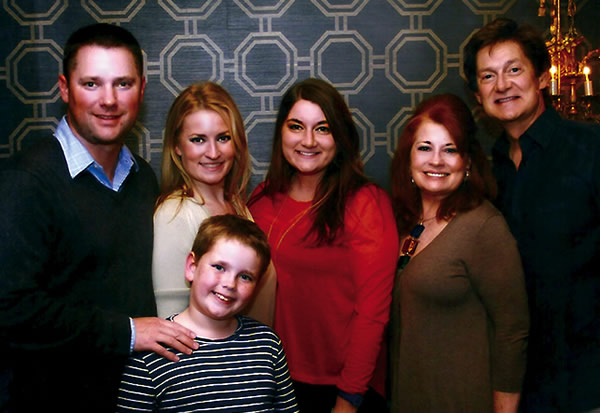 FINISH THESE SENTENCES:
My idea of true happiness is…
knowing my entire family knows Jesus and has a relationship with Him, having a heart of gratitude, good health, a wonderful place to live, clothes and shoes to wear, food to eat, a contented life with peace of mind..
If I were given a million dollars to spend frivolously I would. . .
travel, rent a yacht big enough for my family and close friends and sail the Mediterranean, stop at all the little villages and shop, buying whatever anyone wants. Maybe I should rent two yachts.
I was never more afraid than when. . .
I heard the doctor say Landy had kidney cancer.
The worst moment I ever had on stage was when. . .
a small group from the Homecoming Videos sang for a conference and Bill was trying to decide who could sing different solos. I had only sung "Promise Coming Down That Dusty Road" once on a video with teleprompter. In the middle of the concert he started the track, pointed at me, and I panicked! The other singers began shouting lyrics out to me, but of course, every line was delayed. It was horrible! I knew the choruses but the verses sounded like mush. I finally got to the end of the last verse and the only line I remembered was "with a voice that sounds like thunder ... He hurled death asunder ... then He said, "Little girl, rise and be healed.'" When I got to that line, everybody was so thrilled, they stood up and started shouting the words out with me! One thing for sure, I memorized the words to a lot of Homecoming songs after that!
The greatest miracle I have ever witnessed or experienced was. . .
the births of my two daughters and grandson.
The hardest I ever laughed was when. . .
We had told our girls that we were thinking about getting a pool. A few months after the discussion, Landy went to England on a buying trip for garden accessories. He purchased a huge stone fountain base which he had shipped to our house prior to delivering it to a client. Lauren came home from school, saw it and said, "I sure hope that's NOT our pool!"
If I could live anywhere else in the world, it would be. . .
Tuscany or Provence.
The worst trouble I ever got into when I was a child was. . .
stealing candy cigarettes!.
God first became a reality in my life. . .
when I was 9 years old. I felt a real transformation happen in my heart. After that I would feel a check in my spirit when I was tempted to do something wrong. I wanted to commit my life totally to Him.
I would like my epitaph to say. . .
She loved … she laughed … she gave … she believed.
To me a perfect day would be. . .
spending time at the most luxurious spa, relaxing, relaxing, relaxing!
The best advice I ever received was. . .
to put God first in ALL you do..
My favorite sound of all is. . .
hearing the voices of my children and Dyson's giggle whenever he's playing with his Poppa.
If I could pick my "last meal" it would be. . .
fried chicken (skins on), fried okra, mac 'n' cheese, homegrown tomatoes, Sperry's salad bar with Thousand Island dressing, my sister Joan's chocolate pie, yeast rolls with real butter.
My best quality is . . .
being quick-witted.
My worst quality is. . .
I procrastinate about things outside my "comfort zone.".
My motto for life is…
Spend time only on the people who matter and situations you can change. It's hard, but sometimes you have to let go and move on.