BASICS
Name:
Judy Martin Hess
Birthday:
May 3, 1971
Family:
Husband: Jake, Jr. Children: Jake, III (15);
Hannah Jo (13); Emma (11); Isaac (4)
Hometown:
Columbus, Georgia
What I Do:
Sing with the Martins
FAVES
Bible Verse:
2 Peter 1:2-8
Song:
"Stars Below"
Movie:
Saving Grace
TV Show:
"Yard Crashers" or anything on HGTV
Magazine:
Real Simple
Celebrity:
Holly Hunter
Leisure Activity:
Reading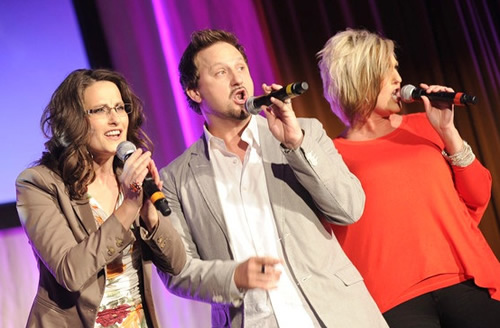 [The Martins]
FINISH THESE SENTENCES:
My idea of true happiness is...

being with the people I love and everyone getting along.
If I were given a million dollars to spend frivolously, I would...

build a new house with lots of flat-screen TVs.
I was never more afraid than when...

Dad was in the hospital.
The worst moment I ever had on stage was...
when I fell backwards over a floor monitor at Estes Park.
The greatest miracle I have ever witnessed or experienced was...
when God intervened and saved my third pregnancy. We almost lost our Emma, but God performed a miracle for us.
The things that make me laugh the most are...

quick, dry wit and people falling down. I know that sounds mean, but I fall down a lot myself!
My most memorable performance ever was...
at the White House.
The worst trouble I ever got into when I was a child was...
running away from school in third grade.
God first became a reality in my life...

when Ruth Montgomery was my Sunday school teacher. She made Bible stories come to life.
Other than my musical abilities, I am an expert at...

making apple pie.
To me, a perfect day would be...

swimming with my family, topped off with a date with my husband.
The silliest thing I believed as a child was...

"Don't sing at the table or whistle in the bed or the Boogeyman will get you by the hair of the head!"
I have a recurring dream about...

winning the lottery. And I don't even buy lottery tickets!
If I could pick my "last meal" it would be....

steak with baked potato and salad.
My favorite sound of all is...

harmony.
The movie of my life would be called...
"From an Outhouse to the White House". And I would be played by Courtney Cox (Judy); Sean Penn (Jonathan); Meryl Streep (Joyce).
My best quality and my worst quality are...

Best: affectionate — Worst: too trusting
My motto for life is…

"Treat people the way you want to be treated."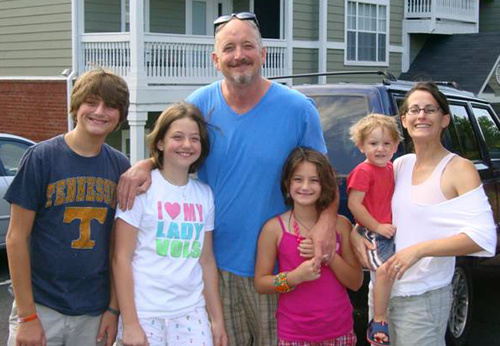 [ Trip, Hannah, Jake, Emma, Isaac and Judy Hess ]

Click for more articles featuring Homecoming tour favorites, The Martins!