BASICS
Name:
Kevin Williams
Birthday:
June 25, 1965
Family:
My wife Kathy;
and our two daughters Carolina and Olivia
Hometown:
Russell Springs, Kentucky
What I Do:
Husband, father, guitarist,
bandleader, producer, entertainer, broadcaster, columnist, janitor
Website:
kevinwilliamsmusic.com
facebook.com/1KevinWilliams
twitter.com/1KevinWilliams
FAVES
Bible Verse:
Proverbs 3:5,6
Song:
"Jesus Loves Me"
Movie:
It's A Wonderful Life
TV Show:
The Andy Griffith Show
(is there another?)
Color:
blue
Phrase:
"Yo!"
Ice Cream Flavor:
Chocolate
Food:
Homemade chocolate-chip cookies
Invention:
The power nap
Vowel:
E
Leisure Activity:
River kayaking, spending time with my family

Phase of the Moon:
Waxing Gibbous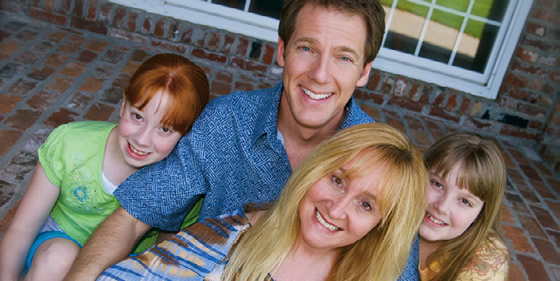 FINISH THESE SENTENCES:
My idea of true happiness is…
knowing Christ, having my family near me, peace, a restful night's sleep and a good cup of coffee.
The worst moment I ever had on stage was when…
...Oh, there are volumes of them. I've walked into a set of drums. I've played an entire concert with my pants unzipped ... you name it, it's happened to me.
My favorite thing to do when I am home is...
One night every week, the girls and I make homemade pizza, and the whole family watches a movie together. We've done this for 11 years.
The greatest miracle I have ever experienced was…
the birth of our two daughters. Everything changed.
The hardest I ever laughed was…
with my dad when I was a kid. He could make me laugh like no one else. Just a raised eyebrow or a funny look would make me belly laugh.
The worst trouble I ever got into when I was a child was…
when I was 5 years old, I wondered if our couch would burn. Two minutes and one match later, I found out that it would.
God first became a reality in my life…
I was fortunate to be raised in church. I realized a need for a Savior at an early age. In that little church in Kentucky, I found Christ, and I found a love for music. I also found a quarter one time.
The thing that makes me laugh the most is…
old Marx Brothers movies, Tim Conway, Jonathan Winters, comedians who are great at improv.
My favorite sound of all is…
a guitar that's in tune, and "I love you, Daddy."
My most memorable performance ever was...
playing "Bridge Over Troubled Water" with Paul Simon at Carnegie Hall.
My favorite line from a movie is…
"If someone prays for patience, do you think God gives them patience or does He give them the opportunity to be patient? If they pray for courage, does God give them courage or does He give them the opportunity to be courageous? If someone prayed for their family to be closer, do you think God zaps them with warm fuzzy feelings, or does He give them opportunities to love each other?" (from Morgan Freeman in
Evan Almighty
)
To me, a perfect day would be…
with my family at the beach and (of course) lots of seafood.
The best advice I ever received was…
when Glen Payne pulled me aside at Praise Gathering and said "Son, marry that girl. She's the real deal."
If I could pick my "last meal" it would be…
a long time from now.
My best quality and my worst qualities are…
Best: I am positive and persistent. Worst: There are many. Just ask my wife ... and allow adequate time.
My purpose in life is...
to change the world by putting smiles on as many faces as I can, through music and humor. To fashion strong character and leadership traits in the youth of today. To show Christ's love and mercy as it has been shown to me.
My motto for life is…
in the words of Theodore Roosevelt, "Do what you can, with what you have, where you are." In my words, "Trust God and go for it!"