BASICS
Name:
Kimberly Diane Collingsworth
Birthday:
December 6, 1968
Family:
The Collingsworth Family
Hometown:
New Richmond, Ohio
What I Do:
Concert Artist
Website:
thecollingsworthfamily.com
FAVES
Bible Verse:
Matthew 6:33
Song:
" Oh, this is so hard to choose. I have several... "It Is Well With My Soul," "I Then Shall Live"
and "Now More Than Ever" by Gloria Gaither
Movie:
Anne of Green Gables
TV Show:
" Andy Griffith, Little House on the Prairie
Magazine:
Taste of Home
Celebrity:
I don't have one…
Leisure Activity:
Reading, shopping, exercising, organizing and decorating my home, dinner out with my family, and of course, playing the piano…
FINISH THESE SENTENCES:
My idea of true happiness is...

Serving Jesus, period! Oh! One more thing — being married for 26 years to my high-school sweetheart, Phillip Brian Collingsworth Sr. I met him when I was 14 and married him when I was 17. If I had to choose, I'd marry the same man again!
If I were given a million dollars to spend frivolously, I would...

Frivolously? My husband laughed when he read this question. He said I would still only buy it if it were on sale! But I would treat all of my daughters and sisters to a day at the spa with all the perks! I would have a hand and shoulder massage after every concert! I would probably remodel my kitchen to accommodate all the company that I have and put a guesthouse on our property for all of our guests who continuously come through. And I'd put tennis courts on our property so that Phil and I could play at our own leisure at home. Wow! That sounds like fun!
I was never more afraid than when...

God asked us to step out in faith and begin this concert ministry! The thought of home schooling my children, traveling in a minivan every weekend and just trying to keep a level of sanity for our family looked like big mountains ahead for me. Looking back, I can see God's hand in so many ways. He has taken care of every detail!
If I could live anywhere in the world, it would be...
Banff, Alberta, Prince Edward Island or somewhere in the Great Smoky Mountains.
The greatest miracle I have ever witnessed or experienced was...
As a child, I vividly remember our family lived on a limited income. My daddy was a full-time pastor on a very small salary, and my parents had nine children. One night my mom sent Dad to the store to get groceries. We had only a small amount of money, so Mom gave Dad specific instructions that when he got to the last thing on the list — 10 loaves of bread — there would be only one dollar left. That presented a problem because bread was 25 cents a loaf. When Daddy finished shopping, sure enough, there was only one dollar left for the bread. Not knowing what else to do, he put four loaves in the cart and headed to check out. As he was walking a voice came across the loud speaker: "While it lasts tonight, bread is 10 cents a loaf." Daddy promptly turned his cart around to retrieve the remaining six loaves and breathed, "Thank you, Lord." As a child, I saw these kinds of things often, and it gave me an unwavering faith in our God who really cares about the smallest details of our lives.
The worst moment I ever had on stage was when…

I leaned on a stage prop in the middle of a concert and the prop crashed to the floor. I went down with it as gracefully as I possibly could. Oh my! I finished the concert, but a day later woke up with two black eyes from taking a blow to my face!
The worst trouble I ever got into when I was a child was…
Organizing a team of my 5th-grade classmates to sneak into the classroom and spray our teacher's plants with shaving cream. As you can imagine, when my mom got a hold of me, I thought the world was coming to an end! Suffice it to say, she turned my head to the south, my feet to the north, and warmed up my equator! Yikes!
My best quality and my worse quality are...

I asked Phil to help me with this! I would say my best quality is that I'm extremely loyal. Phil says, "Your unfaltering faith in the providence of God!" My worst quality is that I take life too seriously sometimes! Phil says, and I quote: "I'm not answering that!" Gotta love him!
My favorite sound of all is...

A baby cooing, or a symphony playing beautiful music at a majestic hall with perfect acoustics!
My motto for life is…

"Write your hurts in sand, carve your blessings in stone."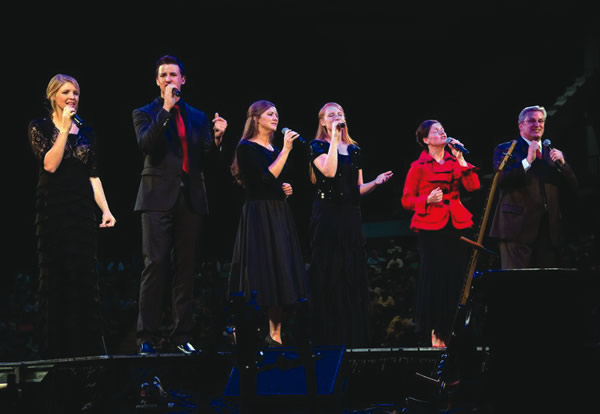 Click for more articles featuring The Collingsworth Family!