BASICS
Name:
Lauren Talley Alvey
Birthday:
December 11
Family:
Husband: Brian Alvey;
Parents: Roger and Debra Talley
Hometown:
Morristown, Tennessee
What I Do:
I sing with the Talleys and as a solo artist. I write books, speak, coach other singers and performers and do studio work as both a background singer and producer. I'm a busy lady!
Website:
thetalleys.com, laurentalleyonline.com,
twitter.com/lauren_talley
FAVES
Bible Verse:
Romans 8:31-39
Song:
There is no way I can pick just one favorite song!
Movie:
Anne of Green Gables
I also love historical movies like
Thirteen Days
and sports movies like
Rudy
.
TV Show:
"The Andy Griffith Show," "Reba," "NCIS," the Food Network and any football or basketball game.
Magazine:
I don't read magazines much, but I like
Real Simple
and
Sports Illustrated
. And so I don't get in trouble,
Homecoming
! :)
Celebrity:
Michael Bublé, Celine Dion and David Phelps — he counts as a celebrity, right?
My favorite athlete: Peyton Manning
Leisure Activity:
Watching sports, reading, cooking and shopping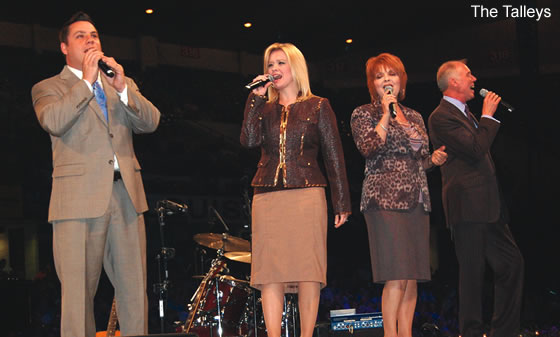 FINISH THESE SENTENCES:
My idea of true happiness is...

being in the will of God and living a simple life with the ones I love.
If I were given a million dollars to spend frivolously, I would...

do practical things like pay off our house and put a lot away for retirement. Then I would buy as many shoes and NFL season tickets as I could!
The worst moment I ever had on stage was…

when I was about 13 and had to sing a solo with the church youth choir. I forgot every single word of the song. It was a total disaster, and since then I've taken it on myself to try to learn the words to any song I might have to pull out sometime — just in case.
If I could live anywhere in the world, it would be...
right where I live now, in East Tennessee. It's home.
The worst trouble I ever got into when I was a child was…
for my mouth. Shocking, huh?
God first became a reality in my life…

when I was 8 years old. I was on the front row of a Sunday night service listening to my family sing. I realized that I had always heard about Jesus but I didn't really know Him personally. I asked Christ to come into my heart that night.
I would like my epitaph to say…
"She was a woman of God."
To me, a perfect day would be…

sleeping late, going on a shopping/lunch date with my husband, then coming home and eating pizza while watching Peyton Manning win the Super Bowl.
The best advice I ever received was…

"Obey God and leave all the consequences to Him." — Dr. Charles Stanley
My favorite sound of all is…

silence.
If I could pick my "last meal" it would be…

pizza and sweet tea. Actually, I could eat that for every meal.
My best quality and my worst quality are…

I had to ask my husband this one. He said my worst quality was that I am too self-critical, and that my best quality is that I like to encourage people. Thanks, honey!
My motto for life is…

you are the only you God has ever created. He has a great purpose for your life, so find out what it is and get to it!