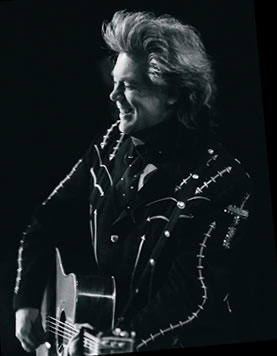 BASICS
Name:
John Marty Stuart
Birthday:
September 30, 1958
Family:
Wife, Connie Smith; Father,
John Stuart; mother, Hilda Stuart;
sister, Jennifer Stuart
Hometown:
Philadelphia, Mississippi
What I Do:
Travel and play the guitar
Website:
martystuart.net
FAVES
Bible Verse:
Matthew 6:33
Song:
"Wichita Lineman" by Glen Campbell
Movie:
Cool Hand Luke
starring Paul Newman
TV Show:
"Gunsmoke"
Magazine:
Vintage Guitar
Celebrity:
Without question — Bill Gaither
Leisure Activity:
Watching Bill Gaither's
Homecoming
shows while fishing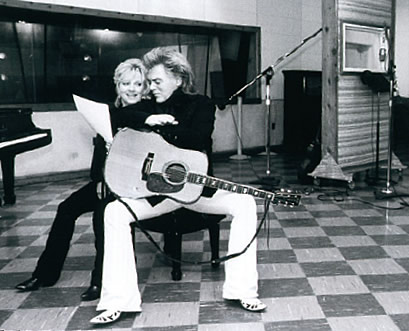 FINISH THESE SENTENCES:
My idea of true happiness is. . .
time alone with God at my home place in Mississippi.
If I were given a million dollars to spend frivolously I would. . .

take everybody to Cracker Barrel, buy them something to eat and then get everyone a copy of my and Bill Gaither's new project!
I was never more afraid than when. . .
I thought I'd have to take the whole world to Cracker Barrel!
The worst moment I ever had on stage was when. . .
I fell down on stage in front of 20,000 people.
The greatest miracle I have ever witnessed or experienced was. . .
at a gospel singing in Carthage, Miss., a little boy fell out of the stands and was pronounced dead. The singing stopped. The singers and audience gathered around the child and prayed. He came back to life.
The hardest I ever laughed was when. . .
when I fell down on stage in front of 20,000 people.
If I could live anywhere else in the world, it would be. . .
Maui.
The worst trouble I ever got into when I was a child was. . .
setting the woods on fire.
God first became a reality in my life. . .
when I heard music the first time, I cried. It touched my heart so deep, I knew something that good had to come from God the Father in Heaven.
I would like my epitaph to say. . .
"He followed his heart all the way to heaven."
To me a perfect day would be. . .
a day spent with Connie with no cares, no worries, just the privilege of being with each other.
The best advice I ever received was. . .
from my mama when I thought my career wasn't moving quick enough — her advice was, "When there's not much going on on the outside, there's usually plenty of work to do on the inside."
My favorite sound of all is. . .
Connie's laugh.
If I could pick my "last meal" it would be. . .
the California salad and lobster bisque from the Bistro Gardens Café in Encino, California.
My best and worse quality is . . .
my best quality is I'm a mess. My worst quality is I'm a mess. As Loretta once said to me, "Thank God for Jesus!"
My motto for life is...
God knows all about it.