BASICS
Name:
Wesley Adam Hampton
Birthday:
December 8, 1977
Family:
wife, Andrea;
sons, Barrett, Hudson, Carden and Sutton
Hometown:
Brownsville, Tennessee
What I Do:
Member of the Gaither Vocal Band
Websites:
weshampton.com
FAVES
Bible Verse:
John 15:5
Song:
I can't choose just one! "Sinner Saved By Grace," "Jesus Saves," "Great is Thy Faithfulness"
Movie:
Forrest Gump
TV Show:
"Modern Family," "Parenthood" and a couple more I won't mention!
Magazine:
Food Network Magazine
Celebrity:
Tony Horton
Leisure Activity:
Cooking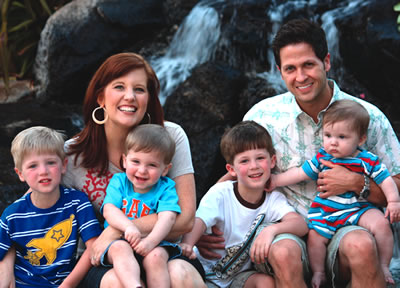 FINISH THESE SENTENCES
My idea of true happiness is...

Thanksgiving and Christmas at home with my family.
If I were given a million dollars to spend frivolously...

pay my house off. Next, I would buy a hibachi grill for my kitchen, along with one of those ridiculous 3000-dollar coffee machines. Next, I would spend about 5000 dollars on Shun kitchen knives. While I'm thinking about kitchen stuff, I would buy every remaining kitchen gadget I've ever wanted. Also, I would buy a decked-out camper and travel all over the country with my family. I would put the rest of the money in a high-interest money market account.
I was never more afraid than when...

a HUGE dog would chase me on my way home from school all the way across the school playground. He would try to bite me. I despised that dog. Ironically, I love dogs.
The worst moment I ever had on stage was when...
I had a massive toothache a couple of years ago for an entire concert. It was so diffi cult to keep a smile on my face, but I made it through! I got a root canal as soon as I got home.
The hardest I ever laughed was...

when Andrea accidentally bought all the boys long-sleeved girls' shirts. We didn't notice it until one of the boys was dressed. We saw the sleeves were all puffy and frilly. Once we realized what had happened, we couldn't stop laughing.
If I could live anywhere else in the world it would be...
Hawaii, on a cliff overlooking the ocean.
The worst trouble I ever got into when I was a child was...

when I, along with friends, shot bottle rockets and Roman candles at cars. Gosh, that was stupid!
God first became a reality in my life...

at the age of 15. My father led me to Christ.
I would like my epitaph to say...

"Loving father, attentive husband and loyal friend."
My favorite sound of all is...

well, besides the sound of my own voice (yeah, right), my children's laughter.
The best advice I ever received was...

to pursue what you love to do and try to make a living at it.
If I could pick my "last meal" it would be...
a filet mignon, medium-rare, with sautéed mushrooms and caramelized onions with black truffle cream sauce, grilled asparagus, au gratin potatoes, and white-chocolate bread pudding. Was that specific enough?
My best quality and my worst quality are...

(according to my wife) my best quality is consistency and my worst quality is perfectionism.
My motto for life is…

learn to be content where God has placed you. He'll move you where He wants at the perfect time.