(Pictured right: Dottie's family and friends at the Walk of Fame unveiling)
Last November, the late Dottie Rambo was among the newest inductees into Nashville's Music City Walk of Fame. The honorees were recognized of cially with the unveiling of commemorative sidewalk markers in Walk of Fame Park in downtown Nashville.
Dottie's daughter, Reba Rambo-McGuire, was there to accept the honor on her mother's behalf (pictured left with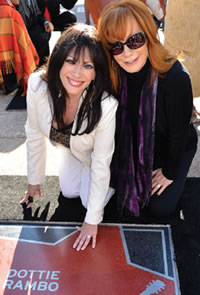 friend Reba McEntire).
"Our family is overwhelmed with gratitude for the prestigious honor and recognition of Mom's creative artistry," she said. "This permanent landmark represents the legacy of a pioneering spirit who blazed a trail for songwriters, singers, musicians and poets."
This class of inductees — which also included Kix Brooks, Alan Jackson, Dr. Bobby Jones and Les Paul — brings the total number of stars along the Walk of Fame to 58. The Music City Walk of Fame, located on Nashville's Music Mile, is a landmark tribute to those from all genres of music who have made signi cant contributions to preserving the musical heritage of Nashville and have contributed to the world through song or other industry collaboration.
Throughout her career of more than 60 years, Dottie Rambo wrote over 2,500 songs, both for herself and for some of music's most notable stars. Her legendary songs have been recorded by the likes of Elvis Presley, Barbara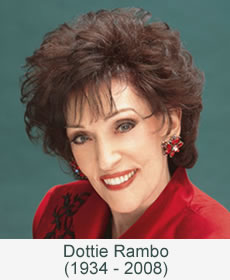 Mandrell, Carol Channing and Dolly Parton.
Her own musical career included being a songwriter, soloist and leader of her family trio the Singing Rambos, later simply the Rambos, which brought her opportunities to work with Barbara Mandrell and Porter Wagoner among others. Some of her more noted songs include "I Go To the Rock," "He Looked Beyond My Fault" and "I Will Glory in the Cross."
Her accolades include Grammy and Dove awards, the ASCAP Lifetime Achievement Award, as well as memberships in the Gospel Music Hall of Fame and the Nashville Songwriters Hall of Fame.
Dottie died in 2008 in a bus wreck, traveling between tour stops.
For more articles featuring Dottie Rambo, click here.