StowTown Records' popular soloist
Doug Anderson
recently capped off a weeklong tour through the United Kingdom, taking his vocal talents and powerful performances along with his brand new solo album,
The Only One
, across the Atlantic for the first time. "I was thrilled to take my first trip to the UK as a soloist," says Anderson. "I have been all over the world with Ernie Haase & Signature Sound, but this was the first time I had ventured overseas on my own. I'm very humbled and grateful in how it turned out."
The native and resident of Lapel, Indiana, is a three-time GMA/Dove Award winner, including both Country Album of the Year and Country Song of the Year for his standout work on his previous StowTown project,
Drive
.
Anderson and his daughters made their first stop in Belfast, Northern Ireland, on Tuesday, June 21. "Along with my girls, we had a couple days to sightsee in one of my favorite cities in the world," Anderson exclaims. "It included the Titanic Museum, Giants Causeway, The Dark Hedges, a very scary rope bridge over the coast, and, of course, shopping!"
The first show was at Glenmachen Church of God in Belfast a few days later. "Our hosts, Joan and her husband, Jim, treated us like family in addition to another couple, Jim and Helen. I can't thank them enough for taking care of us and making this night a huge success. The people responded to our program very well and we will be back."
The Andersons then made the trek to Newcastle, England, for the second stop and were hosted by their longtime friends, the Christudas family, says Anderson. "I performed with the praise team and band at Excel Church and it was a huge success. They were top notch."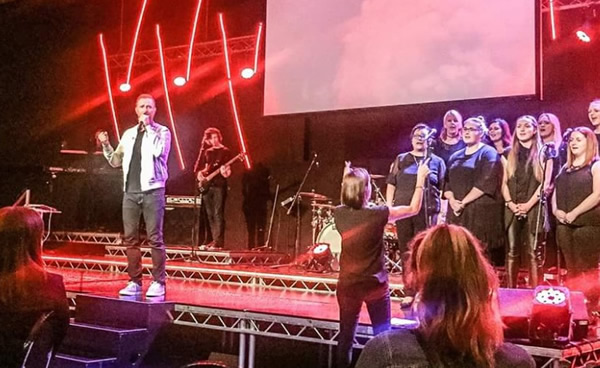 A four-hour drive followed, taking the Anderson family to the city of Chelmsford for a show at the historic Chelmsford Cathedral. "We were hosted by Stewart and his wife, Jill, and we stayed in the quaint village of Pleshey at the House of Retreat, a retreat center for spiritual renewal. The show in that cathedral was something I'll never forget! Absolutely speechless!"
Finally, it was off to London for another day of sightseeing, reports Anderson. "We saw all the famous landmarks and even got to catch a show that evening." Upon returning home to Indiana, he reflects, "It's always good to be home, but I will never forget this trip with my family and friends, new and old. Thanks to everyone who made it special. We will be back!!!"
ABOUT STOWTOWN RECORDS:
Founded in 2011 and expanded in 2014, StowTown Records reflects the musical vision of Ernie Haase and Wayne Haun, in partnership with Landon Beene and Nate Goble. The independent label is the creative home for top artists including Ernie Haase & Signature Sound, The Perrys, The Collingsworth Family, Doug Anderson, Devin McGlamery, The Taylors, Cana's Voice, The Browns, The Little Roy & Lizzy Show, Rambo McGuire, Triumphant, TaRanda Greene, The Erwins, Trey Ivey, Jody McBrayer, Charles Billingsley and selected classic music from The Cathedrals, their legendary bass singer, George Younce, and The Cathedrals Family Reunion. Distributed worldwide through Provident/Sony Distribution, StowTown Records has quickly garnered industry attention with multiple GMA Dove Awards and chart-topping releases from their highly respected artist roster.