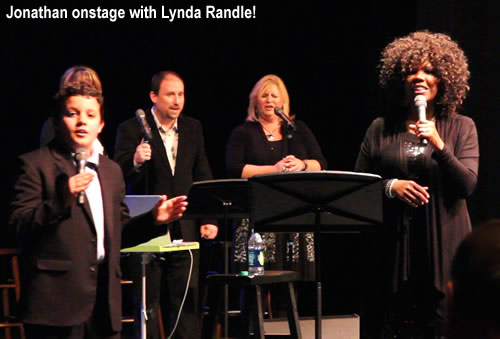 Our 11-year-old grandson, Jonathan Abbott, just had two dreams come true! Jonathan has been watching Gaither Homecoming DVDs since his greatgrandfather died in 2003, when Jonathan would stay some with his widowed great-grandmother. She and my father traveled to many places to see the Gaithers and the Hoppers. She would play the Gaither DVDs for Jonathan, and he fell in love with Gaither music at the age of 3! He came home talking about Jake, Hovie, Vestal and Mark Lowry as excited as if he were talking about Barney the Dinosaur. My husband, his grandfather, recognized he had a talent for singing when Jonathan was 6, and they began singing familiar gospel songs together. One of the rst songs they learned was "He Touched Me."
In October we went to Gaither Fest in Myrtle Beach. We met the Gaithers and all the artists, and Jonathan was very excited to meet one of his favorites, Lynda Randle. She was so sweet and found out he sang gospel music. He recorded himself singing part of "God on the Mountain" on his iPod. Lynda was impressed and she invited him to come sing that with her at her concert the next month. He was so thrilled and wowed the audience and even signed autographs after the show!
In December, at a Hoppers concert, Jonathan and my husband met them at intermission. Claude heard that he had just sung at Lynda's concert and invited Jonathan to sing "Hope" with them in the second half of the show. Claude even called him back up on stage to sing the big finale, "Shoutin' Time in Heaven." All the Hoppers are very kind and sweet people!
We don't know where the Lord will lead Jonathan with his talent, but I know the Lord has plans for him.
— CYNTHIA ABBOTT
Oxford, North Carolina