Congratulations to the Easter family!
Miles Lewis Easter
was born to Madison Easter (son of Jeff & Sheri) and his wife Shannon on December 31, 2015. He came into the world at 2:40 p.m., was 21 inches long, and tipped the scales at 8 lbs., 2 oz. He was born in Augusta, Georgia, and delivered by the same doctor who had delivered Madison 27 years before.
Mom and baby are doing fine, and Shannon posts that the couple is "absolutely smitten by our little angel ... My heart has never felt more full. God is so good!"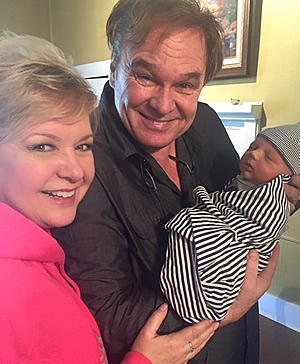 Jeff & Sheri were on tour when Shannon went to the hospital on Dec. 30, and they had to perform in New York that evening, then Pennsylvania, Canada and Michigan the next three nights. They were elated to meet their first grandchild face to face on January 3, saying, "So grateful it's no longer a long-distance love affair!"
Our question is, now that Sheri has held that grandbaby in her arms, how is Jeff ever going to get her out on the road again?