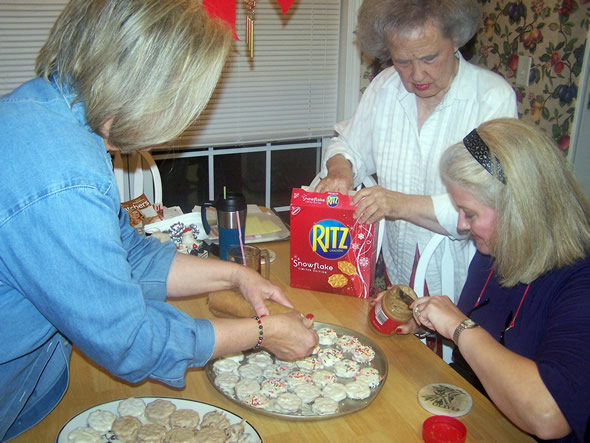 I can't honestly tell you where I got the recipe for Easy Crunch Bars — most likely it was scribbled on a torn-off piece of paper or cut out of my hometown's weekly newspaper (
Calhoun County Journal
in Bruce, Mississippi)! Thank goodness I've now been able to save it digitally and share it with everyone.
I do know that last Christmas was a special time for my family in that we decided to keep things really, really simple in our Christmas food preparations, including Christmas dinner. Of course, there will always have to be Mama's chicken and dressing, and I made sure the tradition goes on. However, for dessert we kept it to one or two "sweets"—one of which was this Easy Crunch Bars recipe. To be honest, the fact that a cookie was filling the spot that in the past included homemade fruitcake, chocolate pie and many other desserts, we found this recipe to be just what was needed for the ending of a huge dinner. And preparation takes only minutes, literally
Sweet and salty combinations suit me to a tee, so every Christmas from now on, most likely, we will go with this simple and delicious recipe. minutes, literally.
Ann Downing's EASY CRUNCH BARS
Ingredients
• 35 saltine or club crackers
• ½ cup butter or margarine
• ½ cup firmly packed light brown sugar
• 1 cup white chocolate chips

Directions
1.
Preheat oven to 400 degrees.
2.
Place crackers in a foil-lined 15x10x1 baking pan.
3.
Place butter and brown sugar in saucepan. Cook on medium-high heat until butter is completely melted and mixture is well blended, stirring occasionally.
4.
Bring to a boil. Boil for three minutes without stirring, then spread over crackers.
5.
Bake five to seven minutes or until topping is golden brown. Immediately sprinkle with chopped chocolate, then let stand for five minutes or until chocolate is softened.
6.
Spread chocolate evenly over ingredients in pan. Cool. Break into pieces.