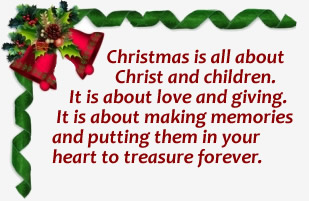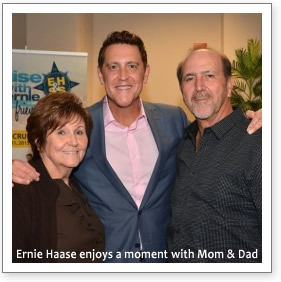 Recently, my Dad (Ray Haase) and I sat down and chatted, man-to-man. It's never been hard to chat about work, sports, the Bible or politics, but this chat was different; it was special. Alone together, I shared from my heart about how much he meant to me. I reflected on his work ethic and the sacrifices he made for the whole family. I told him I was about to record a Christmas video and that if he wanted me to sing a favorite song, I'd be happy to do that for him and for Mom.
Pop is a tough man. He still gets up at 4 a.m., hits the gym and then is the first to work. So, for him to be "soft" took me by surprise. He said, "Sing 'My Life Was Changed By a Baby Boy.' I love that song."
He looked down and paused a bit then looked at me with a tear in his eye and said, "You know, my life was changed by a baby boy. You, Ernie." He went on to tell me a story that I had never heard. He said, "I was a young and wild 18-year-old kid the day you were born. When I walked into that room and saw you for the first time, you looked right at me and smiled. I knew then and there I had to grow up. I told your momma that I was going to stop the things I was doing and start going to church and be a dad to you. So, Ernie, I did give my life to Jesus, but my life was literally changed by a baby boy … YOU!"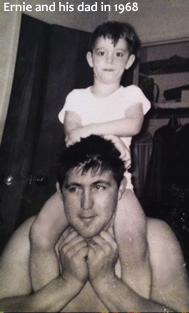 One of the greatest father-and-son moments EVER! No baseball game or church function could ever replace the holiness of that moment. Later that month, as we recorded the video, I thought back to that time when Pop and I shared our hearts. He and Mom were there on the front row wiping tears all night long. I'm a blessed son.
This Christmas season, and all year long, take time to be with the ones who matter most. Share your heart. Show your bruises and share your story. Let people close to you know that they matter. Christmas is about sharing. Thank God for the gift of life that is ours in Jesus. I think the Father in heaven smiles when His children get along in fellowship and love. And that special day, when I heard my earthly father tell me his life was changed by a baby boy, I can't help but believe my Heavenly Father smiled and said, "Now that's what it's all about."

Visit
ErnieHaase.com
for concert dates, news and shopping.

Click for more Homecoming articles about Ernie Haase & Signature Sound.