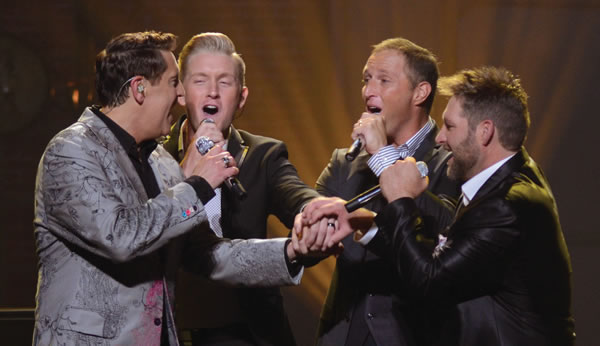 Ernie Haase, the last tenor to sing with the famed Cathedral Quartet, stepped out of that legacy in 2002 to follow his own path, formally becoming Ernie Haase & Signature Sound in 2004. EHSS remains one of the most popular quartets in southern gospel music today, having sold over 900,000 audio and video recordings with Gaither Music Group.
When we last left our intrepid harmonizers ("
Ernie Haase Left the Studio
," Homecoming Jan/Feb 2012) the lads were embarking on some serious international touring — performances in Romania, England, Latvia, Germany, Netherlands, Sweden, India, Australia and South Africa. Canada is, technically, international… but since Ontario shares a lakeshore with Ohio (the town of Stow being the corporate HQ of EHSS), the Great White North has become a regular part of the boys' annual schedule. So let's refer to their 2012-2013 travels as "overseas" touring.
"This is something that's been brand new." Ernie refers to performing outside of North America. "We never did this kind of travel before. A couple years ago we started getting invitations from these distant lands. Turns out it was sort of a 'perfect storm'; first, having recorded all this fun music with timeless messages, secondly, we have all these years appearing in Gaither videos… and then third, what really lit the fuse was YouTube." Ah yes, the world's second-busiest search engine — fed by camera phones and viewed by netizens worldwide.
"It's amazing to go all the way across the ocean and fi nd people who know your music. It blows my mind." Baritone Doug Anderson speaks haltingly, there's a catch in his throat and he's struggling to put into words how unexpected and different these tours were from their stateside events. "When we got off the airplane in Romania, there were crowds of people waiting for us at the airport. They all have a story to tell, and they just want to talk to us and touch us and — I mean…it was humbling. It was
life-changing
to be over there."
"The people just melted our hearts. In every city, every country we were in, we left a piece of our heart there." Ernie chuckles, remembering that he also left his cell phone number back there: "I get texts and pictures from a Signature Sound Fan Club in Riga, Latvia. There's a dad and his three sons over there who started a quartet and call themselves Signature Sound Latvia. He's texting to tell me what God's doing through our music."
Ernie says their bus broke down in Romania — finally pulling up to the concert venue in Oradea half an hour past the start time. "And there are 1,200 people waiting for us. In America, that could've been a deal-breaker, but here, the crowd stood outside and cheered when the bus pulled up. They were smiling and holding up welcome signs." But it gets better. "The crowd formed a line from our trailer into the auditorium and they carried in every piece of our equipment for us. And then they helped us set it up. We started singing 90 minutes late, but nobody left. And then at the end they stayed and helped us carry our gear back out and pack it up again." Ernie is reliving that evening as he tells the story: "Their happiness and the love they showed…it just, flat shut us
down
. We were undone." Doug Anderson was deeply affected: "I can't wait to take my kids over there so they can experience God's love the way we did."
Which brings up another thing the visiting Americans noticed about the crowds: they were young. Overwhelmingly young. Entire crowds of teens, 20s and some 30s — with nary a silver hair in sight. "There are hardly any elderly people at all when we sing over there." Bass singer Paul Harkey is searching for a number: "I'm gonna say it's 95 percent young people." Southern Gospel is obviously not part of European culture — they have no parallel to the way spirituals and mountain music gave shape to America's religious musical expression. And so this genre, which is embedded in the American psyche, is an utterly new discovery to a rising generation of web-savvy Europeans.
But EHSS didn't stop in Eastern Europe. Harkey on South Africa: "It was just young people everywhere. It was crazy. I've never experienced anything like that in my life. We were swamped — signing pictures and getting our pictures taken and everybody pulling us in every different direction. I absolutely loved it there." The South African culture, of course, is very musical, and one of Ernie's YouTube videos shows him learning new dance moves with some Johannesburg hotel staffers.
"India wrecked my life." Lead singer Devin McGlamery is having even less success than Doug keeping his emotions under control. On visiting the slums of India: "But wrecked it in a good way. I came back and got a tattoo on the inside of my arm that says Namaste, which is the word of greeting they said while inviting us into their sheds. I mean no disrespect, but their homes were cardboard boxes…one man was so proud to show us his tent." This kind of up-close-and-personal ministry has—to a man— deepened the singers' sense of purpose and mission.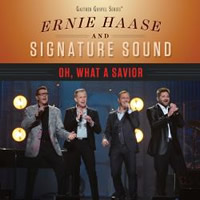 And now the foursome is back in the good ol' USA, finalizing a new recording, for a simultaneous CD/DVD release called
Oh, What A Savior
. It was recorded live in Paducah, Ky., just down the Ohio River from Ernie's hometown of Newburgh, Indiana. The Wayne Haun production is a tour de force that includes overlooked classics ("Scars in the Hands of Jesus," "Noah Found Grace"), EHSS favorites ("Oh, What A Savior") and three brandnew originals. The quartet's renowned musical innovation and high-energy stage performance are on display from start to fi nish. But EHSS has always been anchored by a solid gospel message and deeply refl ective songs that speak in a still, small voice. So this project gives them more arrows in the quiver as they head out again into the big, wide world — in familiar places near and in strange ones beyond the horizon.
"After our concert in Bucharest, and having witnessed the intensity of the crowd's response, a reporter told me he was going to call us 'Ambassadors of Joy.' That really sounded good to me." Ernie has clearly been rejuvenated by the recent global sojourning, and faces the future with a new resolve: "Being among those sweet people in Romania and Latvia and India and South Africa has, in concrete ways, changed all of our lives. I am convinced we will still be touring both here and there for many, many years to come." Godspeed, Mister Ambassador.
Click here to see other articles featuring Homecoming favorite Ernie Haase & Signature Sound.