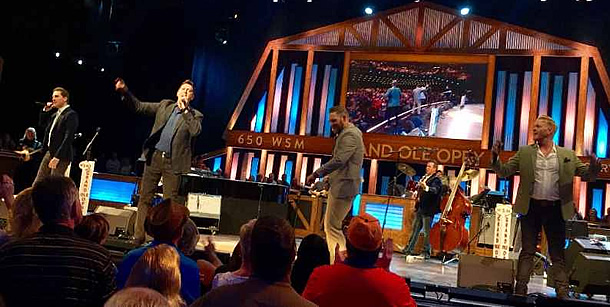 On October 15, award-winning quartet
Ernie Haase & Signature Sound
made its debut at the world famous Grand Ole Opry. Ernie, Devin, Dustin and Paul performed some of their most popular songs during two shows Saturday evening alongside longtime country music legends Trace Adkins and Ricky Skaggs.
"Our time at the Opry was filled with absolute love!" enthused Haase. "The crowd gave us an enormous standing ovation and loved the presentation of gospel music, and, for that, we are very humbled and grateful."
The renowned quartet performed many songs from its latest release, the chart-topping StowTown Records project
The Favorite Hymns of Fanny Crosby
, which features well-known hymns "Jesus, Keep Me Near the Cross," "Blessed Assurance," "Tell Me the Story of Jesus" and others.