The Martins are favorites of mine, personally and professionally. Their harmonies are what have made them famous, but true musicians are astounded when the siblings sing in unison. For three people — one of them male — to sound like one solitary voice is virtually unheard of, but when one considers that they have managed this feat night after night for years is remarkable. For they are consistent, despite one's sore throat or another's allergies. Best of all, though, is the fact that their lives and ministry — their hearts — are as warm and authentic as their voices.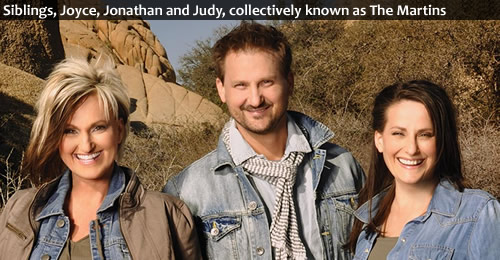 ANDY:
Jonathan! It was great to see you a few weeks ago on the cruise!
JONATHAN:
We had such a great time. Are you going to be on the Alaska cruise next August?
ANDY:
Absolutely! Polly and the boys will be with me, too. So bring a few cabins-full of your kids! How many do you and Dara have?
JONATHAN:
Six.
ANDY:
...Teen?
JONATHAN:
No, sometimes it seems like sixteen, but it's just six.
ANDY:
(laughing)
I meant … Are they all in their teen years?
JONATHAN:
Ha! Well we have two boys in their teens — the twins. But the ages are 20, 18, 18, 11, 9 and 5!
ANDY:
Wow. That's awesome and obviously, you aren't on the road
all
the time! However you look at it, that's a great bunch of children. Here's a good question for you. How do you teach these children and young adults what it means to "love your neighbor?"
JONATHAN:
I believe that "love your neighbor" begins at home. As we create our family dynamic, it is important to understand that learning manners at home — learning how to treat each other — translates to community. How they respond to and treat their brothers and sisters ultimately shows up in how they act in public when away from home. It shapes how they treat others.
ANDY:
That is a great, well thought out, and very true answer. Actually, that is wise advice.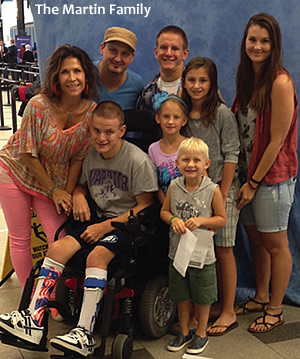 JONATHAN:
Hey, I may be the pretty face in the Martin family, but I have a few smarts too!
ANDY:
(laughing)
Yes, it is true that you have some smarts, but as your friend, I feel the need to say that if you really think YOU are the Martin family's "pretty face," there are a few more brain exercises you should consider!
JONATHAN:
That's probably truer than you think. Anyway, one of the things that Dara and I believe helps with that attitude of "love your neighbor" is that we have a special needs child. Taylor has cerebral palsy. Michael, his twin brother, helps Taylor at home and at school and of course, all his brothers and sisters help, too.
They
have
to help. Because Taylor needs their help. Therefore, they notice others —
"Oh, that person needs a little help…"
— that many might overlook, because they see it at home.
ANDY:
How great is that? Well, Polly and I have been around your children and we have a sky-high opinion of you and Dara partly because of your kids. You know, people can fake a lot of things, but we can't fake our kids, can we?
JONATHAN:
That seems to be true and I appreciate the compliment.
ANDY:
Growing up, how often did you find yourself in the middle of an argument with Judy and Joyce?
JONATHAN:
Not too often, really. You know, they had the whole sister thing going on. They shared a room, so if they had sister squabbles it didn't really bother me. Now, if they had an argument that I was paying attention to … I was in it!
ANDY:
Who aggravated who the most?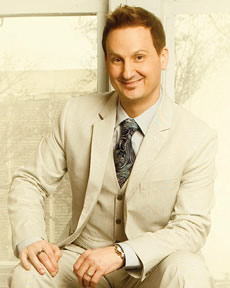 JONATHAN:
I'm quite sure that I aggravated Judy the most. And frankly, I still got that in my back pocket.
ANDY:
Last question — what's on your iPod?
JONATHAN:
I just got rid of my old one and am starting over, so right now, you wouldn't be impressed.
ANDY:
Tell me…
JONATHAN:
I have 16 Christmas songs by Alvin and the Chipmunks and one Russ Taff.
ANDY:
You have six kids. Sounds perfect!