Reggie and Ladye Love Smith are mainstays on the Homecoming stage. Among the most popular folks with the other artists, they are favorites of mine as well. While they are headliners in their own right, performing around the world, Reggie and Ladye Love are in constant demand as support in the studio for other artists. Their background vocals grace several hundred albums!
ANDY:
Hey, you two! Wow. I have to say, you are a tough couple to track down!
REGGIE:
Are we?
(Ladye is giggling.)
ANDY:
Ahh … yes. I called and missed you in the Canary Islands. en where…? I missed you in London. You emailed and said, "Andy! Call us! We are in Spain!" Good grief. You go everywhere. I'm lucky they occasionally let me out of Alabama!
LADYE:
Well, you found us. SO, let's talk!
ANDY:
OK, I have a few questions. Here is something I've always wanted to know: Who first had the vision for you as a duo?
REGGIE:
Believe it or not, it was Bill. And it was convenient. We were married, so she always knew where to find me.
ANDY:
I've watched you two for a long time. And I've watched from a unique vantage point. There have been a couple of times during all those years that one or the other of you had to perform with a serious sore throat. I've always been amazed that the audience never knew. How do you pull that off?
REGGIE:
You must have us confused with someone else …
(All laugh)
LADYE:
You know, a friend just asked me that today. Thankfully neither of us has had full-blown laryngitis, so we've always been able to cover for each other and not disappoint the audience.
ANDY:
What would you be doing for a living if you weren't singing?
LADYE:
I love photography … but I have a master's in counseling, so maybe that.
REGGIE:
Probably teaching for me. I was teaching before I became self-unemployed.
ANDY:
(Laughing)
Here's a question I love to ask: What is on your iPod that might surprise us?
REGGIE:
Keb Mo.
LADYE:
I have
Tapestry
by Carole King. My sister Julee and I used to clean house to it on Saturdays! I also have some Eva Cassidy.
ANDY:
Do you have a favorite song you do in concert?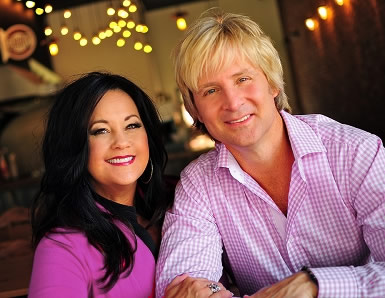 LADYE:
I love "You Raise Me Up" because it seems to move people for different reasons.
REGGIE:
I like "When a Man Loves a Woman."
ANDY:
Sometimes with the Homecoming bunch, I watch as you work with other folks and am blown away by your ability to adapt to the vocal quality or style of another artist with whom you are singing.One night, when I realized Reggie was matching Angie Primm's vibrato, I almost fell over!Where did this ability come from and when did you realize you could do it?
LADYE:
I love to match someone's voice and Reggie grew up singing with brothers, so he got a lot of practice.
REGGIE:
It's definitely an art. Very different from flying solo and it can be difficult to do well. There have been lots of studio sessions wrapped up in our being able to do this.
ANDY:
Whom do you like best — Bill or Gloria?
(For a moment, there is dead silence on the phone and I am trying not to laugh. Finally, Ladye speaks and does make me laugh!)
LADYE:
Well, Andy … I would have to say that one of us likes Bill more. And one of us likes Gloria more.
ANDY:
You should run for political office! Thanks so much, you two. I'll see you on the Alaskan cruise, if not before.