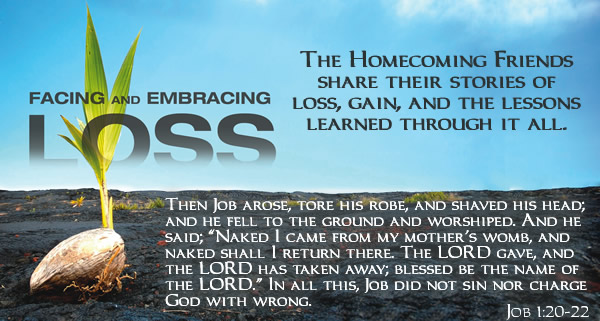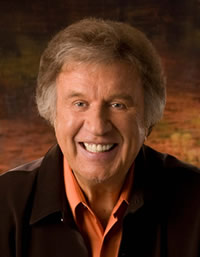 BILL GAITHER
We live in a culture where we are taught all about winning, yet much of our lives is spent dealing with loss in one way or another— the loss of our youth, loss of relationships, loss of finances, loss of health, loss through death—the list could go on and on. Incidentally, the tools for dealing with loss aren't nearly as plentiful as the tools for learning to win and succeed.
If our faith is based on winning all the time, we eventually run into big trouble. A belief system that insists Christ's will for our lives never involves loss will inevitably break down at some point, and then what? Loss is part of living in a fallen world. That is a reality.
Here is the beautiful thing about loss: it drives us to trust! Loss, however difficult, moves us to a place where we must depend on Christ at a level we could never otherwise understand. Allowing Him to walk with us through difficult times will inevitably change our perspective, shifting our focus from temporary things to the eternal.
There is one particular line of the poem "If" by Rudyard Kipling that offers an interesting perspective on winning and losing: "If you can meet with Triumph and Disaster, and treat those two impostors just the same." Both triumph (great wins) and disaster (great losses) are not the norm. Most of life is somewhere in between.
I've lost some of the most precious people in my life during the past decade. And it has been hard. But to quote one of my favorite gospel poets, Andraé Crouch, "Through it all … I've learned to trust in Jesus." I wish life could be all about winning and gaining. But, in truth, my life is far richer for having learned to lean on Him more heavily than I ever thought I would have to.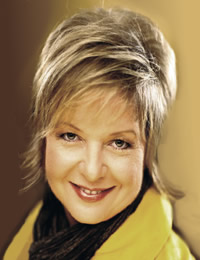 SHERI EASTER
I learned about loss very early in life as I stood over my daddy's grave when I was only 20. I felt as though the foundation of my very existence had been shaken as he had always been my rock, my protector, my guide and counselor. At 20 years old, I immediately became an adult. I began making decisions about funerals, life insurance, gravestones and trust in God. I realized what true compassion for others was all about. I learned that life is fragile and we must make the most of every moment. I learned to breathe in and breathe out, when I couldn't do anything else. I learned to put one foot in front of the other, when I had no clue as to the direction I should be moving. I learned to never use a cliché to comfort someone who was truly broken. Some of the most hurtful things said to me during my daddy's death were said by well-meaning souls who obviously didn't know my depth of pain. He's in a better place sounded very empty, and
God chooses the loveliest flowers for His bouquet
sounded very cruel. I was broken, I was empty and I ached. Thankfully, God had blessed me with the most joyful woman I've ever known, my mama. She smiled through the toughest of days. She encouraged us children, assuring that we would make it through and she helped us focus on all the wonderful memories we had made with Daddy and reminded us of just how blessed we were to have had such love in our lives.
Twenty-two years later, I faced a different kind of loss … loss of my health, my independence, my hair and my femininity through a battle with breast cancer. There were daily attacks and most of them whispered,
you'll never be the same
… I've never known truer words. These days I celebrate almost five years cancer free! I celebrate good health every time I exercise. I celebrate how beautiful I am, knowing that beauty doesn't come from one's exterior. I celebrate my femininity knowing that the loving and nurturing nature inside me is what makes me a Proverbs 31 woman. My husband tells me often that I am beautiful and I believe him. It wasn't easy … for a long time, he said it, but I wanted to disagree. Until your health has been compromised, you really don't know how to appreciate it fully. I love to make good choices for my health and know that I am powerful. I breathe in and I breathe out knowing that the very breath I breathe is a gift from God. My heart is full of gratitude and my perspective is greater, having survived one of the toughest battles of my life.
I am no stranger to loss. I've said goodbye to many people I've loved in my life. I am slowly saying goodbye to my precious mama as she lies in bed, stricken with Parkinson's/Lewy Body Dementia, unable to talk, unable to reach up to brush her own hair out of her face. She depends totally on those of us around her, and somehow she still smiles.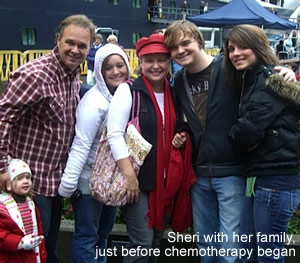 I hold her hand and tell her of my travels, and the news of all her family and friends. I share with her my heart, my joys and yes, sometimes my sorrows and she listens to them all, smiling when I share with her good news and crying a tear when the news isn't so good. I am losing her one piece at a time, one day at a time and one moment at a time — and it isn't easy.
Loss hurts, sometimes it cripples, but it teaches us about the fragility of life, the precious moments that are numbered, and it also teaches us about trust in our Maker. God promises that He will never put on us more than we can bear and as unbearable as some of my life has seemed, I've discovered that this is true. Although there were days when I couldn't get out of bed, God reminded me that life is good and that He is faithful. I remember thinking as a young girl that my grandmother was such a strong, godly woman and how I hoped to be just like her and my mama when I grew up. Looking back at the adversities they each faced, I realize that my adversities are daily shaping me into that kind of woman. My losses are helping me to be whole, for with every broken piece of my life, God is not only restoring, but also teaching me how to learn from those losses. I cannot say that I am grateful for my losses, but I am grateful for what each has taught me.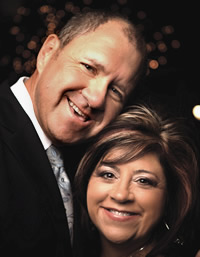 LIBBI & TRACY STUFFLE
Tracy Stuffle, bass singer for the Perrys, suffered a massive stroke from a vessel hemorrhage on January 21, 2013, and has been hospitalized ever since. His wife Libbi updates how they are dealing with everything.
Right now, he has more movement on the left side than he does the right side. With his speech, we're not sure about it, because they're just starting to work with him on speech therapy. That's probably been one of the hardest things for me. We are always together, just about 24/7, so not hearing his voice for so long has been the hardest part. Tracy always made a point several times a day to say "Hey, I love you," and when that's not there, your heart kind of grieves.
But I keep looking at Isaiah 41:10, where it says,
Do not fear, for I am with you. Do not be dismayed, for I am your God. I will strengthen you and help you; I will uphold you with my righteous right hand.
From the beginning of this, that verse has crept into my days, whether it's from a devotion, a text message, email or phone call. When I really start feeling down and worn out, this verse comes up and I am reminded that God has this. Just because we're singers doesn't mean we're exempt from being sick, experiencing loss and going through hard times. This is where the rubber meets the road with what we sing. It's easy to walk on stage and say, "God is the answer for every problem; all you have to do is trust Him." You think you have a lot of faith and trust God with everything in your life. Then when you're faced with a situation like this, you think, "OK, maybe I'm not as faithful as I thought, and maybe I'm not trusting Him in all areas."
A couple of times, we almost lost Tracy. The last time that happened, I stood outside the ICU and prayed, "God, I've prayed every prayer I know to pray; I have begged, I've pleaded. It's Your will, not mine, and if Your will doesn't go along with what my heart's desire is, then just give me a whole lot of grace." I've had to start saying throughout every day, "God, it's not my will, but Thy will. Just give me grace to make it through this day." And He's been faithful — His grace has been sufficient. If it was my strength, I would be balled up in the fetal position, in the dark, saying, "Go away, go away, go away." Through this whole scenario, we've seen God work, and He has totally been Jehovah Jireh, Jehovah Rapha, El Shaddai. He has proved to me day after day, just stand still, trust Me with everything, and I'm going to bring you out of this.
One of Tracy's doctors really encouraged me. I had just been told for the first time that they had found an infection on Tracy's brain, and they didn't know if it was MRSA. I was standing there, just feeling like I'd been hit in the face. This doctor walked in and asked how I was doing, and I said, "I'm just standing here trusting God," knowing in my heart that I was just crushed. He looked at me and said, "Are you really?" And I said, "Uh, yeah…" And he said, "Are you just a little bit fearful?" "Well, yeah," I said. "But if you trust God," he continued, "then you can't be fearful and this wouldn't bother you." I said, "But I've never been in this place before." He replied, "But you have to trust God." A couple days later, he came in with a piece of paper in his hand and said, "This morning, while I was doing my devotion, I read this and immediately, God said this was for you all. It's just a reminder." The devotion said, "Let me bless you with my grace and peace. Open your heart and mind to receive all that I have for you. Do not be ashamed of your emptiness; you're in the optimal condition for being filled with my peace. It's easy to touch up your outward appearance to look as if you have it all together. Your attempt to look good can fool most people, but I see straight through you into the depths of your being. There is no place for pretense in your relationship with me. Rejoice in the relief of being fully understood. Talk with me about your struggles, feelings and inadequacies. Little by little, I will transform your weakness into strength. Remember that your relationship with me is saturated in grace. Therefore, nothing that you do or don't do can separate you from my presence." And that was what I needed right then.
I've always tried to be a person who has been up and tried to encourage other people, but when you're going through stuff like this, your heart grieves. It's easy to think "What if?," but again, it's just Isaiah 41:10. I want to say to people, "You can do this; you can make it! If God can help me, He can help you."
Donations for Tracy Stuffle may be made at caringbridge.org/visit/tracystuffle.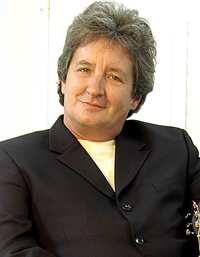 WOODY WRIGHT
What are the implications of the number 55? It is possibly the most common speed limit in America. It is the number of a center, guard or linebacker on a football squad. To the truck driver it is the double nickel. It is five minutes before the top of the hour to a radio personality. It is the year that Steve Jobs was born, and the year that Albert Einstein died.
At age 21, losing your 55-year-old father is a tragedy with no recovery. Then as you approach your own 55th birthday, to have your best friend die unexpectedly at age 55 is simply unnerving.
Fifty-five is more than a number to me. It is a benchmark of two very important people in my life. My father, Woody Sr., was a musician. He played guitar and sang natural harmony parts, and taught me both. He introduced me to country and gospel music, and enabled me to go places I never dreamed I would go. He drove me to churches, auditoriums and other venues to do concerts. He took me to the Opry, to all-nite sings. He helped me book radio and television appearances as a child. He always encouraged me to sing, play and entertain. Without him, I would not do what I do today, and would have never been blessed to travel around the world to do what I love, make music.
Stephen Hill was my best friend. We talked on the phone numerous times every week. Very seldom did a day pass without us seeing or speaking to each other. We were constantly together in the quest to make music. We sang country and gospel music together. He introduced me to many new friends in the U.S. and abroad. We traveled together to churches, auditoriums and any place we could to do shows. We performed on the Opry stage, on the Nashville Network, and in numerous Gaither tapings and concerts together. He was my biggest fan, and I was his. We breathed the same air, and shared the same convictions and opinions. Our musical styles were very different but blended seamlessly. Without him, I would not have a vast number of dear friends and colleagues that I have today. I would have missed the elation of countless great concerts and travel opportunities without him.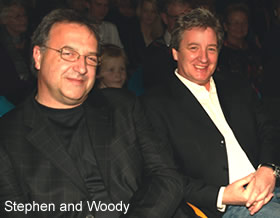 So, I lost my dad at a way-too-early age. And, I lost my best friend the same way. This is the time when singing a verse and chorus of "We'll Understand It Better By and By" seems trite and unfulfilling. All the "Christianese" sayings like "God's ways are not our ways" and "He's in a better place" just jingle, jangle and ring hollow in a broken heart. There is no balm. The words of one of my mentors, Elmer Cole, are proving to be the most truthful. When my father passed away, he told me that I would never, ever be able to get over the loss. He said that as time passed I would get used to the loss, but never get over it.
I spoke with Stephen's 23-year-old son a few days after his dad's memorial service. I shared that we had that "young man in his 20s losing his father at age 55" experience in common. It was my effort to let him know that life looks hopeless right now, but that I am living proof that life really does continue. I also shared Elmer's words with him. I only hope he can take a fraction of the comfort in them that I have found. Emotions are like waves. Disappointment, hurt, shock, anger, regret, fear, doubt, uncertainty, anxiety, apprehension, depression, hopelessness, helplessness, abandonment, guilt, sorrow, confusion, bewilderment, indecision ... and the list never ends.
So mind renewal becomes the seemingly impossible dream. It is like finding the reset button, but it is on a 55-foot ceiling of a concrete room, with no ladder. It is visible, but seems unreachable. So we train, work, and try to strengthen our legs to make the jump high enough to push the button. Though we never find a way to jump that high, there seems to be a calming sensation in just trying. Then the grace of Almighty God gently reminds us that we are not left alone to struggle with no hope. Our hope comes from the reality that this life is a vapor in light of the eternity we will spend with the loved ones we think we have lost.
When my mother-in-law lost her son near age 55, she would often say, "Where's Jeffrey?" To which we would try to comfort her by saying, "he is in Heaven." Then she asked, "but where is Heaven and how do I get there?" That was a more difficult question to answer. She passed away in August of 2011, and now Vonnie and I ask each other … "Where is Mom? Where is Heaven, and how do WE get there?"
My 55th birthday has come and gone with little fanfare, and I, Lord willing, will live and love well beyond it. But in my mind's eye, if there are street or room numbers in Heaven, I would not be surprised if God permits me to live on a street or behind a welcoming door numbered … 55.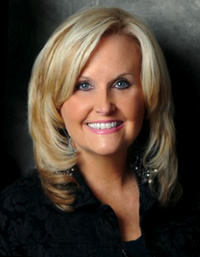 KAREN PECK GOOCH
The untimely death of my dad in February 1993 left us — my mother and my sisters — devastated. Daddy was only 59 years old. My son, Matthew, was 6 months old and was the first grandson. Daddy retired two years earlier to help New River with office work. He loved being retired and had a lot of plans. We depended on him. When we found out that he had cancer, he told us girls to keep working and to keep pressing forward. Together we would show the Lord that we had faith in Him to heal Daddy.
Looking back, I remember the worried look in his eyes as he sat in that hospital bed trying to make us feel better. Every day after that seemed to get worse. One month later, Daddy died. Our hopes and dreams were shattered. We knew that Daddy was in Heaven and we had the reality of knowing that we would see him again, but death seemed so final. What about now? What would we do without him? Mama depended on him for everything. How would she handle the loss? Rickey and I stayed with her the first night. She woke up several times during the night crying and praying for God to help her. As long as I live, I will never forget that night lying in the bed weeping for her and feeling helpless.
As the days progressed, Mama began to show an independence that we had never seen. She would say, "What choice do I have?" We were so proud of her. She had many tough days but her boldness and determination helped us girls to deal with the grief better. However, a few months later, I realized that the grief that I had been experiencing was causing me to become physically and emotionally sick. I couldn't let go of the grief. I couldn't let go of Daddy being gone.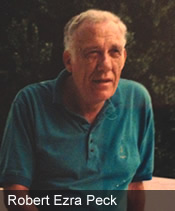 I was afraid that if I let go of Daddy, then I would forget him. I didn't want to forget him. I didn't want to forget the sound of his voice. So, I began having panic attacks. I remember calling Kelly Nelon and she began praying for me and then told me to call Martha Whitmire, Stan Whitmire's mom. Martha began to speak the Word into me.
The following Friday night, New River was performing in Dalton, Georgia. As I was giving the altar call, the Lord laid on my heart that I needed to pray at the altar and give this grief to Him once and for all. I didn't go down at first. What would people think? I am giving my own altar call? However, as the people responded, I finally went down. I prayed and cried out to God like never before. Honestly, when I stood up from that altar, I felt like a ton of bricks had been lifted off my shoulders. I felt free. After that night, I still grieved for Daddy but not like before. I never had another panic attack. God delivered me from those panic attacks and from that spirit of grief. Through the death of my dad, I began to know God's mercy and grace like never before. I began to understand compassion for others like never before. My family began to realize that things were never going to be the same, but they could still be good! Our ministry changed immensely for the good. That year I wrote a very simple song entitled "Daddy's Home." To this day many people play it at loved ones' funerals. It brings me comfort to know that others can be encouraged through my personal experiences, but most of all, it brings me joy to know that we can find true peace and happiness through a Savior who loves us and cares for us no matter what our circumstances may be. Jesus is our only hope!
"The joy of the Lord is your strength."
(Nehemiah 8:10)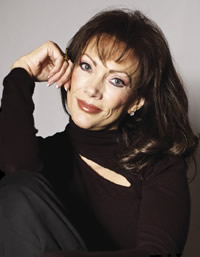 REBA RAMBO-McGUIRE
I don't remember much about the year following my mom's death.
I'm told I kept living. There are pictures of a family vacation at our friends' house in Naples, Florida. I had a birthday. We ate Thanksgiving dinner, but I'm sure Dony did most of the cooking. The kids purchased Christmas presents, but I look like a zombie with a frozen grin in our holiday snapshots. My family and friends waited patiently for me to walk out of the fog, step by step, and fully come back to them.
One of the sweetest healing balms that helped all of us deal with the hurt was the healing power of story. Our son Israel would say, "Remember when Gran- Dot would grab her puppet Eve and use those silly voices to tell Bible stories but she mixed up all the characters on purpose? She'd have Samson building the ark and Abraham killing the giant with a tuba?!"
Dony would smile, "I remember when Dionne was little, Mom and I would drive her in those golf carts all around their farm chasing all the cows and bulls through every pasture! Mom was a maniac—she almost drove Dionne and her straight into the big pond!"
Destiny would reminisce, "She and I would sit at her dressing table piling on the brightest eye shadows and red lipstick! Then I could invade her big closet and put on the beaded stage gowns, fancy high heels and drape on the furs. Nothing of hers was off limits! Can you believe she let me play dress up with ALL her jewelry, not just the costume stuff!"
I would sit quietly listening to Dony and our children giggle about their antics with Gran-Dot and found myself grinning in spite of myself. Eventually, I was able to give me permission to laugh with them. Slowly, ultimately, I actually dared to share funny memories about Mom without feeling guilty.
Her beautiful spirit became even more alive among us as we remembered and celebrated her amazing life. It finally hit me ... I didn't lose my mom. I know exactly where she is. She is very much alive in the realm of mystery where heaven kisses the earth.
Now when I think of her, I smile and remember our stories.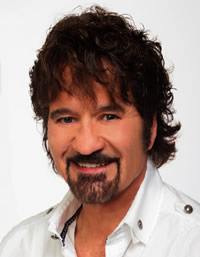 DONY McGUIRE
A moment in time … February 26, 1961
… It was a beautiful, sunny, warmer-than-normal winter day in Tulsa, Oklahoma. After attending morning service at the Hillsdale Pentecostal Holiness Church, our family traveled less than two blocks away to join one of the other families in the church for an afternoon of food and fellowship. My four brothers and I were in the yard throwing baseballs and footballs and riding bikes to pass the time until lunch was on the table. Being raised in a family of limited means, having a bicycle to ride was a luxury I wasn't going to allow to slip through my hands.
While riding, I took the opportunity to descend down the steep driveway onto Union Avenue, which seemed quite busy that afternoon. It was as if I had no sooner reached the crowded thoroughfare that I felt my body being hurtled in the air high above the four lanes of traffic till it slammed itself to the pavement below. There was the screeching of tires as people were braking to avoid hitting me as I struggled to get up and walk to the sidewalk. Every time I attempted to take a step, I ended up crashing down on the asphalt again. Within moments, the number of people looking down on me increased so much I couldn't see them all … the sounds of screaming, crying, praying and sirens were getting closer and closer. Mom and Dad along with our pastor suddenly appeared, while the faces of my brothers pressed through the crowd. What had happened? Why all the commotion? Why did I keep seeing blood-stained garments taken away from my body? Why were Mom and Dad crying so hard? A 9-year-old asks "why" quite a bit. At least I did.
I remember trying to lift my left arm but it wouldn't move … I remember looking in my mother's eyes and asking her, "Did I lose my leg?" Reluctantly, tearfully she nodded yes. I'm not sure I even understood her response in that moment.
Within moments I was whisked into an ambulance to begin the 15-minute ride to St. Johns Hospital where I would be rushed into emergency surgery. My dad was so distraught on the ride. I'll never forget looking into his eyes and telling him, "Jesus will make everything OK," only to hear him burst out with greater gut-wrenching trauma. Oh, the faith of a 9-year-old!
At the time I didn't know it, but I wasn't facing just the reality of losing a foot that day. When the initial X-rays came back on my left arm, the doctors advised my parents to allow them to remove that arm as well. The elbow and shoulder had taken the brunt of the blow when my body landed; it was more like powder than broken bones and they didn't see how it would ever properly heal to the point I would be able to use it again. My mom stood firm, "His dad and I have already invested four years of piano lessons into that left arm and there is no way we will allow you to remove it!"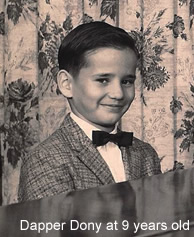 Those three weeks in the hospital seemed like a year. In reflecting on this moment of life, I realize the persistency and determination of a 9-year-old is just about as great of a faith as you can have.
In less than six weeks, they removed the cast from my body and the left arm was and is still fully functional. The following week (seven weeks after the wreck) I was fitted for my first prosthesis: a heavy limb hand-carved from balsa wood attached to a bulky leather corset which I strapped around my thigh. I took my first step on the three-month anniversary of the loss of my leg — three months sooner than projected!
My four brothers were determined I would run and play baseball again, so I would wrap my arms around their necks while they ran and my foot would skip along on the ground beneath me creating the speed and motion of running until one day it all clicked in my head and I let go and outran them all! Pee-Wee baseball, middle school and summer leagues and winning championships were still a big part of my life. I soon realized this tragic loss had no real power to hold me back from living fully and dreaming big.
Maybe the greatest strength I gain in life today is when I receive an invitation to meet those who have suffered a similar loss and I'm given the opportunity to share my story of hope with them. The loss of a foot has never and can never define who I am or who anyone else is for that matter — unless we allow it to become our identity. Most people aren't even aware I walk around on a prosthetic device because it's never kept me from doing one thing I had a passion to pursue. It serves me … I don't serve it.
Every time I place my hands on a piano, I'm reminded of the tenacious faith of parents who believed in their investment in a left arm and refused to let it be amputated. My mother told the doctors she had never heard a good one-handed piano player! Every time I compose another piece of music, I'm reminded of the years of study that continued after the accident allowing me the opportunity to maximize the gift of music God had so abundantly blessed me with. Every time I walk into a studio or onto a stage, I'm overwhelmed that this "moment in time," five decades ago, never had the power to rob me of God's plan for my future.
"For I know the plans I have for you," declares the Lord, "plans to prosper you and not to harm you, plans to give you hope and a future."
(Jeremiah 29:11 NIV)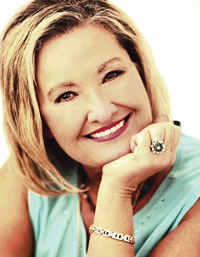 ANN DOWNING
When my husband Paul passed away 21 years ago, I honestly felt I'd never laugh again, never really "live" again … and I'm sure this is normal.
When I turned away from the casket that final time, the sense of grief and loss were so heavy, I felt my legs and feet were bricks in trying to walk up that aisle of the church. Pastor Millard Reed, who'd seen us through some hard, hard times, stood with us in them all, said to me, "Ann, God will help you." I remember thinking,
what is he trying to say to me?
and the words fell on deaf ears, I'm afraid. I just couldn't grasp it at the moment … as if to think, why doesn't God help me by bringing Paul back?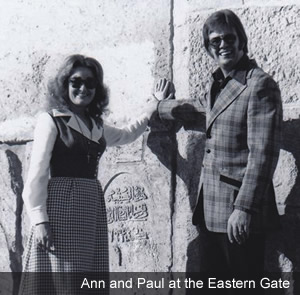 A few days after the funeral, I received a card from my friend Patsy Clairmont with these words: "Ann, I know God knows what He's doing, but in these kinds of times, I just don't get it." She then shared the scripture God had given her when her brother passed away a few months earlier: "I would have despaired had I not believed to see the goodness of the Lord in the land of the living." (Psalm 27:13)
When I read those words, again it all seemed confusing. How could God bring about goodness out of this? But you know, because I chose to not forget that short "word" from Pastor Reed and hung onto that verse of scripture, it did happen. I did, step by step, learn that out of loss there is life again … right here in the land of the living. And it can be a life crowned with His goodness.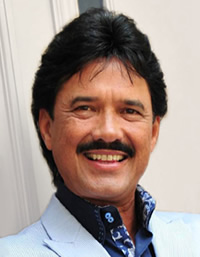 IVAN PARKER
The opposite of gain is loss, so we have to consider both to make life complete. Hopefully on the weight scale of one's life, gain outweighs loss. It is always tragic when any loss you experience cuts into the core of life and changes the course of your journey. I feel that in my concerts it is of the utmost importance to stress joy and commitment to a "positive attitude" and realize God will never fail you. Knowing every day that God will never leave my side and will remain there during my loss of anything, great or small, giving me comfort and peace but also knowing that He will stand on the mountain top and celebrate with me makes all of it more bearable.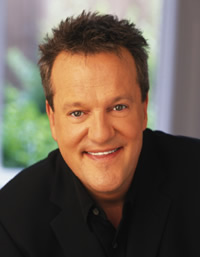 MARK LOWRY
I've been very blessed in my life when it comes to loss. Of course, I lost my grandparents when they were in their 80s. But that is longer than most people get to keep their grandparents and their deaths were expected. Nobody gets to live forever. And I've lost dogs through the years, and many of the older Homecoming artists. But when it comes to personal loss I guess my mother's present illness, dementia, is the closest I've come to really experiencing it.
Several years ago my mother started forgetting how to drive to places she's driven to most of her life. At first, we thought she was kidding. But then her doctor informed us she was in the first stages of dementia. She now is in stage five and there are only seven.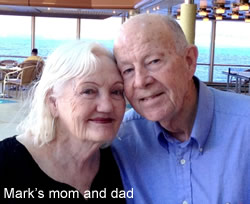 The worst part of this disease is you lose your loved one twice — when they get full-blown dementia and then when they die. It's hardest for my dad. He's still taking care of her. We've tried to get him to understand that she would get better care in a facility where she has 24-hour care and it would relieve him of so much responsibility. But he says, "No she would do this for me and I will do it for her." He's starting to realize it is more than he can handle. And we kids have had to wait on him to come to this conclusion on his own. He's still our dad and it's hard to become the parent and "make him" do anything he doesn't want to do.
So about loss I have this to say — it hurts. But you bow your head, press forward and as Daddy says you "take it a tick at a time."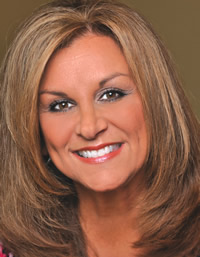 KELLY NELON CLARK
In 1997 the first in a stream of losses struck my life and our family. My mother had a fatal heart attack. It was devastating. One year later I went through a divorce — something I thought would never happen to me. I began to struggle in many ways. I was having panic attacks. Divorce can be as hard or harder than death. Relationships are just not the same. It caused havoc on my physical body and emotionally.
Two and a half years later I was just starting to feel like things were settling down when another explosion came. My father, Rex Nelon, was leaving with Bill and Gloria Gaither for a Homecoming Tour in Ireland and London. The day before he left we talked 10 to 20 times, more than ever before. At the end of the last conversation my father said, "Well, I better go," and finished with, "I love you, Baby." Now you have to understand my father was from an upbringing where you didn't vocalize your feelings. Though I knew he loved me, there weren't many times that I heard him say it.
When I heard the words, I tried hard to say something, but it felt like my throat was just completely closed up, and all he could hear was silence. He knew I was crying — pretty uncontrollably, I might add. Finally he said, "Well OK, I'll talk to you soon." I finally choked out, "I love you too, Daddy," and that was it. It was the final conversation between us.
My heart was shattered into a million pieces, when a few days later, I received the call that he had passed away. I thought my life was over. I didn't want to sing; I didn't want to live. I couldn't talk to God; I couldn't see God, and I wondered if He even cared about me and what I was going through.
I prayed and I cried, and I cried and I prayed that God would help me. Finally, I started to read all kinds of books, and one that really helped me was Joyce Meyer's
Battlefield of the Mind
. Some of the quotes that she had challenged me, like "Our past may explain why we're suffering, but we must not use it as an excuse to stay in bondage." Or, "You cannot have a positive life in a negative mind." Or, "There are times when God leaves huge question marks, as tools in our lives to stretch our faith."
Well, that was perfectly in tune for me. I started a new regimen in my life; I stopped feeling sorry for myself, and I began to put my mind on others. What could I do for someone else? How could I help them through what their situation was? I began to use my struggles and my problems to help others dealing with theirs. When you shift your focus to others, it takes the light off of you and your problems and puts it on someone else, so you can be a help to people. Soon, I began to see that the dark hole that I had sunk so low into was really a tunnel, because, you see, at the end of the tunnel, there's light.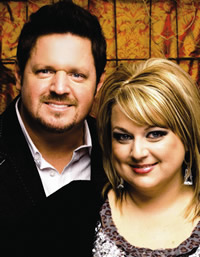 MIKE & KELLY BOWLING
Our bus accident in 2010 left the two of us with a brain injury (Mike) and a broken back (Kelly). We lost almost a year just trying to recuperate from all the injuries, unable to travel. We had a lot of time to think, and in spite of the loss, we gained a new perspective on life — a new appreciation for our health, and a new appreciation for each other that we might not have had otherwise. It's a respect for being able just to do the normal things in life that we couldn't do for so long. And we had a new appreciation for when we were able to go back and sing and work; it felt good to be able to have the ability to do it physically.
After the accident, we woke up and our lives had totally changed. We'd lost our bus and our only source of income; we basically felt like we lost our ministry that day. It was like, we're done, we're finished, and the devil wanted us to think that. We found for the first time in our whole lives that we had no way of making an income; we didn't have any way to feed our kids. But God proved to us that He is a God of provision. We'd never been in a place where we totally depended on Him. We couldn't even take care of our own kids; we had relatives and babysitters watch our kids. But God came through. We knew the God of healing, but He also was a God of provision.
One of the greatest things was when Bill and Gloria and Jason Crabb and all our gospel music friends came together in Nashville and held a benefit concert for us. God used that concert and those people, along with contributions from other organizations, to really change the next seven months of our lives, financially. It was just a miracle; we'd had no way of paying our people, our bills, or our house payment. We weren't late on one payment, and none of our employees lost a paycheck, the whole time we were off — they were paid. And it was through the giving of God's people and our Christian music community coming together as one, and pouring out their ministry. It was an awesome thing and really unbelievable.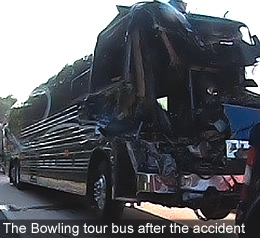 We saw so much good in people that year; there was such an outpouring of love and support for us. We regained so much faith in how great people can be — people who don't owe you anything. To experience that kind of support and compassion — it will change you. If we live to be 100, we will never forget that outpouring of love; it was amazing. It was what we needed.
Every day, we would receive cards and letters from people. We had one little lady who wrote, "This is all I've got this month, but I wanted to bless y'all. I know you're going through a hard time." And there was a check for five bucks, and it just touched us. For all we knew, it was the last five dollars she had. And she had never seen us before, had never been to our concert — she didn't really know us, but she'd heard about our accident. And on the other side of that — what not to do. When we did come back to singing — we kind of crept back into it — people would come up and tell us about someone they knew with the same injuries, and how they'd died. They meant well, but…
But our message is that even in the midst of loss and no matter how bad your circumstance is — and there are a whole lot of people who've had different outcomes that were worse than ours — God is faithful, and He loves us, and we can make it. When all seems hopeless and all is lost, if we have Jesus, we still have our hope. We did lose time and our health; we do still have scars and continuing health issues. While we wouldn't want to go through it again, we're still thankful for the faith that grew during that time and the perspective we've gained through it. A song by Dottie Rambo comes to mind —"In the Valley, He Restoreth My Soul." What He restored to us in a spiritual way is absolutely priceless; we feel that we're better and stronger people because of it.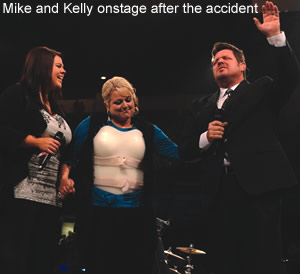 We know there will be other times we'll have to face something hard; that's just part of the Christian walk. And we know that when He brings you through the valley and puts you on the mountaintop again, that there will be another valley. But we have faith enough to know that He's going to put us back on the mountaintop again, because He's faithful.
And we try not to get so worried about certain things now, because we realize how quickly you can lose things and people. It helps us to not sweat the small stuff and to appreciate life for what it is, even on the days that aren't perfect — because no days are perfect. It was a reminder that this is not our final destination; this life is not all that God has to offer us. So, even if the worst happens and you have to say goodbye to someone you love, if they are a child of God, there's hope beyond this life. Life can be so hard, but God has prepared so much more for us.