As God has pointed the way to unexpected places, Buddy and Kerri Mullins discover joy in the journey.
With slightly longish wavy hair, a fresh-faced Buddy Mullins smiles on the cover of the Gaither Vocal Band's 1994 release,
Testify
, during his two-year tenure as lead singer.
Now with a shorter cut and a few gray hairs in his beard, Buddy has traveled to points near and far as a soloist and in various bands, with songwriting credits including No. 1 hits on the Christian Radio charts, and Gaither Homecoming favorites "I'll Meet You on the Mountain" and "Promises One By One," among others.
He is still seen on the Homecoming stage from time to time, such as when Mark Lowry's mother passed away last year. Bill called to ask if Buddy would fill in for Mark during a Vocal Band performance in Florida. "I said, 'Well, I can't tell the jokes, but I can step in and sing,'" he laughs. "I love that — I love the relationship that we have with Bill and Gloria." He his wife, Kerri, spent a leisurely day with the Gaithers last August, to catch up and talk about what God is doing in their lives.
What God has been doing has been a bit of a surprise to them, as it turns out — after years of involvement with big Nashville churches, they felt led to attend The Chapel at Crosspoint, a small church of about 150 in Santa Rosa Beach, Florida, where Buddy serves as head of the music ministry. "Joy is found when you're in the center of where God wants you to be," he reflects, "so we moved down here. We're in this small community, and God began to open up this huge work in our hearts right here." The "huge work" is a dream that God planted in their hearts as a tiny seed several years ago.
"You know how God leads," says Buddy, "He changes our direction and our passions." In 1993, as Buddy began touring with the GVB, his parents, Roger and Cherie Mullins, began working in Albania with an organization called Hope for the World (HFTW), founded by Pastor Jimmy Franks and his wife Janice.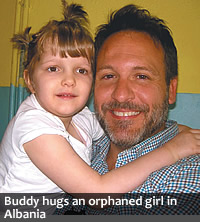 Buddy and Kerri traveled overseas to the orphanages and began sharing about HFTW during concerts. More recently, Buddy became HFTW's Director of Development, with a mission to increase the ministry's visibility in the U.S. "More people need to become aware of the wonderful works that are going on," says Buddy. HFTW missionaries currently minister in Albania, Ethiopia, India, Romania, Ukraine and Honduras, operating orphanages and feeding centers, digging wells, and sharing the gospel of Christ.
The Mullins' daughters, Victoria (19), and Olivia (14), have also visited the orphanages and want to continue being involved. "It opened their eyes to understand how blessed we are," Buddy explains.
Having been the only proclaimed atheist nation under their former communist dictator, Albania's citizens are hungry for the gospel, Kerri shares. "We are welcome to share Christ with all of our orphaned children in government orphanages."
Buddy notes the profound difference faith makes in the lives of the new believers, who have lived in poverty and have such great need. "When they give their lives to Christ, they are literally looking to Him for everything … and the cool thing is the joy that they have. They don't have anything, but they have Christ and they have everything — He becomes everything to them."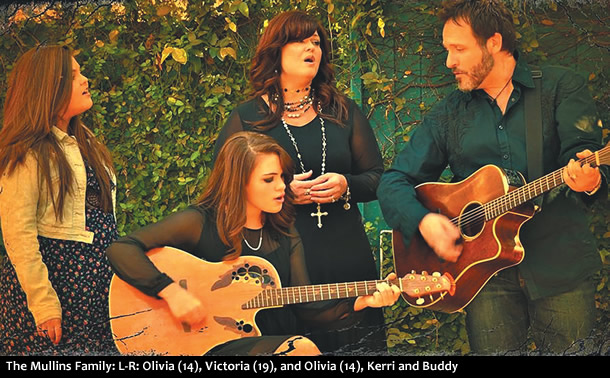 The Mullins family recorded a worship project together last year, continuing the musical legacy. "I wanted to do that before [our daughters] began to head out of the house," Buddy explains. This year, his goal is to record a project for Hope for the World, possibly involving some of his industry colleagues. "My prayer is that God will use Kerri and I to help shed more light on the work that these missionaries are doing so that we can encourage others to become involved through prayer, funding or going to the mission field themselves."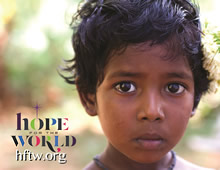 For more information, visit
HFTW.org
.