Have you ever wanted to go back to another time — even for an hour or two?
Maybe you would love to relive one conversation, one event or a moment you never want to forget. If you have ever said goodbye to someone you cared about, you have no doubt ached for a chance to go back and see that smile or hear that voice again.
The Homecoming Family has that feeling all the time. How we would love to go back to those days when so many of our friends and heroes were still here blazing their larger-than-life trails for us.
Wouldn't we love to see Jake Hess' tall, slender frame step up to that microphone one more time and sing to us through his contagious smile? Or what a thrill it would be to see that knowing twinkle in Vestal Goodman's clear brown eyes and hear that unforgettable voice sing hope into our deepest beliefs. Wouldn't we love to be in the room again when Anthony brought us to our feet with his unbelievable gift? And it brings a smile just to imagine Jessy Dixon sing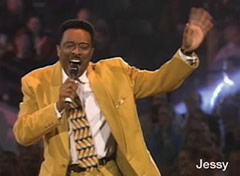 ing and dancing across the stage and the audience joining the celebration.
We assumed we would have to wait for Heaven to enjoy another celebration with the Homecoming Friends who aren't with us any longer. But then Bill started digging around in the vault and struck gold! He found footage of a live Homecoming celebration that takes us back to New Year's Eve, 1998!
This unearthed tape included Bob Cain singing "What a Wonderful World" before he was diagnosed with cancer and Anthony Burger playing those songs that brought the house down every single night; the Happy Goodmans singing "I Wouldn't Take Nothin' For My Journey," Jake Hess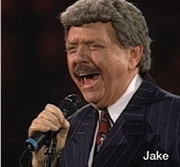 singing, "Prayer is the Key to Heaven" and sweet Jessy Dixon bringing the entire packed auditorium to its feet for "Highway to Heaven!"
This two-hour treasure also includes performances by the Martins, Candy Christmas, Carman, Janet Paschal and the Gaither Vocal Band when Mark Lowry was still talking about turning 40. (See? We told you this was old footage!) You may notice that Janet Paschal still looks exactly the same. So the next time we go digging for treasure, we are going to search for her secret to staying young!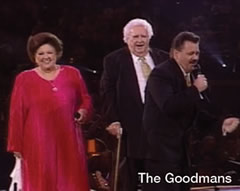 This "retro" Gaither Homecoming Celebration was a party, no question about it. There were indoor reworks and a gazillion balloons and confetti showers and wall-to-wall people soaking in the joy. But this goes far beyond your typical New Year's party.
Something fascinating happens while watching the celebration of a new beginning way back in 1998. It brings a renewed sense of hope for 2012, too. Those songs, those messages, those people are all about permanent things — eternal things that do not fade with time. The footage is more than a decade old, yet the hope contained in it couldn't be more crystal clear!
The audience in that Charlotte, N.C., coliseum represented a beautiful patchwork of ages, backgrounds and races.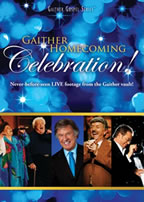 They had come together on that New Year's night because they knew this was the best possible entrance to a new year — a reminder that our hope is eternal. You could see on every face the powerful reality that this celebration would live on inside them for a long, long time.
This
Gaither Homecoming Celebration
has been made available in stores for the first time ever on DVD and CD beginning January 24. It can be ordered at
gaither.com
, where you can also see a video preview and get a glimpse inside the DVD.