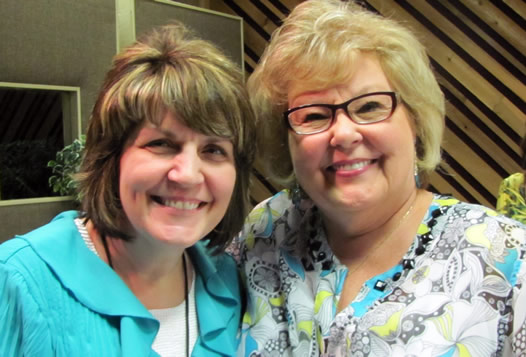 [Dixie and Gloria]
When I graduated from high school in 1975, my parents' marriage was falling apart. My father's cousin and his wife wanted to boost my spirits and purchased a ticket for me to attend a Gaither Trio concert.
I don't remember much of what was said at the concert that hot summer night in Oklahoma City, but I do remember when the Gaithers sang "Something Beautiful," the atmosphere in the auditorium changed. As the Holy Spirit ministered to my broken spirit, I sensed God was in control and despite ugly circumstances, He could make "something beautiful" of my life if I would give Him a chance.
Almost 40 years later, He continues to make "something beautiful" of my life. My husband and I have been married for 35 years and have been honored to serve the congregation of the Gospel Lighthouse Church in Floyd, Iowa, for more than 30 years. I am the mother of four married children and grandmother to four adorable grandbabies.
In June, my youngest daughter and I attended Gloria Gaither's 2012 Songwriting Intensive in Alexandria, Indiana. It was a rich, full-circle moment for me when I met Gloria.
Thank you, Bill and Gloria, for penning songs that offer hope for hopeless situations.
God of unlikelies and God of no chance.
Bid beggars to banquets and cripples to dance.
God of unlikelies chose unlikely me
To be part of His family.
— DIXIE PHILLIPS
Floyd, Iowa