Nearly five years ago, when Bill Gaither created an all-star version of the Gaither Vocal Band, the returning GVB members were managing solo careers and added the Gaither Vocal Band's tour dates, video tapings and recordings to their existing schedules. Now, after trying to manage both solo careers and Gaither Vocal Band responsibilities, Mark Lowry and Michael English are ready for a new season of life that is not so demanding.
"When I rejoined the Gaither Vocal Band in 2009, I figured it wouldn't be a long-term commitment since Bill was over 70 years old," Mark says, adding, "That was nearly five years ago and Bill's bucket list is wearing me out! But the Vocal Band is a family. We come and we go, but we never
really
leave. I could pop up anywhere at any time!"
As for filling their giant shoes, Bill is giving thoughtful consideration to several incredibly talented artists. When Michael English came off the road last fall, a few friends (who happen to be wonderful singers) helped fill in, including Wesley Pritchard, Marshall Hall, Reggie Smith and Adam Crabb. The Homecoming Family was grateful to each of them for lending their great talents to the Homecoming tour during those busy weeks!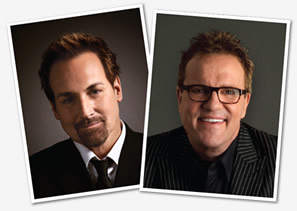 "I am grateful that we have had five bonus years with these incredibly talented artists," Bill reflects. "Thank you, thank you to Michael and Mark. For those of you who have followed the Vocal Band for the past 25 years, you know that I have worked with some of the most talented male vocalists in our field, and I promise you we are not going to let that standard down in this transition. I am sad to see Michael and Mark leaving, yet I am so excited about the new possibilities we are considering. So stay tuned for an exciting voyage in 2014!"
At press time, no official personnel announcements involving the Gaither Vocal Band have been made. For up-to-date information visit
gaither.com
. And for as-it-happens updates, be sure to like
Homecoming Magazine
on Facebook for this and all other Homecoming Friends news.
We look forward to having Mark Lowry join Gaither Fest in Myrtle Beach and Family Fest 2014. Information on those events is available at
gaither.com
.
Check Michael English's website,
michaelenglishmusic.com
, for his solo concert schedule, and check for Mark Lowry's solo dates at
marklowry.com
.
— Emily Sutherland
UPDATE:
The Gaither Vocal Band welcomes newest member, Adam Crabb!
Click here for details
.